The Different Types of Chain Saw: You Should Know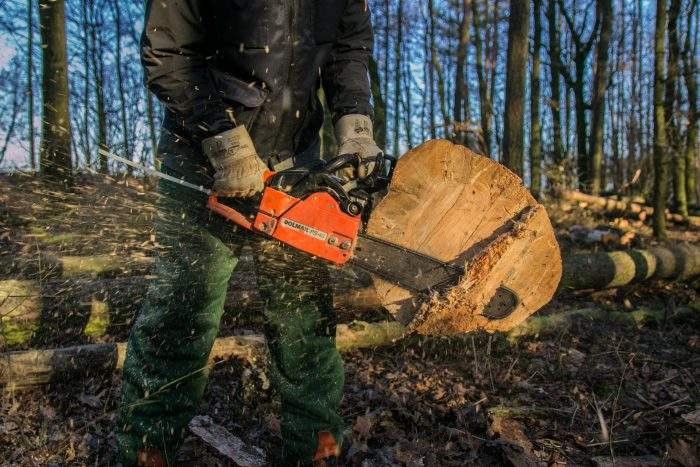 The different types of chainsaws
First, we will show you the different types of chainsaws that exist on the market:
1. The pruner:
This is a lightweight mini chainsaw, so convenient for cutting branches, for example, with one hand. However, be aware that the pruner can only cut weakly, i.e. a maximum length of 35 cm. Its power is often between 200 and 1800W.
2. The Pruning Pole:
You can find it in electric or thermal mode, and rigid or telescopic. Its motor is located near the control handles. The chain and guide are located at the end of the pole. The cutting head is most often orientable. Very light, it will then be possible to take your pruning pole to climb a ladder to cut your hedges, or other. Its power is between 600 and 1500W. It is different from the pole pruner, where the entire chainsaw is at the end of a pole. The latter is therefore heavier to handle.
3. The chainsaw goes Everywhere:
It is ideal for cutting wood, branches and felling small trees. Its motor is quite powerful. Due to the weight of this chainsaw, be aware that you must handle it with both hands.
4. The felling chainsaw:
This type of chainsaw is more generally intended for professionals and companies. It is used to carry out large, intensive jobs, especially felling. This chainsaw has a cutting length between 45 cm and over 80 cm. You should know that it has a very powerful heat engine and is therefore heavy to handle. This can present many risks and dangers. So, that's why we strongly recommend that you have enough experience in the field or be a professional in the sector to acquire this kind of tool.
Tips for choosing your chainsaw:
Before buying a chainsaw, we recommend that you first consider your needs and ask yourself what it will do for you. This will then help you select the right type of chainsaw to suit your needs, budget and expectations. Here are some useful and important tips to help you make the right choice of chainsaw:
Should you buy a petrol or electric chainsaw?
If you are too busy and don't have time to regularly maintain your chainsaw, then definitely opt for an electric chainsaw! Indeed, the latter does not require much maintenance, starts immediately, makes less noise and does not cause much pollution. However, its motor is not very powerful and the electric wire can get in the way. On the other hand, if you are looking for power, then buy a petrol chainsaw instead! But be aware that it will be heavier, require regular maintenance, and be noisier.
Intensive pruning: advice on which chainsaw to buy?
If this is for intensive pruning, then a pole from the ground is not enough. If you plan to use it frequently, buy the pruner now! Thus, you can work with one hand with a cutting length of up to 35 cm, as explained above.
Which chainsaw to prune and maintain my trees on a regular basis?
We recommend that you opt for the thermal pole pruner. Indeed, fairly light and practical, you will be comfortable maintaining your trees and branches regularly, without too much difficulty.
Pruner on pole or electric pole pruner for a small maintenance of your garden
Want to buy a chainsaw but only use it a few times a year? If you therefore plan to run it very occasionally, we recommend that you buy a pole pruner or an electric pole pruner. With a battery-powered model, it will be easier for you to cut branches from the ground. For maintenance, you will only need to grease the chain a few times
Cutting, maintenance and felling: differences between the electric chainsaw and the petrol chainsaw?
The electric chainsaw is used for minor maintenance on trees and / or for cutting firewood in winter.
The petrol chainsaw, on the other hand, is practical for regular use, with a fairly powerful motor and a cut of 45 cm maximum.
What to buy for intensive felling and Cutting?
The only effective tool for this kind of work is the logging chainsaw. Be careful, it must be handled with care! It can be very dangerous if this is the first time for you. It takes experience or a professional to use this type of chainsaw. Its power can go up to 6000W.
The most famous brands:
Be aware that there are many brands in the chainsaw industry, from the small manufacturer to the large company. You will find more specialized brands and others that sell all types of chainsaws. But to help you in the purchase of your chainsaw, here are the most famous brands.