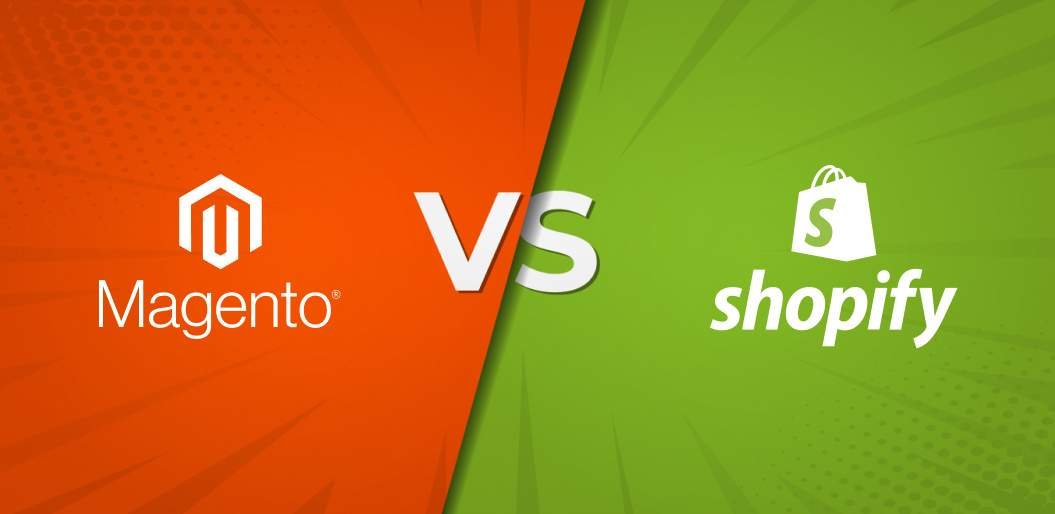 Shopify vs. Magento: Which One is Best For Ecommerce?
Choosing an ecommerce platform for your business is crucial. It helps in creating, maintaining, and managing the ecommerce store. It's the main element that can build or break your business. Moreover, it's crucial for startups and small businesses. As they are on limited resources and budget.
Ecommerce platforms like Shopify and Magento are prevalent. Shopify is basically, "hosted, all-in-one" platform. In contrast, Magento comes where there is a larger and complex ecommerce store. According to many aspects, both Shopify and Magento are different. In this article, we would like to pit Shopify vs. Magento to know which one is best for ecommerce.
According to a survey, Shopify and Magento are widely claimed and used platforms. It's the first choice of someone who wants to create an ecommerce store. These platforms are great for the creation and management of the online store. Yet, both platforms have huge differences that we would like to explain before the comparative evaluation.
You need to pay for Shopify as it's a commercial product. While Magento is open-source, that is free to operate.
Shopify is a hosted platform where the store is hosted by the platform. In comparison, Magento provides your hosting solution. It allows installation, setup, and other stuff before starting the store.
Shopify is an excellent platform for beginners as it offers a simple user interface. On the other hand, Magento has advanced features that are suitable for developers.
Magento doesn't have any paid version, but it's very expensive. It's used mainly by large enterprises that can spend thousands of dollars on the website. In comparison, small businesses and startups prefer Shopify for their ecommerce store.
After these differences, you have a clear picture of Shopify and Magento. Here is the head-to-head comparison of Shopify vs. Magento.
Table of Content: Shopify vs. Magento
Pros and cons of Shopify and Magento
A feature comparison
Themes and design
Ease of use of Shopify and Magento
Payment process
Shopify vs. Magento: Which is the best option for an ecommerce store
Shopify vs. Magento: Pros and Cons
Let's start with the basic elements you can expect from these platforms. As we know, everything has advantages and disadvantages. Similarly, both the platforms serve many benefits but fall short in some context for your ecommerce site.
Shopify pros
Shopify offers several different and beautiful responsive store themes.
It's a comprehensive ecommerce store builder.
It's a great platform as it extends the functionalities of your ecommerce website.
It offers good customer care service.
It's easy to operate.
It provides many checkout and payment processes.
It is a large community of loyal customers.
Shopify cons
For some themes, you have to pay.
Integration of apps makes it complex in your store.
There is a fee for every transaction until and unless you have Shopify payments.
Magento pros
It's a great platform with a great community with loyal customers and fans.
It's a flexible platform that has different customization options.
It has a great range of themes and designs to offer.
Magento gives phone support.
In Magento, coding knowledge is not needed.
The platform is open-source that is free to use.
Magento cons
Magento is quite tricky to operate for beginners.
It requires lots of effort and time to set up.
Besides time, it's costly as it needs lots of cost for set up.
Shopify vs. Magento: A Feature Comparision
Basic online store functionality:
Shopify vs. Magento is one of the hottest topics in the ecommerce market. Both offer basic store functionality to the customers. The functionalities are powerful to operate and maintain a store. Shopify is easy and straightforward to set up. In contrast, Magento is challenging to manage and set up. You will find shopping carts, collections, checkout processes, and product pages on both platforms. But the main difference is that Magento has advanced features to offer in the system. On the other hand, with Shopify, you have to get an app for extended functionalities.
Calculations of shipping charges:
Whether it's Shopify or Magento, both platforms are flexible and powerful. They both have robust calculations of shipping charges. It's one of the essential elements in an ecommerce store. According to a survey, Shopify integrates with dropshipping tools and shipping calculators for more accurate results.
Inventory management:
Basically, both platforms allow creating and selling unlimited products. It's easy to create products and collection on both the platform. But in Shopify vs. Magento, Shopify is better as it allows direct integration to dropshipping inventory management apps like Oberlo.
While Magento allows virtually unlimited products that can impact negatively on the server performance and site loading speed. That you don't need to worry about the Shopify platform. As it's a hosted solution.
Shopify vs. Magento: Themes and Designs
A website needs to be appealing and attractive to leverage customers. Besides looks, it needs to be easy to navigate. That's the reason you need to choose a good theme for your website. As it gives a better user experience to the customers and makes you stand out in the market.
Shopify has tons of great themes and offers that are easy to use. Moreover, Shopify themes are optimized for mobile. That can help to impress Google's search engine to rank higher. But you have to pay for the majority of the themes in Shopify. That means you have to invest a little more in your site.
But on the plus side, Shopify gives different customization options for a better user experience. It allows changing the color palette, adding new pages, removing and resizing, etc. moreover, you can easily integrate social media tools on your page.
On the other hand, Magento has only 16 themes to offer, according to web design services agency in USA. But they are available in free and paid both options. Moreover, the 10 themes are mobile responsive that means the page can resize according to the device.
Besides, Magento allows adding and updating your themes and designs. But it will require knowledge and experience to function correctly. Magento also offers many customization options like adding page sliders, implement animation, and furthermore.
In my opinion, Shopify is a better option when you are looking for a significant number of themes. But if you have knowledge and experience, you can choose Magento as it offers powerful features.
Shopify vs. Magento: Ease of use
When looking at Shopify vs. Magento, Shopify is winning. Both the platforms are open source that is a powerful platform to set up an ecommerce store. Similarly, both have a user interface that is well-designed and makes it easy to operate.
But Shopify has a wizard mode that allows beginners to set up their online store easily. That's the function Magento is lacking. And Magento is also not a hosting solution. That can be a concern for startup businesses to set up their store as they don't find it convenient.
Payment process
While Shopify vs. Magento, you have to see which platforms give you plenty of payment options. Both the platforms allow online credit card payments and transactions. Even Shopify has its payment processor known as Shopify Payments. While using this option, you can avoid transaction fees. The website is only profitable when transactions are safely completed.
Shopify supports around 100 payment processors. That's the reason that makes Shopify an incredible shopping tool.
Magento also allows users to access additional payments. According to Magento website development, Magento supports major payment processors with 150 payment integration options. But, the fantastic feature of Magento is that it has access to payment processors in different languages and countries.
Shopify vs. Magento: Which One is Best for Your Online Store?
Both the ecommerce platforms are powerful and robust. You need to select one according to your needs and preference. As Shopify is easy to use as its hosted solution. Where Magento is free software that allows the developer to set up the process on its own.
As mentioned above, in many contexts, Shopify was coming as a winner for the ecommerce platform. As it allows to builds online stores easily with powerful capabilities. Build a better product strategy and increase your chances of success with these e-commerce expert insights.
I hope you find the article interesting and helpful. If you have any other questions, comment down below.