5 Occasions Where You Can Wear Your Full Sleeve T-shirt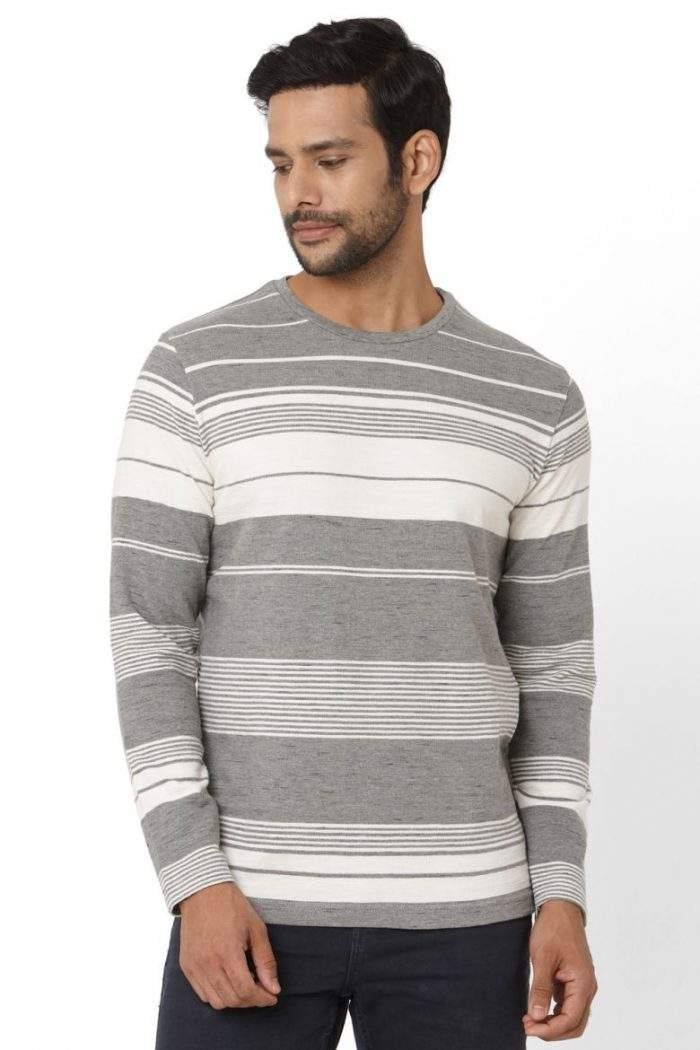 You may have heard this famous quote that goes like "Dress how you want to be addressed". The phrase goes so true and it is an important piece of fashion advice. Your clothes will say a lot about you than you could most probably fathom. Does it sound daunting? Don't worry because, with just a few articles in your closet, you can put together some of the best outfits that make you stand out. There is one piece of clothing that helps you stand the ground as a winner and that is a t-shirt. The long-sleeve t-shirt plays a bigger role when it comes to styling to various occasions.
1. A casual day-out with friends
For a casual day out with friends, you can try layering the long-sleeve t-shirt under a t-shirt. If you are on the road to becoming a fashion expert there is nothing more than layering clothes. The first layer is the long-sleeve t-shirt in a darker shade. Over the long-sleeve t-shirt throw, on your half-sleeve t-shirt in a much darker shade. This is the perfect look to sport on day-offs.
Let the pant match the color of the long-sleeved t-shirt. If you are going on a night stay at a friend's home experiment with two baggy t-shirts and pair them with casual trousers and sneakers. Take the outfit to the edge by wearing a printed long-sleeved-shirt along with a really long half-sleeve t-shirt. You will too cool in this look.
2. Classic long-sleeve look for a get-together
The classic combo of a t-shirt is the long sleeve t-shirt and jeans. Is there anything with which the t-shirt doesn't look that great? The classic jeans are the perfect outfit for men that are a timeless classic. You can go for whatever darker shade of jeans you have and use it for the outfit. You can also put your distressed jean to good use here. Jeans with pockets make you look a bit more nonchalant while you are walking down the road.
Even if the climate outside is getting chilly; you can pair the look with a muffler and woolen scarf. While accessorizing the ensemble wear the look with maximum confidence. Nothing suits the classic look than the suede boots. This is the perfect look when you are heading out to meet your friends. Go for a subtle colored t-shirt and a pair of loafers.
3. A casual date
For the date night around the corner, put-together a trendsetting look with dark denim and a long-sleeve. Though we have spoken about denim, the darker denim is a total trendsetter. When paired with the right t-shirt, the outfit will take you to the edge of style. The thumb of the rule here is the darker the denim, the classier it is.
If you are on a date night and want to grab her attention do something that women love. Women love it when men wear pink as it breaks stereotypes. If you don't have a pink t-shirt something in pastel will work wonders. Instill contrast with a pair of sneakers. You give a shot to a striped long-sleeve t-shirt and add a leather belt to the oversized look.
4. A game of football with friends
Apart from a t-shirt, there is one other piece of clothing that has been crazy lately. Do you want to know what it is? It is joggers. The joggers have seen it all from being lounge-wear favorite and global runways. You can perfectly style them with your long-sleeve t-shirt. If you're hosting a game night for the most comfortable joggers and a black long-sleeved t-shirt. If you are an ardent lover of some teams or comic, you can give a chance to printed joggers.
Choose a camouflaged jogger or even pinstripes. Pair the joggers with your best neutral shade t-shirt. You can finish the look with a cool looking duffel bag. You can also pair a neutral jogger with a fun t-shirt and get ready for the date-night you have. The joggers are also the perfect outfit for long rides. The jogger ensemble finds the right balance between comfort and style.
5. The beach party look
A long-sleeve t-shirt and shorts make the perfect combo for the beach party. They also make a great ensemble for leisure trips and weekend hangouts. Go for a pair of white shorts and pair them with a bold-hued t-shirt. You can go for t-shirts with a print if you're vacationing in the outdoors. Complete the look with a pair of trainers or sneakers.
If you're trying to pull off the country-meets-city look, go for a hat with long sleeve t-shirts for men, along with a pair of shorts and football socks and sneakers. You can also wear a long-sleeve t-shirt to a soccer game given you choose the right material.
Bottom line
If you don't have a pair of good long-sleeve t-shirt you are missing out on a lot of awesome ensembles that you can pull off easily. Get your best long-sleeve t-shirt online and stock your wardrobe.