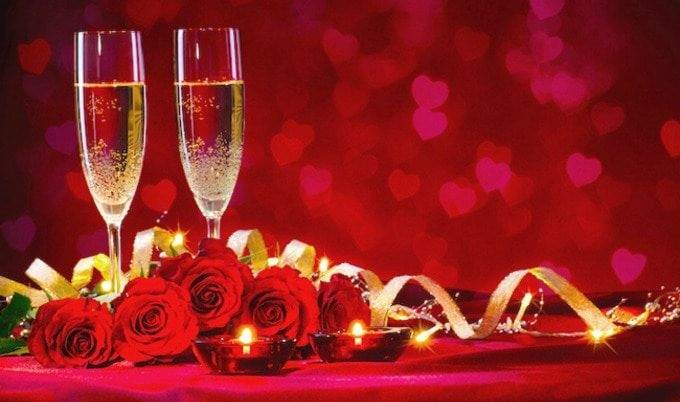 There's nothing like spending the night with your special someone and sharing some of the best liquor in the Philippines has to offer. What's even more special is when you share a drink that you've mixed up for your partner. Here are some of the perfect drinks you can craft on your own to make your Valentine's day even more special.

Manhattan Love Story
The classic Manhattan takes a twist during the day of hearts. This Valentine's variation of The Manhattan adds a kick of sake to bind the two liquor favorites to make the perfect drink for couples. This drink is for whiskey lovers who want to enjoy their favorite liquor with an extra kick.
Ingredients:
1 ½ oz. of Glenlivet 12 years
1 oz. sake
½ oz. ginger liquer
2 dash Peychaud's bitters
Orange peel
Directions:
Gather all the ingredients
Pour all the ingredients into a mixing glass
Stir well
Strain into a chilled cocktail glass
Garnish with orange peel
Bed of Roses
The name itself speaks bounds about how romantic this cocktail can get. This luscious cocktail draws its incredible taste from a combination of herbal tastes with a hint of citrus. The base ingredient for this drink will be non-other than the famous party drink, Jägermeister. Who would've thought that Jägermeister would be the perfect ingredient to a Valentine's mix.
Ingredients
1 ½ oz. Jägermeister
2 oz. lemon juice
1 oz. grenadine syrup
½ oz. lime juice
Lime slice
Cherry
Directions:
Gather all the ingredients
Combine the Jägermeister, lemon juice, grenadine syrup and lime juice into a shaker
Shake vigorously
Strain the mix into a highball glass
Garnish with the lime slice and cherry
Cupid's Kiss
That little baby angel of love is not just out there to tie bind hearts with his bow and arrow. Cupid's kiss is the best way to either end your Valentine's date night with. This drink is best paired with any kind of dessert.
Ingredients:
2 oz. Kahlua
4 oz. carbonated water
Maraschino cherry
Directions
Gather all the ingredients
Pour the Kahlua into a highball glass
Add the soda water
Stir well
Add ice
Garnish with cherry
Blushing Geisha
A very light flavored cocktail, the Blushing Geisha is a fruity herbal cocktail with a kick of sake. The delicate taste of rose makes for a perfect drink for intimate settings. You could enjoy the Blushing Geisha on its own or with a side of cold cuts. What makes this cocktail enjoyable is its low proof, it's even lower than a glass of wine.
Ingredients
2 oz citrus sake
1 oz pomegranate juice
2 oz rose nectar
A wedge of lime to garnish
Directions
Pour all the ingredients into a mixing glass
Fill the mixing glass with ice
Stir well
Once stirred, strain the mix into a stemmed glass
Serve on the rocks in an old-fashioned glass
Garnish with a wedge of lime
Key Takeaway
You can always spice up your Valentine's day with any of these drinks to make your day of hearts even more special. Liquor in the Philippines has got some of the best ingredients in order for you to whip up your own lovely cocktail. These drinks will always blend in perfectly with any date.