Datsun is the new brand which is doing quite well with the Indian market. The term 'Datsun' stands for Dream, Access and Trust (D.A.T). It launched Datsun GO – a dynamic car packed with advanced technology. The car has been launched in India at a price of between INR 3.12 – 3.69 lakhs (ex-Delhi).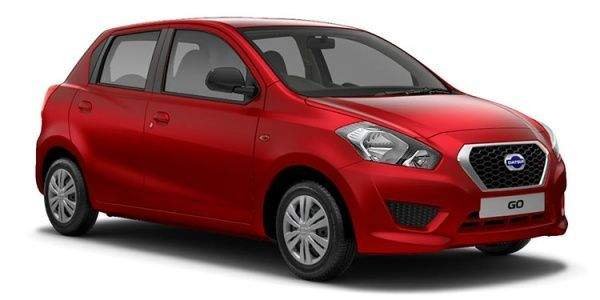 Here's what you need to know before making a decision on purchase:
What you'll like about Datsun Go:
– The car is super clean and has been integrated with mild styling that will satisfy all. Be it a car enthusiast or a new owner, Datsun Go will offend none.
– If you have a look at the competitors, Datsun Go is definitely a size bigger. The size difference is clearly evident on its interiors and exteriors. This is certainly a great quality.
– It is equipped with 1.2L engine which offers the best power & torque-to-weight ratios in its segment.
– The car has been adored by recent users for its superior urban ride quality. It is superior as compared to most of the other entry level hatchbacks.
– Datsun Go comes with amazing light driving controls and small turning radius. This makes the car apt for city driving.
– The car has been integrated with large 265 liter boot. This is very accommodating.
– You will fall for features such as the full MID, follow me home headlamps, and speed-sensitive wipers.
What you won't like about Datsun Go:
– The interiors aren't classy or plush. Cost cutting by the company is very obvious.
– Tyres from Strada brand (155 mm) are terrible.
– The car is too noisy. You will not be satisfied with the overall NVH levels. These are poor.
– Datsun is not a known brand in India at present.
– None of the variants of this car are equipped with Airbags or ABS.
– After-sales service of Nissan is substandard.
– Competitor Micra Active is priced at 3.5 lakhs.
– You would not like the car for its missing essentials such as glovebox lid, ORVM adjustment stalk, retractable rear seatbelts, day/night IRVM, and proper head-unit.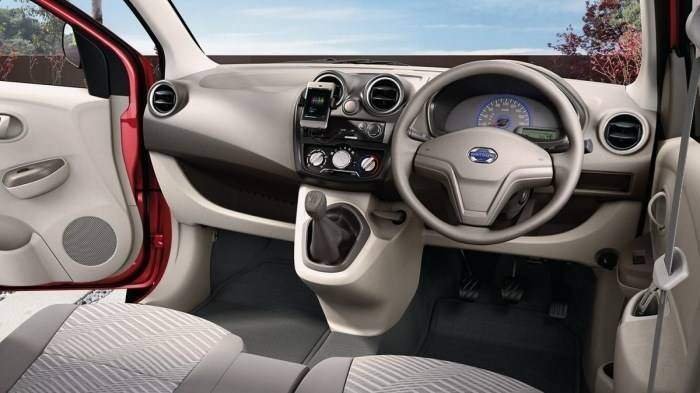 Features of Datsun Go in Detail
Appearance
The car looks unique. It comes with a D-shaped grille and fine lines running all through the body and the effortlessly placed logo on the boot door. The whole combination makes Datsun Go, an attractive option. The car looks longer and bigger than other cars in the competition. This gives it an edge and makes owner the feel of a 'big' car.
Interior Space
Experts believe that the cabin space is a high point of this car. The Datsun Go specification by experts has already attracted Indian clients. The front row has connected seats that offer space to place items such as shopping bags or ladies bag. The rear seat is also very spacious and comfortable for 3 people. 2,450 mm wheelbase is the best in the segment. It comes with commendable 265 litres boot space.
Engine
The car comes with 1.2 litre petrol motor. It is the highest capacity motor in the segment. The ARAI tested fuel economy for cars (20.63 km/litre) is commendable. Lively engine helps car zip through easily in traffic.
Comfort Level
This is definitely one of the most comfortable cars. The Macpherson Strut combined with double pivot lower arm suspension set up (front) and H-type torsion beam (rear) ensures ultimate comfort for both drivers and passengers. Novice drivers can get maximum benefits out of this suspension setup. It will absorb bumps on the road and ensure a bump-free ride.
The Interior
The Datsun Go is available with several unique features such as speed sensitive wipers, follow me headlamps, and a mount for placing smartphones. The follow me headlamps are first in the segment. A very useful and practical feature, it helps car drivers while parking in dark spots or at night. This feature allows the headlamps to stay on for a specified user defined time. One can set it for 30, 60, 90, or 120 seconds as per preference after locking the car. Datsun Go has speed sensitive wipers. Hence, it can automatically select wiper intervals in INT mode with varying speeds of vehicles. Users can benefit from a mount installed inside for smartphones (in top variant).