What Solo Trip to Bhutan is Really Like?
Bhutan is a small yet beautiful landlocked Buddhist country. It is known for its remarkable landscapes and unique culture. Being the world's only Vajrayana Buddhist nation, it attracts the attention of many solo travellers and backpackers.
The panoramas of eastern Himalayas along with pacifying monasteries can make your solo trip memorable. You won't find many travellers who have completed a solo journey to the land of thunder dragon – Bhutan. The reason is that people consider the process of entering in Bhutan as a solo traveller quite difficult.
However, this country is charming enough for a solo tour, and you can enjoy a hassle-free solo trip to Bhutan by gathering appropriate knowledge. You can consider buying Bhutan tour packages for a well-planned trip. If you love to plan everything by yourself then, here we go!
How to Reach Bhutan as a Solo Traveller:
The challenges that we face on any tour makes it more exciting. Considering this, to enter Bhutan as a solo visitor is the first exciting challenge of your trip! Let's know about some basics which will help you in entering Bhutan:
1. Bhutan Visa Rules:
Tourists of foreign countries except India, Maldives and Bangladesh require a visa for travelling to Bhutan.
Independent travel isn't permitted in Bhutan that means you will have to contact a tour operator authorised by the Bhutan Tourism Council only.
You are required to pay Minimum Daily Tariff in advance calculated on the basis of your total trip days to obtain the visa.
You have to submit copies of your passports having a validity of at least 6 months along with your air ticket to the tour operator before getting the visa.
Bhutan government easily issue the visa for travelling purposes so, you won't face any problem.
2. Bhutan Entry Points:
Paro international airport is directly connected with a few countries such as India, Thailand, Nepal and Singapore.
Tourists from the above countries can enter Bhutan from Paro easily. Flights are operated by DrukAir and Bhutan Airlines.
If you are from India then, you can take direct flights to Bhutan from airports of New Delhi, Kolkata, Kathmandu, Bangkok, etc.
Tourists from India, Bangladesh and Maldives can also opt for the land routes to Phuentsholing, Samdrup Jongkhar and Gelephu.
However, you should choose to travel by air for a solo trip.
3. Bhutan Entry Permits:
The tourist from countries like India, Maldives and Bangladesh requires a special entry permit of their own name instead of visa to enter Bhutan.
Tourists travelling via flight can apply for the travel permit at Paro International Airport.
Tourists travelling via road through Phuentsholing can obtain it from the Regional Immigration Office at Phuentsholing.
You should have essential documents like passport size photograph, Voter ID, Passport, evidence of Hotel Bookings and Itinerary to receive the permit.
So, entering in Bhutan as a solo traveller is not a big deal. All you have to do is follow the procedures and respect their culture. Bhutan tour packages can make this step a lot easier!
When to Visit Bhutan:
Planning a trip in the offseason can affect your plans and experiences. So, you should be cautious while deciding the season and months of your Bhutan solo trip.
The best season to visit Bhutan is spring which remains from March to May. The natural beauty intensifies, and the valleys come to life in this season in Bhutan. For the trekkers also, the months are best with cold weather and clear skies. So, prefer visiting in spring.
Things to do in Bhutan:
Simplicity and natural beauty are two key specialities of Bhutan. A solo trip to Bhutan will be quite different from a trip to other famous tourist destination. Still, it will be a rare and lovely experience for you. Enjoy the following things or activities on your Bhutan solo trip:
1. Adventurous Activities:
Indulge in sports like archery with locals.
Go for bicycling to some of the highest road passes.
Try out fishing in the famous lakes.
Enjoy a bike ride to astonishing mountainous trails.
Learn about the paddy plantation in Paro or Punakha.
Have fun while doing rock climbing.
Tame the fierce rivers of Bhutan through river rafting.
Feel the thrill while trekking through lofty Himalayan Mountains.
2 Fastiwals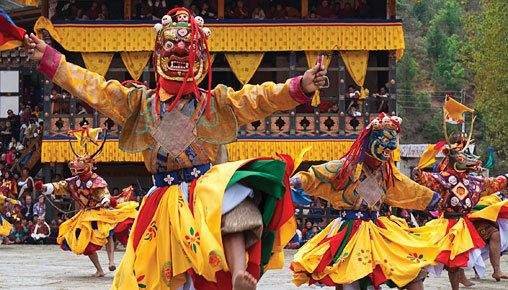 Join the unique celebrations and savour the special festive meal.
Decipher the hidden morals behind the famous mask dances.
Take images with Atsaras who are the jesters of Bhutanese festivals.
Understand the culture by viewing the sacred relics and antiques.
Dress in traditional Bhutanese attire for special festivals.
Talk to locals in order to know new facts about various celebrations.
3. Nature related Activities:

Spot scores of colorful birds from around 565 species.
Spend some tranquil moments while watching the stars from mountains.
Identify wildlife creatures of Bhutan from your boat on Manas River.
Explore exquisite flora and fauna of Bhutan.
Hike through the colourful trails.
Visit the protected national parks.
Stay in the lap of nature through outdoor camping.
4. Health Related Activities: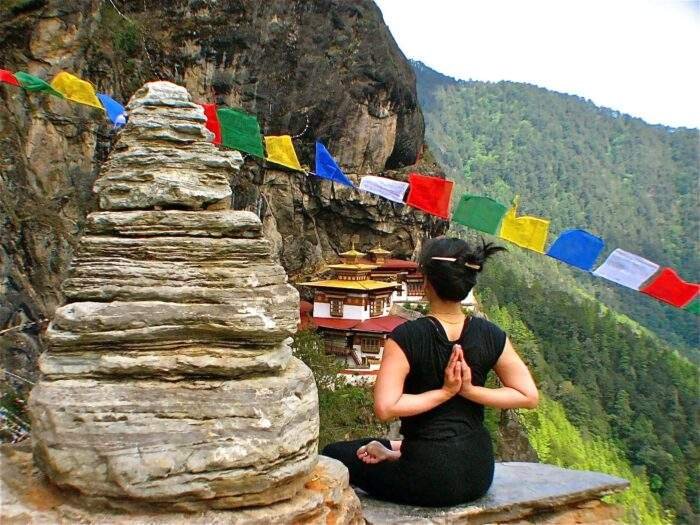 Sip Bhutan's medicinal herbal tea – Tsheringma Tea.
Have a relaxing herbal or hot stone bath.
Get peaceful vibes by yoga and meditation in monasteries.
Try organic cooking by using local organic products.
Inhale fresh mountainous air on the top of the hills.
5. Tourist Destination in Bhutan: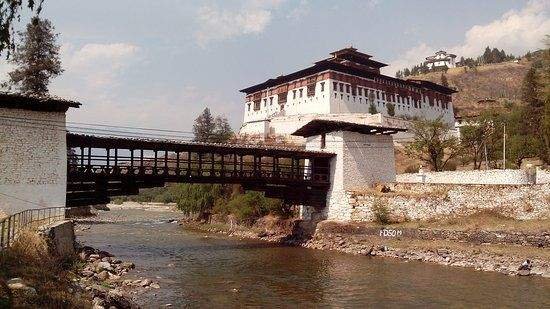 You will fall short of time when it comes to exploring all the main attractions of Bhutan. The land is full of ancient fortresses, monasteries, high passes and other interesting places. You should visit a few from the give list on your solo trip:
Rinpung Dzong
Punakha Dzong
Tashichho Dzong
Chele La Pass
Dochula Pass
Buddha Dordenma Statue
Tiger's Nest
Phobjikha Valley
Chomolhari
Motithang Takin Preserve
National Museum of Bhutan
Punakha Suspension Bridge
So, Bhutan is safe and perfect for solo travellers, be it male or females. You have to be a little bit vigilant while travelling alone but, that is necessary for any solo trip not only for Bhutan. Hence, enjoy your time in Bhutan!