Culture and Traditions of Rajasthan
Rajasthan, the "Land of Kingdoms" or the "Rangeelo Rajasthan" is a boiling pot of several traditions and cultures. Ruled by the Maharajas for the longest times, the state highly boasts of its colorful aesthetics and heritage.
The delicious cuisines, melodies of locals and bewitching folk dances are a few gems be held by this welcoming state. Trust, no place is as warm as Rajasthan. "Khamma Gani", they say, you need help?
No one will shoo away! The golden heart of its residents shines through their eyes, all thanks to their dedicated culture and traditions. Irrespective of which Rajasthan tour package you choose, each will ensure your close encounter with the folk culture of Rajasthan. Below is a peek into the vibrant world of Rajasthan-
1. Language
The people in Rajasthan understand one language and that is of love and hospitality. While strolling on the streets, you'll find people conversing in both English and Hindi language. These two languages help them communicate with tourists but in reality they communicate in their local dialect which may vary from region to region. Marwari, Harauti, Mewari, Malvi, and Bagri are a few widely spoken languages in Rajasthan.

2. Rajasthani Attire
Rajasthan is a state full of cheerful souls. This could be seen in their bright coloured dress ups. Although post the wave of westernization, people here have shifted to modern clothes. But, if you visit the inner parts of Rajasthan you'll surely spot an uncle with a huge Pagdi, dhoti and Angrakha which is similar to a frock. Also, talking about Rajasthani women, their attire will surely leave you awestruck. With bangles in hand, lehenga or long skirt teamed up with choli or blouse, a Rajasthani woman looks nothing short of an epitome of beauty.

3. Rajasthani Folk Music and Dance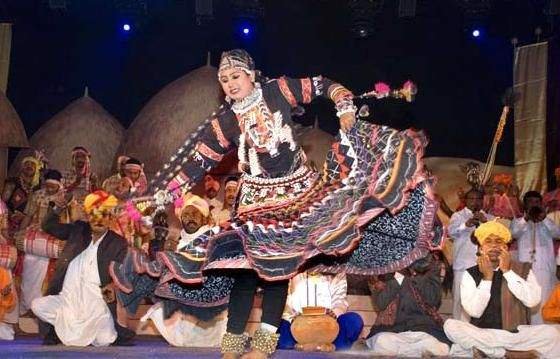 Without a second thought, one can say that Rajasthan is known for the beautiful melodies it weaves and mesmerizing dancing it shows. Music runs into the veins of Rajasthani locals. The people living in interiors of the state, especially near the desert area or the forts are more into learning, teaching and promoting their folk music.
The songs that are sung usually depict their day to day chores. Though they aren't only limited to this. There are ballads relating to love stories and heroic deeds. The Rajasthani people even compose devotional songs, Bhajans which are accompanied by sitar, Dholak and sarangi. Kanhaiya Geet sung in the Eastern parts of the state is a favourite pastime of villagers there.
Talking about the magical dances, words are sure to fall less. The famous Ghoomar song of Padmavat resonates to the massively celebrated folk dance in Jodhpur known as Ghoomar. The daring Bhavai Dance (Jaipur and Bikaner), Kalbelia (Jaisalmer, Pushkar, Barmer, Jalore), Chari (Kishangarh, Ajmer), Kachhi Ghodi (Udaipur, Shekhawati region) and last but not the least Gair (Marwar Region) are a few traditional dances that Rajasthan is famous for.

4. Architecture in Rajasthan
Known for its gigantic forts, Rajasthan tops the list when it comes to royal architecture. The state has innumerable magnificent palaces, ornamented Havelis, and prestigious temples, each speaking bits of history through their built.
Rajasthani architecture is a mixture of Hindu and Mughal structural design. The Amber Palace of Jaipur, Junagarh Fort of Bikaner, Mehrangarh Fort of Jodhpur, Chittorgarh Fort of Chittorgarh, and the list is never ending, are perfect examples of Rajasthan's elegant architecture.
Their architecture is what speaks about their royalty. It is a symbol of grace, a symbol that carries forward the centuries-old traditions. A thoughtfully designed Rajasthan tour package will cover almost all greatest known forts and temples when it comes to architecture.
5. Ultimate Rajasthani Cuisine
Revered for its delicious cuisine, Rajasthan is a heaven for foodies. Dal-Batti-Churma, Pyaz Kachori, Gatte Ki Sabzi, Laal Maas, Pakoras, Bikaneri Bhujia, Ghevar, Mawa Kachori and many other lip-smacking delicacies are waiting for you on your visit to Rajasthan.
From luxurious thalis to street food, hogging experience here is never to be forgotten. The massive variety of cuisine works on desi ghee. Yes! You read it right! Desi Ghee is the base of all the sumptuous meals you have. Therefore you can say that food here is a combination of health and taste.
6. Art and Craft
The heart of Rajasthan, i.e. creativity is the driving soul of many. No matter which part of the state you visit, art will never leave you. Every corner you seek, you'll spot handicrafts, wall hangings, hand-woven garments, etc.
Woven in the strings of hard work, the locals here dedicate their lives wholly in creating beautiful objects. The exclusive blue pottery of Jaipur has made its name worldwide. Followed by it are Bagaru and Sanganer prints that are exported to other countries.
Another aspect of crafts in Rajasthan can be seen in intrinsic carvings on furniture. A good amount of time is spent in creating these carvings which bring the pieces of wood to life. You'll see several generations engulfed in this creative affair.
7. Traditions
When it comes to rituals and traditions, the people of Rajasthan are very peculiar about following every bit of it. The deeper you dig, the more you find about the importance of adhering to these age-old customs.
These traditions are performed in every caste and sub-caste with slight or no variation. The lifecycle of people residing here evolve around sixteen Samskaras which are the 3 stages of life, i.e. birth, marriage, and death.
A few of these traditions include, not allowing a pregnant woman go under trees which are believed to be possessed by spirits, keeping a knife under her pillow during the night-time so to protect her and the child inside womb from the evil eye, etc. From the birth of a child to his journey afterlife, these traditions are glued to him forever. It is a mandate for each and every person existing, especially in the Gharanas and inner corners to stick to their roots.
The state is full of vibrancy. From fancy fairs to flamboyant markets, a homely village life to the grounded life of Hawelis, Rajasthan has so much in store for you!