4 Reasons Why MEP BIM Models are Important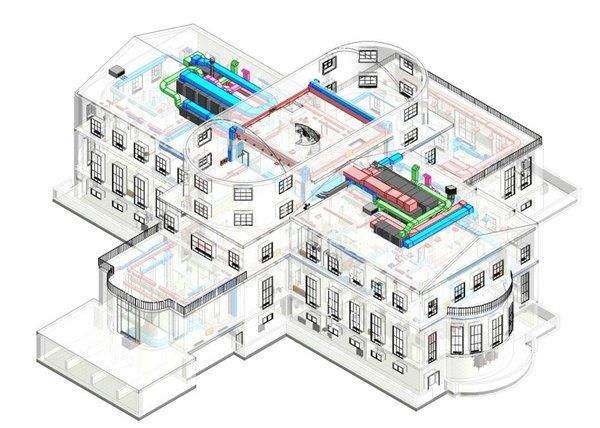 MEPF in the construction sector stands for Mechanical, Electrical, Plumbing and Fire Protection systems in the buildings. These systems make the building safe and habitable for the people who live in it. MEP installations need to be designed together. There is a high degree of interaction between them. Moreover, looking at the complexity and the need for accuracy AEC professionals are utilizing Building Information Modeling for planning, designing, prefabrication and installation of MEP systems in the building.
MEP BIM model consists of all the MEP components. These are chillers, ducts, pipes, AHU plants etc. These all will be included in the building. These models can be created of different Levels of Detail (LOD). It is based on the project requirement or upon the purpose of the model. There are varieties of reasons why MEP BIM Models are essential. In the current article we will be looking at their importance for an effective onsite construction process.
1. Enhanced Coordination:
As stated above there are various disciplines involved in the construction of the building. There are architects, engineers, project managers along with various MEP professionals from the disciplines of plumbing, mechanical, electrical etc. The BIM based approach facilitates coordination both at inter disciplinary level and at an intra-disciplinary level. Its cloud-based collaboration capabilities allow them to work on a single model to ensure that they are all on the same page. BIM Coordination Services can be used to detect any hard, soft or workflow clash which could occur between all these trades. These clashes are then resolved in the preconstruction stage well before prefabrication or construction.
2. Accurate Shop Drawings:
MEP Shop Drawings are vital for precise fabrication and installation. Today, with BIM it is possible to gain accurate shop drawings. MEP BIM models are created and clash detection is carried out following which MEP Shop Drawing Services can be used to extract 2D drawings from the 3D model. All the requisite details about fabrication and installation of plumbing pipes, electrical wires, HVAC ducts are included in intelligent 3D model which means that the ground workers will have reliable and accurate data which is required for a smooth onsite construction. Using BIM for extracting shop drawings has a variety of advantages like quick modifications, augmented precision etc.
3. Effective Planning:
There are two main ways in which the virtual 3D model can help in ensuring a streamlined onsite construction process. First, 4D BIM allows to link time related data to the 3D model to gain exact information about material delivery timeline, installation dates etc. 4D BIM also helps identify and resolve workflow conflicts which could reduce delays. 5D BIM on the other hand provides accurate quantity take-offs and cost estimation. Here, the costs are linked to the material quantities so that any change in quantity automatically reflects in cost. This allows the project managers to always stay on top of the project cost and avoids any huge changes in the budget.
4. Management of facilities:
The MEP BIM models provide a complete analysis of the building which is useful even after the building has been constructed. MEP systems in the building need to be monitored and they require frequent updates to ensure optimal functioning. With As-built MEP BIM models, facility managers can keep track of all the MEP systems of the building and can carry out regular maintenance activities, make quick repairs, check their energy consumption etc. Using BIM for maintenance of the MEP system leads to enhanced functioning of MEP components as well as warrants their improved longevity.