Know About Top 5 Reasons to Get Home Insurance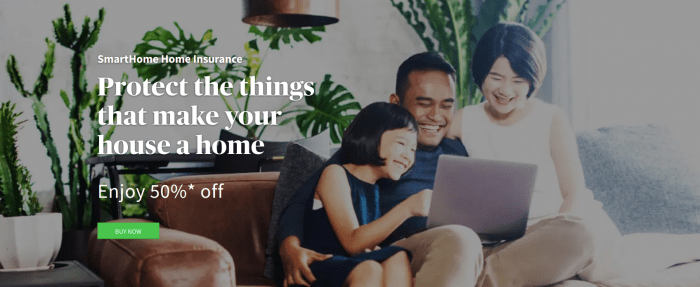 Is home insurance necessary? The answer is YES. Whether you own a house or rent any property (i.e., apartment, condominium, etc.), it's important to insure your living space against unwanted events.
What Exactly Is Home Insurance?
Home insurance is a type of insurance that covers property-related risks, such as burglary, theft, physical damage and other natural hazards, like fire, windstorm, flood, earthquake, and more.
Also known as a home protection plan, home insurance also provides homeowners or renters with protection or assistance in the event of lost or damaged household items and other valuable assets.
Here are a few items covered by this insurance, both in the main and additional benefits:
household equipment (i.e., television, air conditioners, DVD player etc.)
motor vehicles and their accessories
structures, fixtures and fittings
jewellery and watches
sporting equipment
electronic devices
legal documents
Benefits of Getting a Home Insurance Plan
1.Protect Your Home & Other Property
As discussed, the main function of a home insurance plan is to offer protection for your abode and all the items inside it. The insurance company will safeguard your biggest life investment regardless of the gravity of damage or source of disaster.
A comprehensive home insurance policy covers all your house's fixtures and fittings—kitchenware, appliances, furniture, mirrors, blinds, carpets, curtains, curtain rails, walk-in wardrobe, parquet flooring, fence, bathroom suites, and more.
This insurance plan applies whether you commissioned a contractor or an interior designer to make your outdoor and indoor spaces aesthetically appealing or purchased your home essentials and house décors yourself.
2. Compensate Damage or Losses
A home protection plan gives you additional benefits— receive financial support and replace your insured belongings. Most home insurance policies provide compensation for damaged property or lost items.
For instance, your home became inhabitable due to a massive fire. Your home insurance plan will shoulder the cost of your alternative accommodation while your house is undergoing repair. Not only that, but it will also reimburse you for the value of your damaged possessions.
And, if your house has been robbed and some of your material possessions are destroyed, you'll either get the actual cash value or replacement cost coverage of your insured belongings.
3. Cope with Financial Stress
The cost of building, buying, or even renting a house is no joke. You'll also need an extra budget for household equipment, furniture, and other home décor items.
These reasons alone suggest the importance of home insurance. Imagine if your entire house was blown away by a tornado or damaged by flood, fire or other natural disasters. All your hard work and the money you invested for your dwelling place have turned into dust.
The aftermath of losing your home due to a catastrophic event can result in emotional stress. But if you insure your house and its contents, you'll have fewer worries because the insurer will pay for the repairs and replacement for damaged household items.
That's not just it. You may also get emergency home assistance, cash allowance, and loss of rent or alternative accommodation expenses, among other things.
4. Satisfy Mortgage Lenders
Is a mortgage term plan directly related to home protection policies? The truth is, no. However, if you take out bank loan and lend from a mortgage lender, you'll need to carry a home insurance plan.
All lenders require getting such insurance before you close on a house. The reason behind this is to protect the property they have an investment against catastrophic damage and ensure that the property can be rebuilt or repaired in the event it's damaged or destroyed.
5. Offer Liability Protection
Did you know that a home protection plan protects more than your house? Yes, home insurance companies not only covers the physical structure of your home, but also covers the legal costs or amount awarded against you or a family member due to a variety of circumstances.
The third-party liability coverage typically includes the following:
accidental bodily injury or death
accidental damage to their property
contamination in the food and drinks
defects in the building
loss of or damage to the building, fixtures, fittings and renovations, and contents
Protect Your Home from Uncertainties
A home insurance plan shares the same purpose as life and car insurance. The only difference is that you ensure that your house, property, and family members remain protected in the event of many uncertainties—natural catastrophes, burglary, theft, and other disturbances.