Myrosia Palmer Makes History with Lifetime Achievement Winner Mary J Blige at BET Awards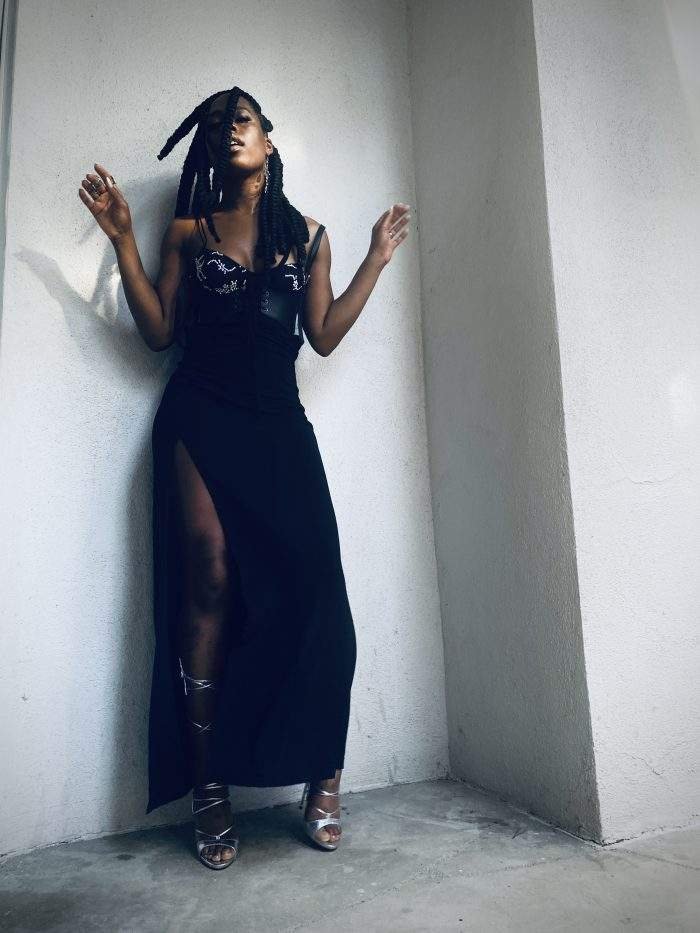 Myrosia Palmer first began dancing at a mere two and a half years of age. She was full of energy as a child, and her mom put her in dance classes to exhaust some of that energy. As she aged, dance was her favorite pastime, her truest passion. Eventually, she decided that this was not just a hobby, but her purpose.
Now, Palmer is an industry-leading dancer in her home country of Canada and the United States. Millions have seen her work, whether in the Emmy-nominated episode of Zoey's Extraordinary Playlist, Beyonce's stunning visual album Black is King, the Remy Martin commercial Team Up For Excellence, CBS' Clash of the Cover Bands, and many more. She has no shortage of highlights decorating her resume, and remains humbled by all she has achieved so far.
"Sometimes it doesn't feel real. As a dancer you're only as good as your last job so I'm constantly moving onto the next thing before processing what just happened. I hate that part of the industry. But it's what we have to do to keep making memories for ourselves. I love that I have had the privilege to be a part of so many successful projects throughout my career.
It makes me feel extremely proud because at one point it all seemed out of reach. I also feel like there is so much more to do! I am grateful that I have been able to align with many like-minded people in my career. It feels gratifying to look back and to know how hard I worked to get those projects," said Palmer.
Live performances are always memorable for Palmer. She is known to impress, and Choreographer Adrian Wiltshire who worked with her on the 2021 Grammy's says she is "inarguably a star" where Palmer was his choreography assistant for the Lil Baby performance. Wilshire then directly hired Palmer for the 2021 BET Awards with Jasmine Sullivan and Ari Lennox, and shortly after that he hired her again for a National tour for a recording artist in which she was also the dance captain.
"Working with Myrosia is literally a breath of fresh air. She truly is in a league of her own. I can relax as a choreographer knowing that she will always work hard and execute my choreography with the utmost professionalism and skill sets of high quality. She is always on time, very vigilant to my work/creative process and a chameleon when it comes to dance styles. She is also very friendly, lighthearted with great energy which is so important to have in a dancer as a choreographer," said Wiltshire.
Palmer is no stranger to success at award shows. In 2019 she performed at the BET Awards alongside Lifetime Achievement Winner Mary J Blige, a once-in-a-lifetime experience. Award shows in particular are one of Palmer's favorite places to perform, as they are always exciting and filled with comradery. When she was directly booked for the project without needing to audition because of her renowned talent, she knew it would be enjoyable, but when she heard she would be dancing alongside 9 time Grammy Award winner Mary J Blige, as well as choreographers and creative director, HiHat and TyrellLatrina, she could not wait to get started.
"Mary J Blige's music is storytelling. It encapsulates the emotions and experiences of women, especially black women, so effortlessly. Her music is timeless. It can be played today with the same impact on all generations. She has impacted my life by reminding me to stay true to myself and to be strong. Her music is a reminder of the strong, soft, intelligent, and powerful black woman I am and that self-love and happiness is the ultimate gift. It serves as a reminder to establish and maintain boundaries in your life," said Palmer.
For any job she takes on, Palmer always rehearses extensively on her own as well as in the scheduled rehearsals with the team. She aims for perfection with every performance, and this is how she achieves it. She does her homework, studying the music and lyrics to accurately tell the story of the song, while knowing her cues in and out.
To celebrate the lifetime discography of Blige required authenticity of a specific era, the 90s. It is often seen in performances but difficult to capture genuinely unless the dancer does their research. Palmer was able to effortlessly tap into that era which made the choreography believable and easy to watch. That knowledge paid off, as the performance was a highlight of the night. The 2019 awards drew 2.43 million viewers on BET and 3.79 million for its multi-network simulcast, along with a 1.5 rating across all eight channels. The performance itself has over 11 million views on YouTube, with many commenting on how moving and amazing it was.
"I feel proud. It's an incredible feeling knowing that you are a part of a historic performance. Her artistry is legendary, so to be a part of something such as this Lifetime Achievement performance was a huge honor. To know that I was a part of the success of this project is humbling as well as inspiring for me to continue being a part of groundbreaking performances in the future. I am very grateful that I had this opportunity and to see the impact it had on the industry as well as the culture," said Palmer.
Palmer has a lot on the go now as well, with many projects in the works. Fans can see her soon as a lead dancer in the upcoming Disney movie Sneakerella, set to release in February 2022.