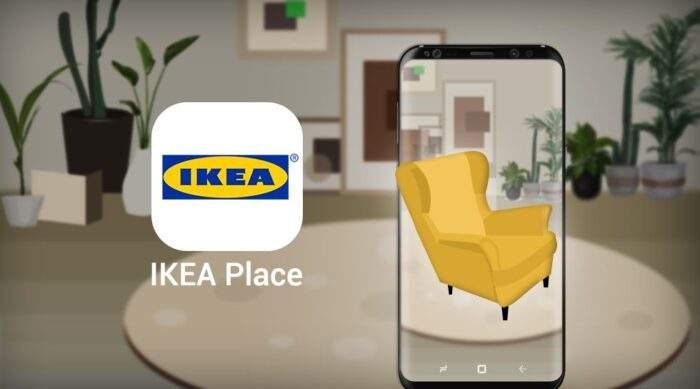 There are times when people purchase a piece of chair, carpet, lamp, or anything else, just to find that it didn't fit in their room after reaching home. But with technological advances like Augment Reality, such issues are gone forever. Choosing the best colors for your interiors, staging a room with furniture, making a model or drawing of any room, and much more is now possible with AR furnishing apps.
IKEA Place is one such app. Launched in 2017, IKEA Place offers you the chance to do the virtual placement of a piece of furniture from their store. The 3D images deliver real-life size estimates and are very precise. This app is a perfect example of how the retail industry can command technology advances. 

How Does IKEA Place Works?
IKEA Place is available both for Android and iOS devices. It is a famous app that provides you the opportunity to try any furniture from their catalog by placing them in a real environment. The app is there to help users select the correct measurements and play with designs. Users can surf through IKEA place's catalog, choose a piece of furniture, allow the AR mode, and let the product come on their device's screen. In short, it lets users to virtually fit any furniture in their room to find out how they will look.
As a result, creating this kind of app can be quite beneficial for businesses that sell furniture. So, let us find out what goes into creating an AR app for home furnishing businesses like IKEA place.

MUST-HAVE FEATURES
Login and Registration
It is best to let the users register in your app using their social media accounts, suggest app developers India. This is not only a quick option, but it automatically connects the app to social media accounts of the users so that they can easily share photos of their preferred furniture. 

Profile of The User
The profile feature in your AR-enabled furnishing app should record all that the user does including viewed products, order history, favorites, liked categories, and cart. You can also let users save their sensitive information like delivery address and credit card number, but this will call you to apply top-of-the-line data security certificates.

Catalog
The catalog is where your users can search for the products that you offer and also give them a try with AR-furniture placement. You can categorize the catalog for an excellent user experience. You can keep all the products in one catalog and add the AR-enabled product tags.

Search Feature
This is another must-have feature to make it quick for the users to locate an item effortlessly. Filtering can also be added along with this feature. With filtering, you can let your customers search for products by their type, color, dimensions, and price.

Dimension Measurement
This is the most important element of an AR-enabled furnishing purchasing app. A good furniture placement app should be able to properly measure the dimension of the room with the camera of your smartphone. Your app won't be complete without this feature. Taking the measurement precision is of utmost importance for an AR app such as IKEA Place.

Purchasing Feature
The app should let clients make purchases. The best way to do this is by incorporating a high-end payment gateway within the app which allows for smooth and fast transactions. Another way is to link the app to your website.

Push Notification
This is another useful feature in an AR furnishing business app. This feature will help you send notifications about new items in your store, sales, discounts, and more.

Manipulation of Products
If you want to create an excellent app like IKEA Place, it should be able to create 3D models of every product you offer. Your users should be able to rotate the furniture to make them fit in their desired location. They should be able to turn the product in the way they want.

Favorites
When it comes to buying furniture, customers take time to make their final decision. They can take many days to browse and compare. So, your app should let them save products that they like for viewing them later.

Reviews
It is estimated that over 90% of people check user reviews online before they buy anything. So, your app also should have the feature of leaving reviews for the users. This feature will make it easy for your customers to make their decisions.

Screenshots
Another important feature to add in your AR-based furnishing business app is letting your users capture a photo of the room with pieces of virtual furniture inside it. You can also add a feature to share those images with their friends via email or social media or just save them as screenshots for reviewing later. This way, users can easily compare different products.

Delivery Tracking
Whenever people make their purchases via an app, they wish to stay well-informed about the time their furniture will take to arrive. So, add a feature that can help your clients check out the product's delivery status or make arrangements to send email notification on every level of the delivery process.

Conclusion
So, if you are looking to create a good AR-based app for your furnishing business, it is the right time to do so. Furniture shopping apps such as IKEA Place offers an excellent experience with the AR features for the users. Being a new technology, AR is both interesting and challenging to implement. AR technology certainly offers outstanding opportunities for furniture retailers and manufacturers. An AR-enabled furnishing business app can greatly benefit your business. Clients can preview their interior using the AR app with furnishings that they have not even bought, letting them make well-informed decisions. So, contact professional app developers India right away and get one created for your business.