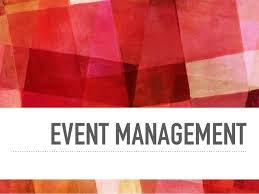 In the 21st century the importance of event management has garnered more and more attention. From wedding ceremonies to birthday parties to receptions to concerts and festivals, every major event with a potential of gathering 100s of people has to have an event manager. Gone are the days when you're the one who has to manage everything if the event is being organised by you.
With the modern times, people with the relevant skillset have come up and become event managers and these event managers offer to do your job for you. They are adept in providing you with exactly what you wish for at the lowest possible costs and have your guests and visitors leave fully satisfied through their event management career.
What is an event manager?
An event manager has to have knowledge of a number of things and must always be mindful of all the little details. Be it a wedding or a music festival, there are thousands of things that can go wrong and must be catered to in the greatest of details. An event manager takes up the responsibility of organizing an event in lieu of the person whose event it is and provides quality services and products wherever required.
An event manager must take care of everything from the lights and sound to the food and catering to the guests and even security and all possible needs as required for the event. There's no detail that can be left out as it may cause significant damage to the reputation of the event organizer and the client.
Event Training – How to become an event manager?
The road to become an event manager is a long one and one must be fully committed to constantly running around checking everything and ensuring that the schedule is being followed and everything is on time.Event training is an important part of your event management course as without proper practical experience you won't have any idea of what to do and how to approach what you are supposed to do.
Event courses today cover all these aspects when they provide event training as it is imperative for the new event managers to have field experience and not just theoretical knowledge. It is important to develop interpersonal skills and dabble in the art of negotiations with different vendors and your clients to get the best possible deals for everyone.Itprepares you for a great event management career and it is important to understand the type of events you are going to manage or you plan to manage in future.
ConclusionEvent management career is a wild ride that requires you to be ready for anything and everything. Unforeseen situations and unavoidable delays along with unexpected turn of events, you have to be ready to encounter any and all such situations and must account for all possibilities to full proof your event. Event courses only provide as good an event training as the institute that's teaching it and for a shot at a great event management career one must look for a place that can provide the most on-field experience and teach you all that must know about event management.