Top 10 Reasons to Convert Your Website into a Mobile App
We are living in a digital era. The market of mobile applications especially is growing at a tremendous rate. A website has proven to be a powerful asset to the business. While mobile application has taken the visibility of a business to a whole different level. Website development services can only be accessed on desktops, laptop, handheld devices through browsers Google Chrome or Internet explorer unlike mobile app development services which offer enhanced engagement of customers at their convenience with the integration of handy mobiles & an internet connection. Today, the count of mobile users is more than the count of desktop users which is why it is rightly said that 'Mobile is a new Web.'
According to a study, people spend 9 times more on mobile applications than on websites. It gives an added benefit to the business when it turns their website into a mobile application as mobile apps are growing at a breathtaking rate. In this article, we will discuss all the right reasons why a business needs to turn their website into a mobile app.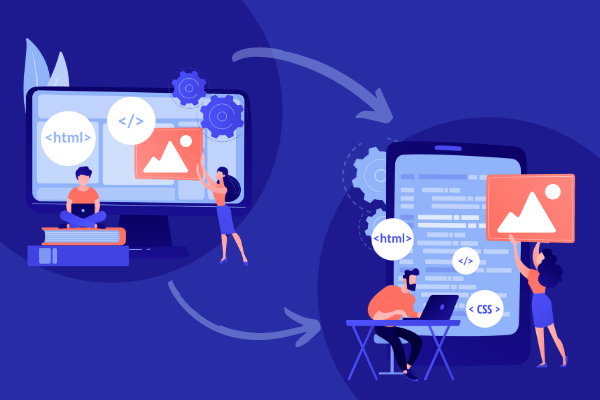 1. High Accessibility
As mobiles always stay in the hands of customers, it becomes very easy to access the mobile applications. Mobile apps have removed the traditional approach of searching something in the URL. Now, everything is merely a click away with the mobile apps. Website development services don't offer such ease of access. Everyone has to have a desktop or a laptop in order to access a website unlike mobile apps which are handy.
2. Better Personalization
Mobile app development services treat customers with a personalized experience unlike websites. Personal data and confidential information of the users is stored on an individual's phone with login credentials and settings. Also, a mobile application provides speedy response and excellent user experience to the customers. Rather than being a broad, one size fit all experience for all customers, a mobile application targets to present customized user experience according to their needs.
3. Improved Customer Engagement
Website app development services don't provide push notifications feature. Whereas mobile application permits the customers to send or receive messages timely. Users are able to receive updates related to new product launches, current promotion deals, discount coupons, links to shopping cart etc. through push notifications. A mobile app is likely to get higher click through rates because of push notifications which eventually enhances the engagement of the customers.
4. Faster Loading
There is no doubt that if we compare the speed of a mobile app and a website, mobile applications tend to load faster than websites. If the statistics are to be believed, then it is already proved that mobile app development services work 1.5 times faster than the websites. This feature gives a seamless experience to the users. A well-designed mobile application is able to perform its functions more quickly than a website. Websites use web servers to store their data but applications store their data locally on mobile devices. Because of this factor, retrieval of the data is swiftly possible in mobile apps.
5. Brand Presence
Mobile apps are definitely stronger branding tools compared to websites. The retention percentage of customers over a website is comparatively lower because websites don't provide that level of personal connection as that with a mobile application. Mobile apps are successful in creating an emotional touch with the users which make them feel strongly connected to the brand.
6. Customer Loyalty
Buyers love special offers or coupons. Mobile applications enable a business to improve customer's loyalty by providing them extra promotional deals which can only be done through these apps. It is utmost important to retain the existing customers than to make new customers.
7. Offline Mode
It is a major difference between a mobile app and a website. Though both the website and an application are reliable on an internet connection, some basic functionality and features of an application can still be accessed in an offline mode. While a website can't be operated offline.
8. Increase Conversion
Mobile application provides users a better understanding of a business's products and services. This assists in creating a better conversion stream which brings new customers to the business and builds a stronger connection with the current ones at the same time. The conversion process is much quicker in a mobile app because of excellent user experience and better personalization.
9. Spending Time
According to a survey, mobile users spend around 86% on mobile applications and only 14% on websites. This helps in fetching more customers and targeting a wide range of audience which is not possible with the website. More the users spend time with the apps, the visibility of a business would be better.
10. Enhances Productivity
A mobile application is able to handle various functions at the same time which increases productivity more than that of a website. It also cuts down sales and marketing costs because a mobile application is used as a marketing tool.
Concluding Notes
It is quite evident from the above stated advantages that converting a website into a fully functional mobile application is not only beneficial for a business but also for customers. A mobile application makes the website look much better and creative on small-screen devices. Mobile apps provide greater personalization and operational efficiency which improves engagement, conversion and retention rates. Therefore, developing a mobile app is highly advisable in order to engage with a whole new audience segment.