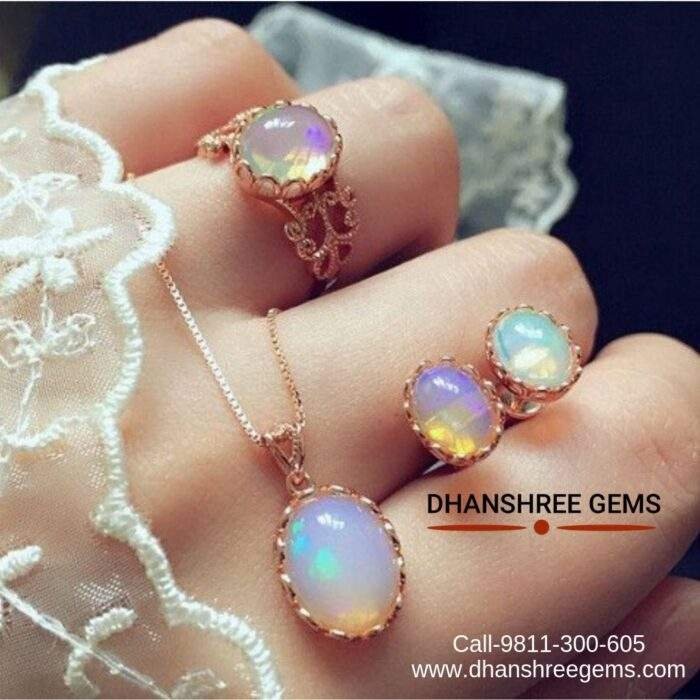 Buy opal gemstone online and be rest assured of good quality and good price. However, when you buy opal online you must get a reliable certificate for it, to make sure that it is authentic. Opal is evaluated on the basis of transparency, type/colour, cut, clarity, and 'Play of Colour'.
Come from Australia. Actually, the national gemstone of Australia is opal. Mexican and Ethiopian opals are popular too. However Ethiopian opals do not last long as they lose their lustre and fire in a short time when worn regularly. Therefore Ethiopian opals are worn as jewellery while Australian opals are used for astrological purposes and jewellery.
There are many an online seller who are looking to making a quick buck. They enhance the opal gemstone pictures to make the opals to look more attractive than they actually are. So, in the first place, you need to trust the seller you are dealing with. You also should see many pictures and preferably a video too so that you get a close enough idea of how the opal looks. If the seller has a 100 % money back guarantee scheme for the stone and grading, it would help. If you do not like the opal that you have bought, you should be able to get your money back so that if it is not what you expected you can get a full refund.
A good vendor should always inform the buyer if the stone has been treated, repaired or stabilized.
The trust factor also comes in when you give your credit card details. So, make sure you are approaching a reliable and trustworthy opal stone, online vendor.
So that you know what you are going for. Educate yourself about solid opals, doublets, and triplets because there is a vast difference in their durability and quality. Get to know about the different kinds of opals and how to select them.
Go for an opal that appeals to your eyes as every opal has a different appearance. Learn about opal valuation and then compare the stones. Go for an online vendor with a good reputation preferably someone who cuts and mines the opals also.
Learn about natural inclusions and faults. These are ok but the opal gemstones should not have cracks. Cracked opals are worthless. The vendor should make you aware of any cracks or inclusions before you buy the gemstone.
Prices inclusive of GST and without GST should be mentioned on the website. The right tax bracket should be selected by you when you submit your order.
The base body tone guide is a preventive tool adopted by the Opal Association and which it is selling. It allows buyers and sellers to gauge opals uniformly. It helps buyers and sellers compare the opals. The base body tone is how dark or light the stone is, with the play of colour and brightness being ignored. The base colour is checked by looking at the stone from atop of it and not considering the material below the stone. The opals falling between N1 and N4 are black opals. The price of opals is decided on by its body tone, colour, brightness, the play of colour, size and its faults and natural inclusions.
Brightness is a term used for opals a lot by buyers and sellers on the net. The scale of brightness is 1 Faint, 2 Dull 3 Bright, 4 Very Bright 5 Brilliant. Brightness determines the value and beauty of the stone. The monitor should be adjusted to get an accurate colour and contrast.
To buy opal gemstone online you also have to check the size of the opal. If an opal is very thick then it is less valuable.
The more play of colour the opal has the more valuable it is.
The more faults or natural inclusions an opal has, the less valuable it is.In conclusion, it can be said that if you want to buy opal online, you have to make sure that you are on top of it and have full knowledge about the opal gemstone. It is advisable to be safe rather than sorry.