'Pipes' – what does this word remind you of? If you ask me, it reminds me of a 2000's game that I used to play on my Nokia cell phone. But today, we are not going to talk about the popular game – we are going to tell you how pipes and fittings can be used to glamourize your bathroom in a new way. Yes, you heard me right. Pipes can give any place a look and feel of rustic antique that will leave any guest visiting your home – awestruck. In case you are a frequent reader of interior décor articles, you will know how common the modern and classic design has become. Even the Moroccan style bathroom feels outdated.
Therefore, we are going to bring to you a very new trend that uses pipes to light up your bathroom and furnish it with the luxury that has not yet been seen by anyone. But before we dive deep into the topic of bathroom fittings, let's start by taking a journey on the road towards knowing the different kinds of pipe fittings available in the current market. Wahid Marketing is a dealer and distributor of different kinds of pipes and fittings services in Nagpur.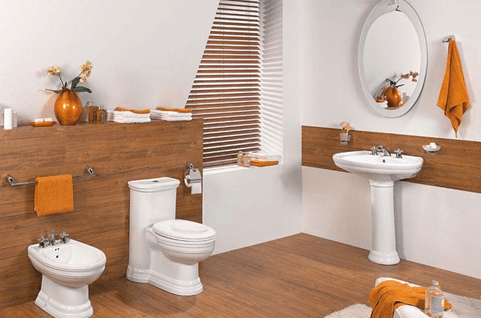 1. CPVC Pipes
The full form of CPVC pipe is Chlorinated polyvinyl chloride. And in case you are not a nerd, don't worry as I won't go all 'chemical reaction and formulas' over you to explain this pipe. It is made up of a material called polyvinyl chloride which is chlorinated. But the way it is manufactured is not important, so we are going to concentrate on its properties. The CPVC pipe fittings are very durable and resilient. They can withstand heat temperature a lot higher as compared to other pipes. So, in case you love having a hot shower every now and then, this will be the right pipe fitting for you.
2. uPVC Pipes
As you must have already guessed. The UPVC pipes and fittings are very different and kind of opposite to the CPVC pipes. The full form of it is Unplasticized Polyvinyl Chloride, and by the name, it is quite clear that this pipe does not consist of any plasticizers. These pipes are very rigid and durable and are fire-resistant. In most cases, uPVC pipes are used for the drainage system.
3. SWR Pipes
The SWR pipe is very different to what I have mentioned above. They are not usually preferred for bathroom fittings, as they are used for soil waste management and sometimes in rainwater harvesting systems. The full form of SWR is Soil, Waste and Rain – the name is quite clear to let you know it's not meant for bathroom fittings. They are very lightweight and can be easily installed by anyone who does not have much knowledge of plumbing. As they are used for soil and rainwater purposes, naturally the SWR pipes are immune towards fungi, bacterial growth, or any insect and rodent infestation.
Now that we have gained a brief knowledge on what the different kinds of pipes exist in this world, its purpose and properties, let's begin with knowing how to use them in building a gorgeous bathroom.
1. Show Off The Underfloor Piping
This can be a bit costly for some people, but trust me the end result is going to amaze you. In case you have a cloakroom in your bathroom, you can highlight the floor by showing off the underfloor pipes using a Perspex floor. Add some floor lighting in the corner to give a dramatic effect.
2. Go Industrial
In case the interior of your home is a bit rustic and antique, you can add its flavors to your bathroom as well. Wondering how? Well, go for a large frameless mirror in your bathroom over the sink. Make sure that the sink taps are connected by an exposed copper pipe. Use those pipes as a frame on both sides of your mirror to give it an industrial plus rustic look. You can also add a touch of wall scones on both sides of the mirror, but make sure that they are yellow lights.
3. The Metallic Diva
Modern bathroom style has become very common, but you can always choose to stand out from the crowd by adding bits and pieces of metallic pipes here and there in your bathroom to add some shine to it. Go for exposed metal pipes in the shower area, but make sure that they are resistant towards rusting.
4. Going Old School
One of my favourite and very unique addition to our list is going to the old school way. In case you are bored with those fancy pipes and faucets, you can opt for a very 60's or 70's look by buying basic utilitarian pipe fittings. Ask a plumber to fit it for you, and your antique bathroom will be ready in a day.
So, there goes my rundown on the best designs and fitting ideas for your bathroom to keep it well furnished and modern. Trust me, these designs are unique and very few people have had the courage to try them out. You can always create your own design using different pipe fittings and connections, making your patterns and experimenting with colours.