Nowadays, computers are a part of our life and work. Many companies use computers to do business, there are also many technology companies use computers to create new apps. With so many machines in one company or one room, how to manage them efficiently is a question.
AOMEI PXE Boot
Once they are been linked with network, things become much more easier. If your machines are bare metal, you can boot them with a technology called PXE boot. Preboot execute environment boot means booting multiple computers in the same LAN without bootable media but network. This technology is a good news to enterprise. Because many computers without hard disk saves money and energy. With the help of PXE boot, technicians could manage machines easily. Control the server, control clients.
So, how does PXE boot technology work? You should set IP address and image file manually. Or seek help for PXE software. AOMEI PXE Boot is one of them. AOMEI PXE Boot is a freeware. You can use it to makeclients or target computers boot from micro system – bootable Linux image or Windows PE image file.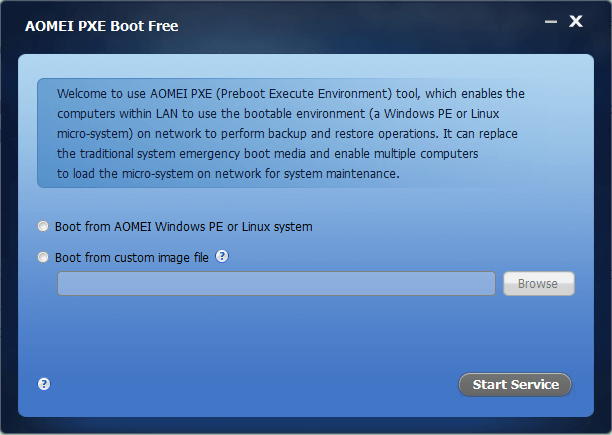 AOMEI PXE Boot provides an easy way to maintain multiple computers, it doesn't require to deploy other plug-ins or programs. Use it is very simple:
Download, install and run AOMEI PXE Boot to a master computer, select an image file and start service.
For the client computers need to be maintained from network boot, set its BIOS boot mode as "Network boot".
Computers lack of CD/DVD or USB drive device, now you are able to use AOMEI PXE Boot to boot them, and then do backup or restore maintain tasks.
AOMEI Image Deploy
If you want to deploy system image file to multiple computers at the same time rather than restore image to single machine one by one, you can try AOMEI's another solution – AOMEI Image Deploy, which is a free image deployment and network cloning software.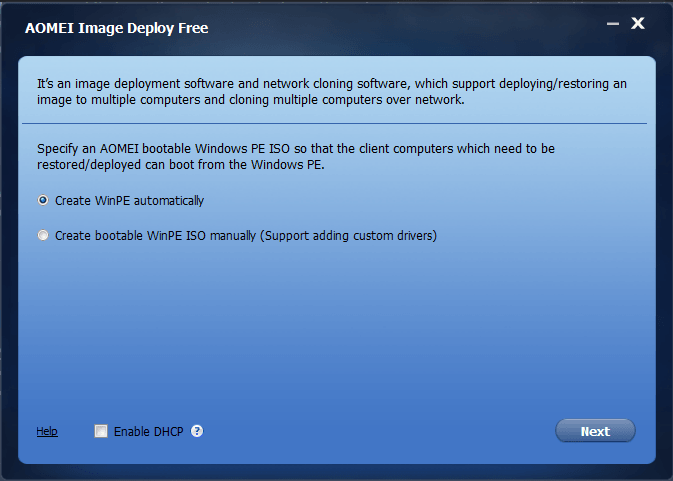 AOMEI Image Deploy is easy to use too. It has build-in wizards. You just to need to follow the prompt step by step to finish deploying process to batch client computers within the same LAN. Server installed AOMEI Image Deploy will display clients IP address and restoring status in list. Server will receive the prompt whether restore is successful or not, and it can manage all clients in remote.
Distributes different computers'names and IP addresss for clients that finish deploying automatically , and makes sure they can be connected to network normally after entering OS. Actually, you can pre-install remote control software in the system image. When client computers are online, you can take subsequent operation to client computers in remote as well. Moreover, AOMEI Image Deploy supports universal restore.
Summary
Either AOMEI PXE Boot or AOMEI Image Deploy's image file canbe created by Windows backup software – AOMEI Backupper. Both AOMEI PXE Boot and AOMEI Image Deploy are in advanced edition of AOMEI Backupper's integrated utilities. If you plan to manage multiple computers in one lab, hope this article will help you a lot.