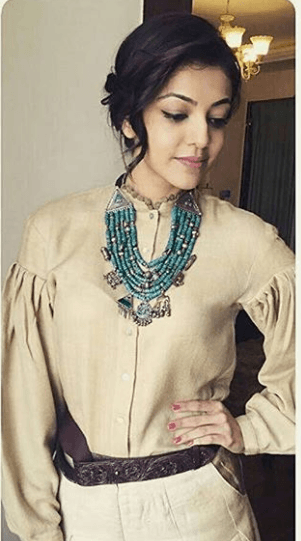 Top 6 Costumes Designed By Popular Designers
The people will inspire by movie costumes which looks beautiful for their outfit. They want to plan to design like that while they invite by any special events. But at that movement, they confuse what to wear which types will be good for that function. So, to break that here are the some of the costumes that you like more were by Kajal Agarwal. You can choose any of them to design like that with your know designer near your home with your outfits.

If you look at Tollywood, you will see two kinds of style stars. 1) Those who wear traditional clothing and 2) Western dressing. And frankly, Kajal Agarwal carry both rightfully that found herself stunning in any look. In the recent events, she had her looks curated by stylist Triporna Majumder costumer and had also worked with Anisha Jain and Neeraja Kona.

They are one of the best customers who works smart to move when you think you are in something of a style rut. Get some of the ideas with this movie clothes designed by popular designers.
The Culotte Jumpsuit:
Do you think anyone can go wrong wearing an Anavila ensemble? Heck no! With this look, Kajal works the culotte jumpsuit trend effortlessly. The actress teams her look with a profession neckpiece from Amrapali the pop of color spontaneously amps up the overall look, and I love that. Also, the addition of that brown belt and brogues looks perfectly.

A Denim Shift Dress:
This dress designed by a Shahin Mannan one of the most popular costumes. In this Denim dress and with white sneakers, she looks very cool. This can be good to wear in outings when you go with your friends.

A One-Shoulder Jumpsuit:
This dress customed by Isabel Sanchis that kajal walked on a red carpet on this dress she looks stunning over there. That single long sleeve adds the right amount of emotion to this all-white outfit, with the silver metallic belt breaking the boredom perfectly.
On-Trend With Off-The-Shoulder:
This casual dress is designed by Abhinav Singh he shows some celebrities and street style stars about off-shoulder trend this season. In this kajal wore a pair of cute mustard sneakers just what you require for a monochrome outfit.
Two-Tone Pants:
Urvashi Joneja outfit will be more fashionable which looks pretty on any star he works with. In this Kajal dressed a pair of two-toned pants with a white button-down shirt with lace decorations on the sleeves. For that, she added sans accessories and her look completed with Steve Madden shoes.

The Belted Dress:
In this dress, kajal looks very cute and that checks clothe with a belt is so pretty to see. And she left that like that without any accessories. The entire dress is good looking with belted showing on the dress adds a serious dose of chic to it.

Some likes traditional look and some western to where you can design if you like this clothings which designed by most famous costumes. If you are planning to present one particular event you can have this any one of the looks to look cute in that entire fest.
You can choose movie clothes anything if you want casual wear you can have Denim Shift Dress when you want to go outing with friends. You can select Culotte Jumpsuit for special events to look stunning with best accessories, and belt which keeps you to look gorgeous. But keep in mind that the fashion is which keeps you more comfortable so when you plan to stitch make sure to design which feels you more comfort.