8 Main Reasons Website Maintenance is Important
The first impression is the last impression; similarly, websites gives the first impression to the customers. Website maintenance is necessary for business as it serves as a worldwide window into the commerce, according to which client decide whether to connect or not, that's the prime objective to keep the website updated and well-maintained to enhance the image and outlook of the website. According to the survey, a well-maintained website tends to generate 80% traffic for the business.
Many corporations create the website, but with the time they fail to manage it, being outdated and unresponsive is the sole reason to lose the customers and decrease the sales rates; on that note, remember that website maintenance is key to a successful business.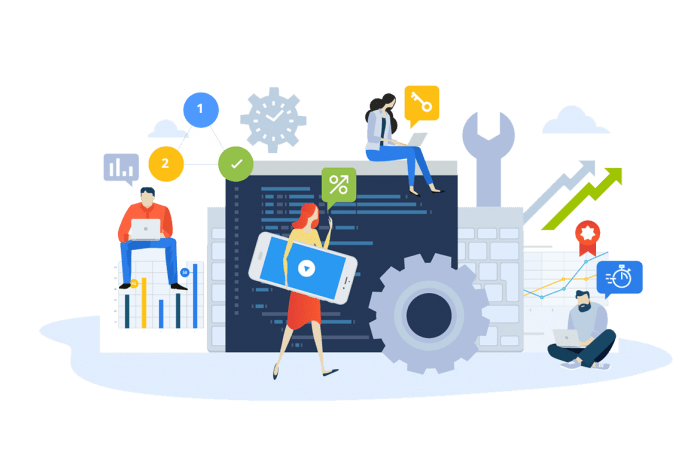 What is website maintenance?
Website maintenance regularly checks and updates sites for the issues and mistakes to run a site at total capacity. Website maintenance should be done to accomplish a better vision of user experience and rank higher in search engine optimization (SEO).
It's necessary to keep the website attractive and maintain for business because it serves as a storefront that provides relevant and up-to-date information to the consumers and encourages them to engage with the brand to buy a product or service.
Similarly, like our body require monthly checkup to be aware of the health, the website needs maintenance to be on track.
10-Steps Guide to Website Maintenance
To perform well, the website needs to be well-maintained; a web development company and needs to make sure the site runs smoothly and gives an excellent page experience to the visitor. Here is the guide that will help you in keeping a website uphold and sustain.
Thoroughly check the website(before and after the update)
Test website process of checkout
Analysis SEO and analytic reports
Check security updates and bug fixes
Renew Domain name
Check backup
Test browser
Update date and copyright notice
Ensure contact information
Check legal disclaimer
How much does website maintenance cost?
The cost of website maintenance varies on the website; it merely depends on the size of the audience, the amount of content is published, or the website works. To simplify here is the list below that will explain briefly.
Small personal blogs have low traffic and requirement to cause around $5 to $25 /mo.
The professional blog has a wide range of audiences and is the source of income, needs maintenance frequently that will cost around $25 to $75 /mo.
Small business websites use simple templates and low content, so the maintenance costs around $35 to $100 /mo.
A sizeable customized eCommerce website requires highly financial investment to keep the website up-to-date as the site holds quality content, customer data, and many more stuff to cost around $125 to $500 /mo.
Note to remember: these are estimated values; they can vary according to the website's requirement!
8 Main Reasons Website Maintenance is Important
1. Runs sites smoothly
The website is considered as a worldwide window, digital face, or public reflection of the business; this can explain the importance of a website. Poorly maintained websites have dead ends, outdated information, broken links, errors, or loopholes that can highly demolish the company's image and leads customers to bounce back on other sites. To avoid these situations and increase lead and sales rate for your foundation, you must invest in the maintenance and keep it maintained regular or monthly basis according to the requirements of the website to grow your company.
2. Attract consumers
An appealing and attractive website can change people's perspective on your product or content and give them the extra push to form a relationship with your business, but what if your website load or have errors? According to a survey, 51% of online shoppers say that site slowness is the top reason they move to another site. That's the reason website maintenance is essential to drive consumers and increase traffic towards the site.
3. Boost Search Engine Optimization (SEO)
An appealing and successful website ensures that people can find your website; to achieve that, the most important—and hardest—tactics is SEO (search engine optimization). Search engine optimization thrives for high-quality and well-constructed content to rank higher in Google, to rank higher in search engines. The prime purpose is to keep your website maintained and fresh, far away from glitches and issues; this will also boost the sales and lead rates for the development and progress of the company.
4. Customer satisfaction
In the hectic schedule, consumers want to browse websites that are easy and straightforward to understand; a professional designer knows the importance of creating a website clear and specific to why they use skills and techniques to build a user experience website. But all the efforts will ruin if the website is not maintained; a poorly maintained website has dead links, glitches and takes time to load, which decreases customer satisfaction and makes them bounce back. Keeping the website maintains can avoid all issues, keep the website flow smoothly, and give customers 100% satisfaction.
5. Content quality
According to a survey, around 60% of marketers choose to publish quality content to increase traffic and business development consistently. Creating content plays a vital role in business success; as visitors do not enjoy and trust poor quality content, poorly maintain website decrease the quality of websites and causes several issues which discourage customers from engaging. And leads to the falling of the business; that's why website maintenance is essential to keep content fresh and updated to appeal to customers.
6. Conversion rate
Conversion rate optimization is vital for a website because it brings web traffic and revenue to grow it. For long-term success, a website needs to be well-constructed to achieve high conversion and a better user experience. But if the website fails due to low maintenance can directly put the business at risk by decreasing sales value, so that's why website maintenance is necessary to attain for business.
7. Credible links
Website maintenance helps to links other sites with your site quickly; it will function well and efficiently to easily link other sites to you without causing any critical error. Getting a link from others is a great way to enhance business as visitors can easily find you, and it also strengthens the trust of customers.
8. Speed optimization
In 2006, according to a survey, Amazon speed up their website every 100 milliseconds, they notice a 1% increase in revenue. After that, Google announces that search results ranks will depend upon page speed. Besides, with such an extensive exercise of mobile devices worldwide, website speed is much more significant. But due to low maintenance, speed optimization reduces the chance of ranking in search results of Google.
Website maintenance influences SEO, which is why website development services focus on the maintenance of the website.
Conclusion
In a nutshell, website maintenance is the sole purpose of attaining an excellent user experience and increasing the business's profitability at a higher rate. According to the survey, 46% of users will never use a poorly performing website again; a well-maintained website is the only technique that will encourage and appeal to customers to focus on your brand and lead them to connect with you.