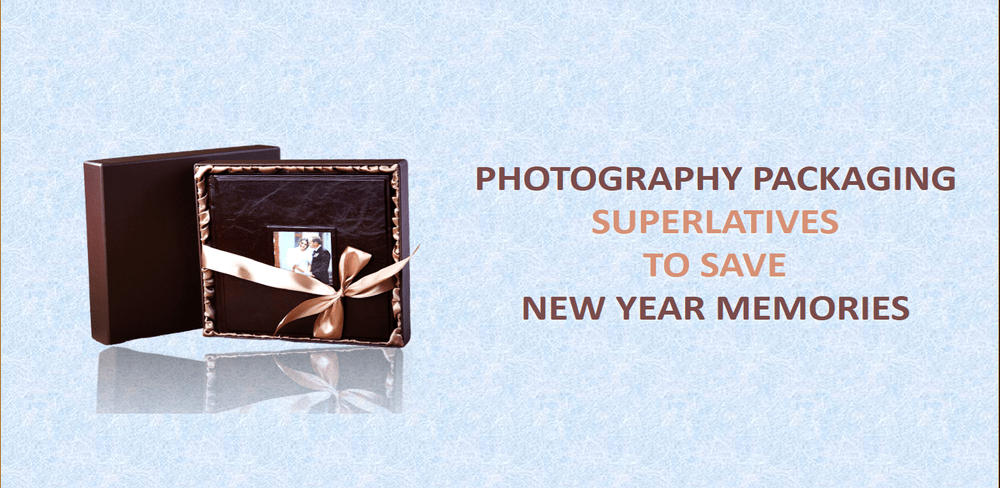 Packaging can make or break your brand. Whether you are a luxury jewelry store that ships products in a small blue box with ribbons or a photographer that has aluminum foil with a logo on the photo album boxes, the packaging allows you to easily add exponential value to your brand and customer experience. What would it be like if your company was inexpressive? Your brand and your photography packaging can make your customers understand who you are and give your business a "face."
Is your photography bold and bright? Is it kind and peaceful? 
Be creative and use the packaging to reflect your work for your customers! If, like many of us, you send prints and photo albums in repackaged bubble boxes and recycled boxes, you could be sending the wrong signals to customers. You don't need to spend a lot of time and money making luxury packaging, but careful packaging or even thank you cards can help a lot. Here are the tips that can make your packaging extraordinary.
Enhance your photography packaging with accessories
Accessories can add an elegant finishing touch to bags, boxes, folders, and photo boxes. Together they represent a cohesive force that can increase brand awareness, showcase your work, and provide customers with an unforgettable final delivery. Through these simple steps, the packaging can be improved, and a unique look can be created.
Branded Packaging: Create a custom look by printing on film or engraving studio templates or logos.
Pre-cut paper towels: The size fits perfectly into photo boxes, thus avoiding timely cuts and bending: The thin paper imparts an expression of drama, intrigue, and excitement.
Banded strips or ribbons: These are used as a closure for portrait boxes, photo boxes, and bags to make boutique looking photo packaging.
Add special tags 
As a business owner, it's hard to stand out from big companies or other photographers. But it can be done, and your customers will thank you. When your customers receive their portrait, are they fascinated by your packaging? The branding of your portrait and the way it is delivered is another way to explain to your clients why they hire you as a family, wedding, or headshot photographer. It can also build your value as an industry professional and make your portrait studio stand out. The packaging is an important part of brand communication to portrait customers, so it's important to invest in great design. Creative photography packaging boxes can't just stick on your portrait studio logo; it also needs to be creative and send a message to make your clients feel special and important.
Bag with personalized photo print
An inexpensive way to personalize the print is to use a dedicated flat paper bag to insert the print. These are quick, easy to use, and come in all colors and sizes. You can also print your company name in advance. Your customers will love it! Another option is wrapping paper – personally, it's my favorite! I mean, who doesn't like ripped, beautifully wrapped gifts? There are plenty of options here, from beautiful, natural flesh-based paper styles to any print imaginable. Just make sure you choose the product that fits the look of your brand. If you are not ready to order a large number of photo printing envelopes or have not decided on the brand yet, please consider using wrapping paper. And don't forget to finish your cardboard photo boxes with a few layers of ribbons and beautiful labels!
Wooden print and flash boxes
You can add a maple print and flash box, which is an exquisite way to provide digital photos and printed photos to customers. The natural finish of the maple box is the perfect balance between simplicity and modernity. To achieve a unique appearance, the lid can be customized by laser engraving or four-color printing at no additional cost. You can design the box with two internal compartments. One of these may contain a bed of chopped natural wood putty to protect your custom flash drive from damage, while the other part can hold prints.
The personalized presentation box brings back all the memories!
Now, personalizing photography boxes is easier than ever by following steps:
Build: You must use your custom size to start a custom project. You can choose a pre-selected box size or a unique height, width, and depth to perfectly customize the shape of your photos, printed photo albums, and wedding album boxes
Shapes:

You should explore different shapes and box styles. You must make them exactly according to your imagination. Sometimes, a foam insert is included in the presentation package, which can protect your valuables and offer the recipient an unforgettable unboxing experience.

Design: You can add graphics, memorable lines, and email with special event themes and print them in attractive color combinations. By getting this custom-designed box, you can enhance the look of your photos with new illustrations that will be printed in everyone's mind.
What will the package look like in 3D mode?
Good designers should provide printable (flat) and three-dimensional design prototypes. You can also create your model by printing something on white paper and building it into a box or test tube. This will help you notice other situations. Sometimes the image looks good when it's flat, but it looks bad when it's built up (and vice versa). Make sure you understand the difference.
Personalize it with unexpected things
You can customize the glass photo box. While it is easy to put a logo, personalization has much greater significance for the bride, groom, family, or parents of the newborn you photographed. Think outside the box also get a customized slipcase box.
Some possibilities are: 
The coordinates of their wedding
Their nicknames
Family motto
Every word of their oath
Simply customize the box to make endorsements. They might tell their friends and family that the extra effort you put in makes it even more special for them.