Why do so many famous people own shares in sports teams? Sports is a profitable business, and an investment in a franchise can pay off tremendously if the team does well. At the same time, getting involved in the sports business also satisfies a wealthy person's desire for risk and excitement; sitting in the owner's box rooting for your team is much more entertaining than sitting in front of a stock ticker hoping you made the right mutual fund choice. Owners often start out as huge fans and buy their favorite or hometown team. Here are several high-profile people who own sports teams.
Bill Murray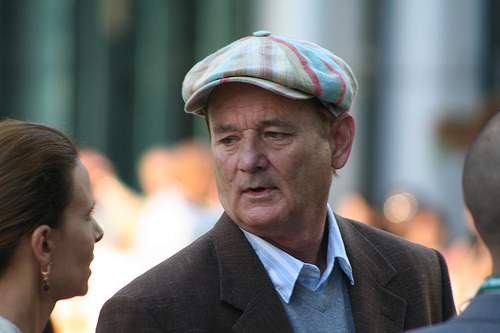 Image via Flickr by djp3000
While many celebrity owners are silent investors, Bill Murray takes an active approach. Murray is part owner of the St. Paul Saints, and has been an active part of the team since its inception in 1993. He sold programs on opening night and has even coached first and third base during games. The team's website lists Murray with the title "Team Psychologist."
The Miami Dolphins' Crowd of Celebs
Ninety-five percent of the Miami Dolphins team belongs to Chairman Stephen Ross, but the team has welcomed an astonishing array of celebrities as minority stakeholders in recent years. Jennifer Lopez and Marc Anthony bought a small share in 2009 when they were still married, which Anthony still retains. Gloria Estefan and her husband Emilio bought in around the same time, as did Serena and Venus Williams. Other celebrity owners include Jimmy Buffett and Fergie from the Black Eyed Peas.
Steve Ballmer
Not all celebrity team owners come from the entertainment industry. Well-known business figures often turn their attention to sports when they can afford the high entrance cost. Steve Ballmer bid $2 billion for the Los Angeles Clippers just four months after retiring as CEO of Microsoft. Ballmer is America's richest sports team owner, reportedly worth more than $21 billion.
Daryl Katz
The owner of the Edmonton Oilers hockey team is known to the world for his success in the drugstore business, but Daryl Katz is known around Edmonton for his commitment to his hometown. Katz, a lifelong Oilers fan, has parlayed his ownership of the franchise into an opportunity to revitalize the downtown area with a vibrant, walkable sports entertainment complex to showcase the team and breathe new life into the urban core of Edmonton.
Michael Jordan
Michael Jordan became the first NBA player to own a majority stake in a team when he bought the Charlotte Bobcats after several years as a minority investor. Jordan, who is widely regarded as one of the greatest athletes of all time, bought the team for $275 million in 2010. The six-time NBA champion was quoted at the time as saying "I am especially pleased to have the opportunity to build a winning team in my home state of North Carolina."
Owning a share of their hometown or favorite team is not just an investment. It's also a powerful way for these famous men and women to reconnect with their roots and to give back to a sport they love.