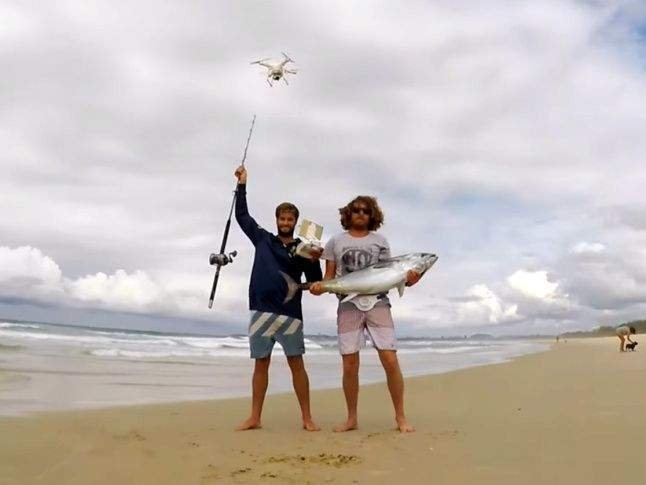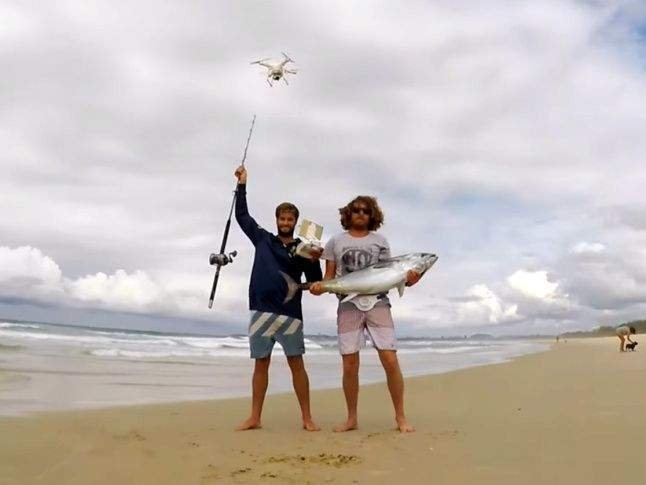 Technology has evolved so much, now even the angling community is hellbent to apply new hardware to increase their catch. Fishing with drones is one of them.

Over the years, angler enthusiasts innovated a lot of techniques and equipment to make fishing easier and bountiful. Most of the new ways bite the dust but the concept of drone fishing made its way to reality.

The idea of drone fishing is no more theoretical, it's a concept that fishermen are adopting at a faster rate across the US.

Those who aren't at all familiar with drone fishing then come along. Let's dig deep in and learn how to use this complex mechanism.

How to catch fish with drones

Don't like to go for kayak fishing? Can't cast the line at your preferred spot or far enough? No worries, the drone will make your angling easier and more efficient.

It's not a good idea to use the drone for dragging the fish. Because it will kill your battery faster. And you also run the risk to sink it.

First and foremost, I think you need to practice to keep hovering 20-30 feet above ground, steadily. Please note, I said above ground, not the water.

When you're confident enough, then go for a swing above the water. And try to spot any potential fish.

Popular with surf fishing but you can apply this technique to for other styles as well.

No boat? Well yes, drones are replacing boats and kayaks at a faster rate. From the battlefield, to pizza delivery, to fishing, drone revolution is making a great change on how we used to angle.

Take shark baiting for example, personally, I never had the nerve to paddle my boat or kayak close to shark territory and drop the bait.

I mean what if a giant one pops up and ends my story there! It was always something I wanted to do but never had the chance to. But now, with drones, dropping bait is easier than ever!

Jacques Venter, the man who invented Gannet- bait release system for drones expressed on how he never could cast far enough to hook a sizable shark. All he ever got were small sand sharks.

The point is, you don't need to be on a boat for those big trophy fish anymore. Most anglers are saying that drone is good for saltwater only. Well no, it's not.

Because freshwater fishing also can be taken advantage of using drones. Sometimes i use grone and float tube with my buddies to hunt fish.

The reason we float and drone hunt in places with lots of obstructions. I'm in charge of reeling and dragging, one of my guys control the drone and the other one act as a landing pad for the drone.

The overall experience is amazing as well as the catch volume.

All you need is 3 people on a boat, kayak or float tube. Now you all don't have to be in the same type of vessel.

Don't have any float tube yet? Trust me, you're missing out on some fun. Just pick one from a best fishing float tube and see the fun side of fishing.

The bluefin tuna, an elusive fish that is both rare and expensive. But not anymore. With the help of a drone, you can locate your desired fish, and drop the bait.

What I like about drone fishing the most is the freedom it offers. Veteran anglers might differ but imagine the whole body of water as your personal fish market. You shop what you want.

Remember kite fishing? Now, do we need that anymore? I don't think so. But you have to acknowledge one thing though. Kite fishing offers stealth in which case drones do not.

Apart from that, the whole cake goes to the drone. Better control, wider camera viewing, usable without wind pressure, exploring unseen locations etc.

Make a choice

The market is crowding up with new models of drone with advanced features and better maneuverability. That's why it's essential to read the specifications before choosing one.

You should look for these attributes-

Automatic fight assistant: You need to choose a drone that has this feature. To put it simply, with a press of a button, the drone returns to its controller, automatically.
Camera: A good camera with a wide angle of view is an asset for a drone. You can see everything clear live in your mobile screen on the go. Not only it's helpful during fishing but also convenient to shoot some awesome aerial photos.
Mobile phone holder: The controller of the drone must have a mobile phone holder. Then again, most of them have one. Check if the holder is universal or not, right after you unpack.
Mobile app: The manufacturer must provide an app on smartphone to control the camera view an whether to snap a photo or shoot a video.
Flight time: Choose a drone that offers at least 25 minutes or greater flight time.
Transmission distance: A drone should have at least 5 km transmission distance without any obstructions.
Video: Choose a drone that has 4k30 fps video shooting capacity. You might not need that heavy recording power but it's nice to have that option.
Outdoor positioning module: Check if your drone has GPS+GlONASS Dual positioning module. The combination of two technology provides superior tracking ability by its controller.
Gps assistance: Make sure that your drone has GPS assisted flight system. With this, you can control your drone better. A person with zero experience can even adapt to flying at a first go.
Customers flight plan: This option is one of the most fun in drone flying. You just need to draw a route on the app screen and drone will follow that direction or in a circle and feedback real-time landscape to you.
Brushless motor: This kind of motor makes the drone fly quieter. But I have to say, it's loud nonetheless. But in contrast to other drones, it makes less noise.
Quick-release propellers: You don't need any screws to assemble or disassemble the drone.
Warranty: No matter how good it sounds on paper, electrical components can last a decade or be done in 12 seconds! Look for a manufacturer that provides excellent after sale services. Their product might not have all these qualities but, good support goes a long way.
Your drone might cost more with all these qualities but, it's better to spend a little more and enjoy some advance mechanism.

Things you should look out for

After you got your drone, you need to adjust some stuff for better performance.

First of all, read the manual carefully and follow before you start.
When you're flying, take it slow on the throttle. Understand your drones maneuverability. To go all fast and furious and crash land on some folks roof.
The motors, circuit board, and other parts will heat up with use. Just rest your drone 10-15 minutes in between flights and the parts will hopefully last for a long time.
If your drone has different speed mods than select the low-speed option, especially if it's your first time.
Avoid flying it in strong winds. You will run the risk to drop it in the water.
Rig it yourself

It's not rocket science, your drone only needs to release the bait. You can rig it yourself. Just follow these steps.

Step 1

See those 4 drone rotor hubs? Just tie 4-inch 65 pound braided line off the bottom of each hub.

Step 2

Use 24- inch 65-pound braided line and attach a carabiner to each hub. Then tied the line to snap swivel.

Final step

Use 12-inch section of 80-pound monofilament line to tie it to an offshore flat line clip.

You can adjust the weight bearing release, depending on how much heavier the bait you're flying out. Just make sure to anchor the rod tight enough to rod holders if you're on a boat, or in a San spike onshore.

Keep releasing the line until you drop your bait and then get on with the reel. If you're not satisfied with your reel than have a look at our best saltwater spinning reel. I'm sure you will find your desired reel at a reasonable price.

License to fly

Things are still in flux when comes to recreational drone fishing. Federal aviation administration regulations published a drone license and usage information under US code title 14, at part 107, you will get the info on drone usage. Just visit here for more detailed insights.

In the end

I'm gonna be totally straight with my opinion. I don't like drone fishing for some reasons.

Limited battery life
Noise makes fish disappear especially in the quiet saltwater lake
Licensing dilemma differed from palace to place, state to state.
One bad gust of the wind, and there goes my 200$
Requires stable network reception for those advanced features to work
If you ask me, if I'm adopting to drone fishing or not. I would say no, and yes. Why? No, because I don't feel the sensation and the joy of getting a tug in my line with a drone.

Yes for some fun, I would use a drone for a couple of time. But, not on a regular basis.

Sometimes, I feel, we are letting technology consume our natural hunches and skills.

No wonder we are running scarce on philosophers and poets these days.