Finding the Right Dental Clinic for You: Essential Tips to Consider
Introduction
Your oral health is crucial to both your personal and professional life, and finding the perfect dental clinic for you is the first step in maintaining a healthy smile. With countless options available in your area, how can you be sure that you are choosing the right dental care provider? In this comprehensive guide, we will provide you with essential tips that will help you find the perfect dentist office to suit your needs. It's time to take charge of your oral health and invest in quality service that will keep your smile shining bright!
1. Consider the Location: Convenience Matters
One of the most important factors to consider when choosing a dental clinic is the location. How far are you willing to travel to receive dental care? Ideally, you should choose a dentist office that is close to your home or workplace, as this will make it easier to attend appointments and stay committed to maintaining your oral health.
Considerations for location should include:
Accessibility: Is the dental clinic easy to get to by public transportation or car? Is there ample parking available?
Hours of Operation: Are their hours compatible with your work schedule and lifestyle? Do they offer evening and weekend appointments?
Emergency Services: In case of an emergency, is the dental office able to accommodate you or refer you to a nearby provider for immediate care?
2. Assess the Range of Dental Services Offered
As you search for the perfect dental clinic, take a look at the range of services they offer. A quality dental office should be able to provide comprehensive dental care, including preventive, restorative, and cosmetic treatments. Make sure that the dental clinic you choose can meet all your oral health needs and expectations.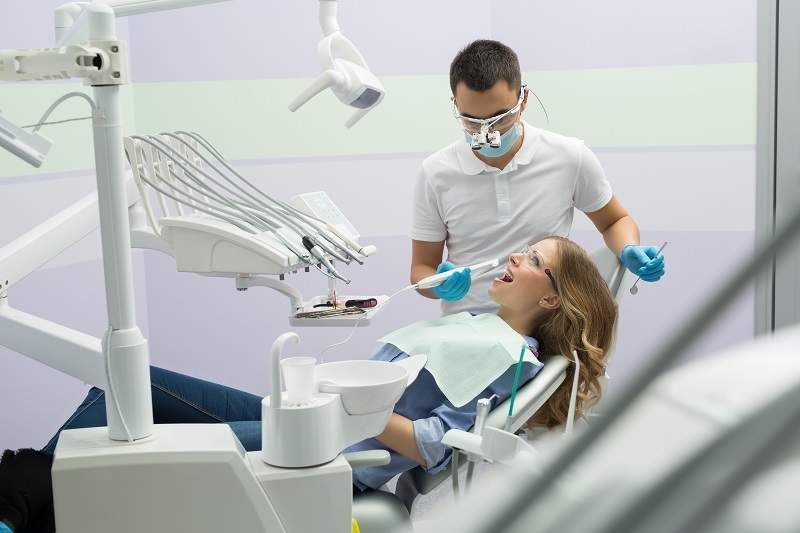 Examples of dental services to look for include:
Routine dental checkups and cleanings
Fillings, crowns, and other restorative procedures
Orthodontic treatments (braces, Invisalign)
Oral surgery (wisdom teeth removal, dental implants)
Cosmetic dentistry (whitening, veneers)
Pediatric dentistry (if you have children)
3. Research the Dental Team: Experience and Expertise
Assessing the quality and experience of the dental team is essential when choosing a dental clinic. You'll want to ensure that the dentist, hygienists, and other staff members have the necessary qualifications and experience to provide top-notch care. Key aspects to look for in the dental team include:
Education and Certification: Has the dentist completed an accredited dental program? Are the dental hygienists licensed and certified?
Experience: Does the dentist have experience in the specific services you require? (e.g., orthodontics, oral surgery)
Continued Education: Do the dentist and the team members participate in regular training and stay updated with the latest advancements in dental care?
4. Seek Recommendations: Personal and Online Reviews
One of the best ways to find a reliable dental clinic is through personal recommendations from friends, family, and colleagues. Don't be afraid to ask for their opinions based on their experiences with a particular dental office.
Aside from personal recommendations, online reviews are another great source of information. Research the dental clinic's website and social media pages, along with platforms such as Google and Yelp. Read both positive and negative reviews to get a balanced understanding of the quality of service provided.
5. Prioritize Quality of Service: Equipment, Sterilization, and Hygiene Practices
A top-of-the-line dental clinic should prioritize quality service by investing in advanced dental technology and maintain strict hygiene standards. When researching dental offices, consider the following:
Equipment: Does the dental clinic utilize modern and advanced dental equipment? This can include digital x-rays, intraoral cameras, and dental lasers.
Sterilization and Infection Control: How does the dental clinic maintain a clean and sterile environment? Are they complying with industry standards and guidelines regarding sterilization and infection control?
6. Communication and Professionalism: Setting Expectations
Effective communication and a professional manner are essential aspects of a positive dental care experience. When choosing a dental clinic, ensure that the staff are welcoming, friendly, and able to answer your questions effectively.
Additionally, the dental clinic should provide transparent pricing, treatment plans, and appointment scheduling. You should feel comfortable discussing your dental needs and trust the dental team's professional recommendations.
7. Insurance Coverage and Payment Options
Your dental care budget is an important factor when selecting a dental clinic. Determine if the dental office accepts your insurance plan, and be sure to inquire about payment plans or discounts for uninsured patients. A quality dental clinic should be able to provide affordable and accessible dental care options.
8. Visit the Dental Office for an Initial Consultation
Once you have identified a few dental clinics you're interested in, consider scheduling an initial consultation with each of them. This will provide you with an opportunity to meet the dental team, tour the facility, and discuss your dental concerns and goals. Use this visit as an opportunity to evaluate the overall atmosphere and assess whether or not the dental clinic is right for you.
9. Making Your Decision: Trust Your Instincts
Finding the right dental clinic for your needs is a highly personal decision, and ultimately, you should choose a dentist office that makes you feel comfortable and confident in their ability to provide excellent dental care. Trust your instincts when making your decision, and if a dental clinic does not meet your expectations, continue searching until you find one that does. Your oral health is too important to settle for subpar dental care.
Conclusion
Your search for the perfect dental clinic should involve thorough research, clear communication, and careful consideration of your specific needs and preferences. By following the tips outlined in this guide, you'll be well on your way to finding a quality dental care provider that will keep your smile healthy and bright. Don't hesitate to invest time and effort into finding the right dental clinic – your oral health is worth it!