8 Features of Doctor Appointment App You Need to Know
This pandemic age has made doctor appointment apps immensely popular across the world. People are more conscious about their health and taking care of diet and fitness to stay away from the dreaded virus. Even a slight cough and fever can become a cause of concern in this troubled time. Thanks to the doctor appointment app, people can easily find the physician and schedule appointments as per the convenient time slot.
What's more, a doctor appointment app with advanced features enables app users to schedule their health check-ups and get virtual consultancy from specialists without visiting the hospital or clinic. This feature ensures the safety for both patients and physicians as they do not come in physical contact and chances of getting contaminated remain minimal.
Owing a Doctor Appointment App will benefit the healthcare organizations, and they can expand the reach of their patient care services. With the help of a customized appointment scheduler app, you can provide high-quality health-related services to your patients, even in emergency cases. You can target a huge audience residing at remote places for offering healthcare services.
Build a medical app, and physicians can examine more patients conveniently. Doctors and physicians can also save their time and utilize it to treat more patients. Using these types of apps also assist the healthcare service providers to keep a systematic record of all the patients.
Finally, scheduling an online appointment and get a full checkup without going out of home is nothing short of a blessing in this pandemic age. It is beneficial to follow the social distancing rules for the doctor and patients alike. There, a doctor appointment app lends a helping hand.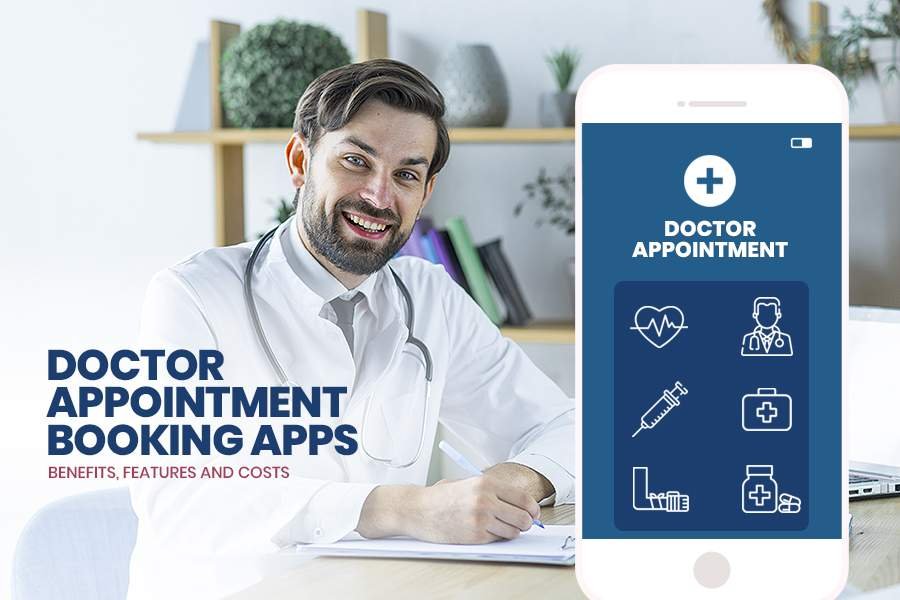 Let's go through its key features in this article.
1. Doctor's Profile
The medical app should have a complete profile of the doctors and be updated from time to time. In the section of the doctor's profile, the availability of doctors, their location, photos, reviews by the patient, and how much they charge should be all mentioned. There should be no contact number of any doctor in the doctor's profile because the doctor can get disturbed by having calls frequently. Instead, the app shows time slots when the doctor is available. Patients can choose any of these time slots as per their convenience to schedule an appointment.
Doctors can also use it to place necessary information and materials if they want to spread awareness and increase confidence among patients.
2. Instant Communication
If the patient has a particular type of disease, it is possible to communicate with the physicians instantly. The healthcare app development company adds features like instant chat and voice calling into the doctor appointment app. Patients do not need to call staff repeatedly by listing the doctor's profile in the app; the patient can contact the doctor through the profile directly.
3. Patient Profile
It is essential to include the patient's personal information in their profile. Full access to the profile of each patient should be with the doctor so that when the patient first meets the doctor for consultation, the doctor is already familiar with the patient's disease and the complete case history. It would be better if the app also offers the feature to upload necessary documents like lab test reports, EHRs, etc. Also, the patient profile feature has information about the patient's family background and allergies.
4. Video Consulting
The doctor appointment app should also feature online video chat. So that the patient can consult any doctor online as the health status of every patient can vary greatly, and even waiting for a doctor can make the patient more critical.
Through the video chat feature, the patient can connect with the direct doctor and consult about his deteriorating health. As in this pandemic situation, one should not leave the house for small tasks; then, this feature will prove very good in the Corona era.
5. E-Prescription
An on-demand app for doctor's appointment scheduling or consulting has a feature known as E- Prescription. This feature is useful for prescribing medications to patients online. Physicians can give medicines to patients with minor diseases through an ePrescription, which increases the patient's confidence and ensures that their diseases will get cured soon.
A mobile app development company also integrates a secure payment gateway in the doctor appointment and consultancy app. Patients can pay the physician's fees or charges online as per their convenient ways using an integrated payment gateway.
6. Symptoms Checker
Artificial intelligence is an excellent and emerging technological advancement. Doctor appointment app development process enables healthcare organizations to make the most of AI. It can diagnose the disease based on the symptoms. The medical app can have built-in features, based on which it can tell the condition to the user. For example, Symptoms Checker will determine which specialist the patient should consult according to their symptoms and type of illness.
7. Improved Patient Care and Satisfaction with Services
When patients receive advanced medical services on their smartphones, they become more confident about their care. Using the doctor appointment app, healthcare providers can reduce medical services costs and make them convenient and better for patients. Patients will have many options to choose for consulting as per their convenient time. As a result, they get more satisfied with available medical services.
8. Time-Saving Factor
All the features in the doctor appointment app contribute to save the patient's time. Healthcare organizations can bring this app to increase convenience for patients and give them a better experience. Doctors or hospital staff are not required to be involved in scheduling appointments. Patients can do all these tasks automatically through Artificial Intelligence and other technological advancements. The patient can also receive real-time notifications as a reminder about their appointment with the doctor or cancellation to book another appointment immediately.
Concluding Lines
A doctor appointment app is helpful in the corona age, but it is fair to mention that such apps will gain more traction over the period as concepts like telemedicine and remote medical assistance will gain ground. Worldwide, many healthcare organizations have already started leveraging the benefits of advancing technology through a customized app.