7 Amazing Ideas To Decorate Walls at Your Home
Do you have a cold, dull feeling in your home? If that's the case, it's time to take action and change it into a vibrant wall. After all, you and your family will live in this place and benefit from good scenery every day.
Even if your home is tiny, there are some fantastic wall décor ideas to try, and if you do this step correctly, you can fully transform your space into something you never thought.
Below you will learn some tricks to revamp your walls and make it a place you will love!
1. Choose Large Scale Art and Photos
Find your biggest wall and hang an oversized painting or picture on it. Invest in picture canvas printing with a full-color portrait of your family, your dog, or even a stunning landscape you've photographed for an even more dramatic effect.
Choose black and white for your décor if you want a minimalist look. This offers a timeless charm that you will adore. Moreover, if you want to make it more like you, custom canvas prints can be a great option.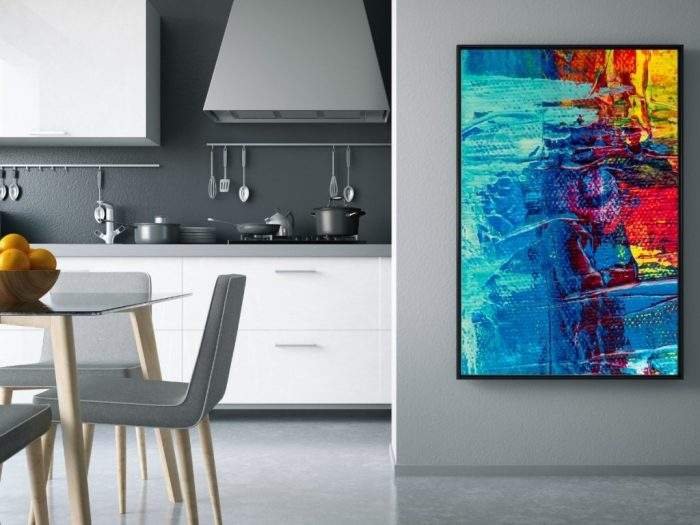 You will have the chance to create your own design and add your favorite image with custom wall art.
2. Create a Custom Gallery Wall
Nothing can bring more color or personality to a room like a custom gallery wall. You can decorate your gallery wall with whatever you want. Mix and match different wall hangings, photographs, art, and more to create a unique look.
For a modern look, look for frames that are similar in style and color, or go for ornate versions to add some variety. Use your imagination to showcase your interests and build décor that you can enjoy looking at every day.
3. Incorporate an Accent Wall
Consider decorating the walls with an accent wall. Create an accent wall by adding wallpaper, bright or bold color. You can also go for neutral ones but depending on the overall look of your place. In a small room, these beautiful accents can have an even greater effect.
4. Showcase Fabric
A tapestry or wall hanging may add interest, texture, and depth to your room. It can also add color to a room while giving it a "soft" feel.
Consider framing any antique scarves or other lovely textiles you've come across. If you intend to move in the near future, this method has the added benefit of making it much easier to move the framed fabric.
5. Decorate with Mirrors
Some people hang mirrors on any available surface in their home. This is for a very good reason.
Mirrors reflect natural light, making your home appear brighter and more spacious. This is particularly useful if you live in a small house or apartment. Consider hanging a large mirror over your mantle or arranging several smaller mirrors on the wall to create a pleasant shape or design.
6. Add Shiplap Wall Paneling
Shiplap paneling can give your room a fresh coastal feel, and it can be used in any room. Consider applying the wooden boards commonly used as exterior siding to your dining room, bedroom, entryway, or even bathroom walls.
Any space in your home will benefit from shiplap paneling, which adds instant character, texture, rusticity, and a focal point. It's inexpensive and simple to mount, requiring only a saw, level, stud finder, hammer, and nails.
7. Install a Few Sculptural Sconces
For centuries, sconces have been a common source of light. They now serve a dual function as both a great source of light and a stunning piece of wall art.
You may get rid of lamps that are taking up too much space on a side table or on the floor, in addition to adding light to space. You can also go for a more eye-catching piece that resembles a wall sculpture and adds style and light to space.
Conclusion
As you can see, wall décor does not have to be bland or uninteresting. You can easily spice up your room in a variety of ways, and it doesn't have to be expensive. Start with some of the ideas on this list if you're looking for unique ways to decorate your walls. This will ensure that you end up with a space you enjoy and that the pieces you choose complement it.
To browse for a collection of different canvas styles, you can check out Panel Wall Art today. They have the best wall art designed and made by artists and experts.