Dancer Kaela Faloon shows off in stilettos dancing with Nick Jonas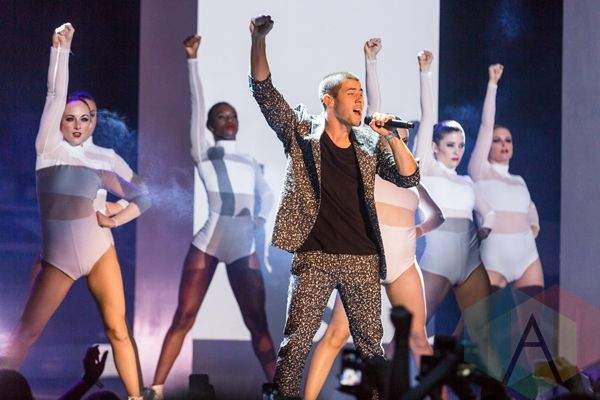 Kaela Faloon is able to explore her passion as her profession. As an internationally sought-after dancer, this Canadian inspires so many others in her field and beyond to follow their dreams. From the moment she decided she wanted to be a dancer, she focused on her dream, and now is living that dream every day. Any goal that seems impossible now no longer does, because she knows that she can do anything she sets her mind to.
"I have seen myself living out my dreams, living out career goals that seemed impossible one day but became a reality the next, and because I have been witness to my own achievements, I am able to inspire others to understand that it is also possible for them. Dance continues to show me that I am living passionately in my purpose, and it has motivated me to understand the greatness that lies within me, so that I can reveal the greatness that lies within others," she says.
Throughout her esteemed career, Faloon has danced with chart-topping artists like Meghan Trainer and Mya on some of Canada's largest stages. She has toured in her home country and internationally, and been watched by hundreds of millions in music videos for Shawn Mendes and Drake, as well as on television on the iconic iHeartRadio Much Music Video Awards here in Toronto, Canada.
Faloon has performed for Bell Media's iHeartRadio Much Music Video Awardsfor six years with different artists, broadcast to Canada and the world. A highlight for the dancer was working with Nick Jonas for the 2015 show. The two then worked together once again for Jonas' WE Day Performance in Toronto. WE Day is an annual series of stadium-sized youth empowerment events organized by WE Charity, a Canadian charity founded by brothers Marc and Craig Kielburger. WE Day events host tens of thousands of students and celebrate the impact they have made on local and global issues.
"As Nick writes his own music and works closely with collaborative writers, his music comes from an honest place, which is truly revealed when he performs live. You can tell Nick has a genuine connection to his music and I believe that is the reason why his solo career has been such a huge success. He has been very hands on with the creative aspect, allowing it to really speak truth to himself as a man and as an artist," says Faloon.
Jonas sang "Chains" at the 2015 Bell Media's iHeartRadio Much Music Video Awards and "Levels" at the 2015 WE Day Performance, promoting both tracks to reach the top of the Billboard Hot 100. Having had the opportunity to perform with Jonas twice, Faloon experienced two drastically different shows. Both were very physically and mentally demanding, and she danced in stiletto heels for both. However, the staging, costuming, lighting, choreography, and use of props was completely different and gave Jonas a very different image and feel. For the iHeartRadio MMVA'S performance, Faloon and the other dancers emerged in white bodysuits, from a white wall that split down the middle to reveal them and then closed behind them, and acted as a projector that they blended into with their white bodysuits. Therefore, their formations, transitions and choreography was synced to the projections on the wall. For the WE Day performance, Faloon and the dancers wore blue onesies and danced with red chairs on a stage that had multiple levels and tiers. The blue costumes and red chairs were synced to matched the creative direction and lighting cues of the stage, having them pop out with moments with Jonas, and blend into the staging when they weren't framing or dancing with Jonas. Both shows were very physically demanding and intricate, requiring the dancers to hit their marks and cues, as the lighting was synced to highlight certain moments with Jonas. If any of them were off, the whole performance was off, challenging Faloon and the other dancers to be consistent with their execution every time they performed it.
"What I liked the most about working with Nick Jonas and his choreographers Antony Ginandjar and Ashley Evans was the level of physical and mental strength they demanded from us women, all while performing their choreography in a stiletto heel. I have had years, upon years, performing choreography in a heel, however this performance challenged me on a whole new level, which I appreciated and respected. I never want to be a part of a performance that doesn't challenge me or elevate me to new levels in my talent and in my deliverance, and this performance did that and so much more," she recalls.
At the time of the performance, Nick Jonas had recently emerged as a solo artist, and separated from the Jonas Brothers, a boy band group consisting of him and his two brothers Kevin Jonas and Joe Jonas. His solo performances at both the iHeartRadio MMVA's and WE Day were crucial as this was Nick's first time performing solo at both these events, which was monumental for his career and his international solo success. They promoted Nick's momentum as a soloist artist, and helped generate the Top 10 single of "Jealous", which also topped Billboard's dance charts, as did "Chains" and "Levels" a bonus track from 2015's Nick Jonas X2. These performances also contributed to Nick Jonas's album release of "Last Year Was Complicated". This album debuted at number two on the Billboard 200.
"With Nick being a new emerging solo artist, it was crucial to have dancers that highlighted him on stage and made him feel confident. As dancers, we delivered a standout performance, that was undeniably memorable, an experience that kept his fans wanting more. It was our responsibility to highlight Nick as a mature male artist, who had incredible stage presence, and who could stand vocally alone on stage with confidence and ease. We encompassed Nick's new solo image, and he successfully achieved the benefits and rewards from it to continue to rise to the top," says Faloon.
In addition to dancing with the stars, Faloon has her own company, Sensual Heeling, where she teaches and motivates other dancers looking to follow in her footsteps. Be sure to check out her site for more information.
Watch Faloon's WeDay performance with Nick Jonas.