7 Easy but Unique Christmas Party Idea for Kids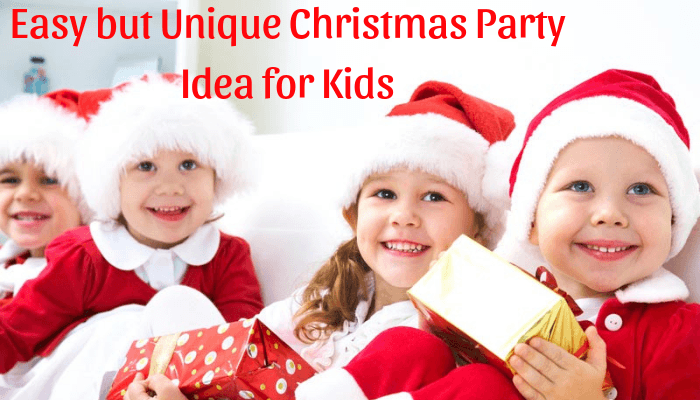 Your Children get so much attached to their friends of school that the only thing they are not excited about Christmas is not meeting them for the Christmas vacation. So here you can play a part of being an angel mother and throw a Kids Christmas bash at your home and invite all the friends of your child and also neighbourhood kids for the party. We have brought some crazy ideas for kids Christmas party that your children will enjoy with their friends and spent a memorable Christmas this year.
1. Casserole Party
This is a fun party, if you are thinking to host this at a nearby park where it's feasible for everyone to come. You can organise a potluck all the kids or their parents can be informed to bring dinner dishes and then share it with everyone. To avoid repetition of dishes all you mommies can decide beforehand the menu and choose each so that kids would have a larger variety. You can even ask the kids what dishes they would like to have. This is definitely a yummy idea and kids would have so much fun together.
2. Dessert Party
This is again a wonderful idea kids would love. Little ones love ice creams, cake, cookies, cup cakes, macaroons etc. You can arrange a after lunch or dinner party so that kids can attack on these desserts and have great time together.
This can also be carried in school you can supply the desserts and ask the teachers to give them these desserts on the last day of the school and wish each other Merry Christmas. You can buy Xmas chocolates online and gift it to your child's friends.
3. Santa Party
This party is so popular among the kids because Santa greets them with different gifts every year and arrives in a fairytale sleigh with reindeers. Kids are so much fascinated by this idea. You can arrange for a Santa Claus costume man and at the end of the party distribute gifts to kids through him.
You can also organise a costume party where every kid is dressed up in Santa Claus costume it would be so much fun and wonderful pictures can be clicked. You can make everyone sing Jingle Bells in a choir and film it.
4. Snow Party
You can invite kids for the snow party by creating an artificial snow set up at your home. You candecorate the room with snowflakes and you can create a snowman at the entrance to welcome the guests. You can also invite the kids for the party when it is most likely to snow and kids can have fun with real snow make snowman and snow fairies themselves.
For party favours you can gift them snowflake themed toys or you can gift a winter food package that consists hot chocolate, soup, ramen, kisses and marshmallows. You can also make Christmas gift basket delivery by ordering online and give it kids Christmas presents.
5. Reindeer Party
You can ask all the kids to get reindeer horns and dress themselves in brown colour. Or to have more fun you can arrange for some art and crafts materials and ask them to make the reindeer horns themselves or engage them in Christmas drawing competition. You can organise a quiz which involves questions on reindeers or ask the kids to mimic the walk of reindeers.
6. Christmas Carnival Theme
This is one of the best ideas for hosting a Christmas party. You can decorate your home like a carnival with fairy lights, door wreaths, Christmas tree, music system, disco lights, stars and bells. You can also arrange for Rudolph nose for everyone. Dress yourself in Santa, Reindeer and other such Christmas costumes and visit your neighbourhood by organizing the parade.
7. Charitable Party
This is a perfect party idea to teach your kids the value of helping other and spending the Christmas in true sense. You can cook a meal, collect old toys and clothes of your children, or collect and buy new clothes; you can buy food baskets and winter blankets. This all can be offered to the needy so they can also spend a happy Christmas.
Thus these ideas will introduce your kids with celebrating Christmas in all different aspects and enjoying the festival in true sense.