Chris Wotherspoon on the Parallels of Storytelling and Composing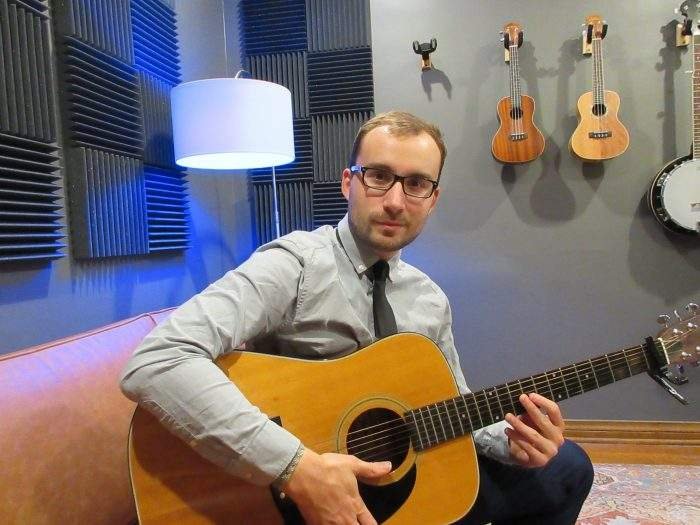 A great film score can create instant nostalgia and recognition. It elevates the script, using notes rather than dialogue to tell the story, bridging the gap between what is happening on screen and what the audience should be feeling. Canada's Chris Wotherspoon knows this too well. As an internationally sought-after composer, he sees himself first and foremost as a storyteller.
"I have known for my entire life that I enjoy listening to and telling stories- it's really what I thrive on. Music just happens to be the best way I am able to connect with and tell a story. For me, music is the closest thing we have to human emotion outside of the human psyche; it is the best interpretation of what and how we feel. As a composer, my job is to make those connections between music and emotion to ultimately tell a story," he said.
Whether working on a film, podcast, television series, or commercial, Wotherspoon uses his extensive knowledge of music and sound to elevate and elaborate the emotional content of the project. He has put his touch on popular podcasts with Lebron James' athlete empowerment brand Uninterrupted, as well as many beloved films, including Don't Frack With Denton, My Garden No Longer, and Matched.
A highlight for Wotherspoon came when he worked on the film Sacren. In 2019, the horror flick won Best Feature Film at the Hollywood Art and Movie Awards, and went on to the South African Horror Film Festival where it showed for 5 days. It is distributed by 1844 Entertainment and is available on Amazon Prime, Apple TV, Google Play, Vudu and YouTube Premium. On top of the critical acclaim at festivals and fan praise from streaming services, the film also received a lot of media buzz and has been written about on HorrorNews.net, The Movie Database, and Movies And Mania.
"Learning that your work has made an impact on enough people to nominate and award it as the best in its class for that year is a big honor," said Wotherspoon. "It feels fantastic to know the film has connected with so many people around the world. I think horror fans connected with it in the same way I did and it was nice to know the direction we took with this film as divergent from the genre paid off with audiences. Something terrifying, exciting, and completely new."
Executive produced by Curtis McGann and directed by Alexander Henderson, Sacren follows a young couple trying to move on from a miscarriage while vacationing in a house by a lake. Their grief turns to horror as they realize they are being hunted by masked killers for unknown reasons.
"On the surface, the storyline of Sacren had the setup of a typical horror film – an isolated young couple being hunted by masked murderers – but the way it was executed made all the difference. It went much deeper than other films in the genre by integrating multiple plotlines to develop the backstory of the killers and exploring the feelings of grief after a terrible loss. I love to see films that take risks and go beyond the tropes of horror films we have become used to today," Wotherspoon described.
The moment Wotherspoon read the script, he knew he wanted to be a part of Sacren. The score is essential to any horror film because it creates a necessary tension for the audience. As lead composer, he created an original score consisting mostly of electronic instruments. He aided in creating the terrifying atmosphere through the sound, implementing aspects of sound design into the score.
He mixed an electronic synth with a very processed sound of a person screaming, which was implemented in the film's most exciting and terrifying moments. He also used the sound of a baby cooing while one of the characters reflects on her unborn child's empty nursery. These elements make all the difference when watching the film, making the audience feel truly scared and uneasy.
"Within the horror genre lies a ton of possibilities and endless room for creative freedom. I don't think most people are really focused on the music of a horror film, which is good, they are supposed to be caught up in the action. However, it often defies the conventions of film scoring. For example, when trying to terrify your audience, you really need to bring them out of their comfort zone and yours; you need to show them something they've never seen or heard before," he said.
He achieved his goal, and when one watches Sacren, there is no doubt that Wotherspoon's unique approach in composing has played a large part in its continued success.
If you haven't already, be sure to check out Sacren on Amazon Prime, Apple TV, Google Play, Vudu or YouTube, but prepare to be terrified.