Cinematographer Ross Radcliffe Travels Down Under for Netflix's First Docuseries for Kids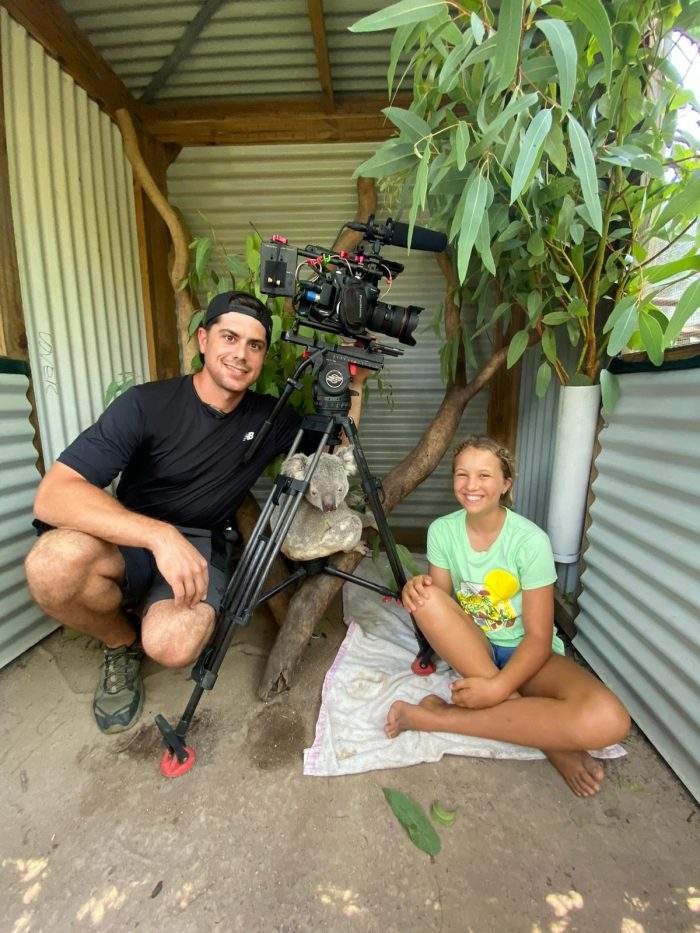 Rather than the stroke of a paintbrush on canvas, Ross Radcliffe expresses his artistry through the lens of a camera. As a celebrated cinematographer in his home country of Canada and abroad, Radcliffe has travelled the world doing what he loves, telling visually stunning stories and shaping them in a way that captivates an audience. He combines his artistic talents that come from telling a story and creating a shot with the technical abilities of camerawork, as well as the leadership of being one of the guiding voices on a set.
"I gravitated towards cinematography very early in my career as I quickly identified it was my passion. I love cameras and the technical side of cinematography, but I also was fascinated by the storytelling aspect of the craft. Being able to guide the audience through a story is such an important piece of the filmmaking puzzle. Every decision you make has meaning and impact on set and on the finished product. When you are a cinematographer, you are 'in the trenches' and you are constantly problem solving and focusing on the task at hand and I love that. I love being in the thick of a project and working with great teams to achieve the goals at hand," says Radcliffe.
Radcliffe's esteemed resume is full of many highlights working with major television networks, including Discovery Channel on The Last Alaskans, Finding Escobar's Millions, Gold Rush, and Shark Storm for the network's iconic Shark Week. He has also worked with National Geographic and BYU TV on The Wizard of Paws, and most recently, Radcliffe teamed up with Netflix and headed to Down Under for the streaming service's first ever children's docuseries Izzy's Koala World.
"Working on this show was such a joy and exactly what I needed at this time in my career. I had come off several years of gritty shows on Discovery Channel, so being able to flex different creative muscles was a great opportunity for me. Being surrounded by cute koalas was also a major plus to working on this show. The star of the show "Izzy Bee" was also such a pleasure to work with. She is such an incredible young lady and she always made things so much fun on set," says Radcliffe.
Radcliffe was ready to take on the challenge of helping to create Netflix's first documentary program geared towards children, and headed to Australia with an open mind. His prior experience with documentaries/reality shows was crucial to helping Netflix make this inaugural series. He was naturally able to follow along with the story fluidly without having to interrupt the real-world action of what was happening, something only an experienced cinematographer can achieve so effortlessly. The goal was for the camera work to be playful and fun and give the audience the feeling that they were following along with Izzy every day. Radcliffe's experience with follow-style documentaries did just that.
"We shot the series on Magnetic Island on the north coast of Queensland, Australia. I had never worked in Australia before and it turned out to be a wonderful experience. We had beautiful remote beaches and rolling hills to work with every day and it helped us give the show such a cinematic look, something that is rarely achieved in children programming. Lastly, who wouldn't love working with cute little koalas, especially when you get to watch as they are nursed back to health and released back into the wild? It was so special to be a part of that process," he says.
Izzy's Koala World follows 11-year-old Izzy and her veterinarian mother as they rescue koalas and form remarkable friendships with animals on their Australian island. Radcliffe is a fan of the show's format and star, finding Izzy to be the role model children need nowadays, but he also hopes the success of the show opens the door for more documentaries geared towards children. The series has been immensely popular around the globe and has already been renewed for a second season.
"Whenever you film something, especially when it's something new and never been done, you are always worried about how it will be received. Thankfully, this show has really taken-off around the world and become a hit for kids and their parents. I couldn't be prouder of how this series turned out and I hope it will spawn more programming like it," he says.
If you haven't had the chance to check out Izzy's Koala World yet, it is available on Netflix in 190 countries.