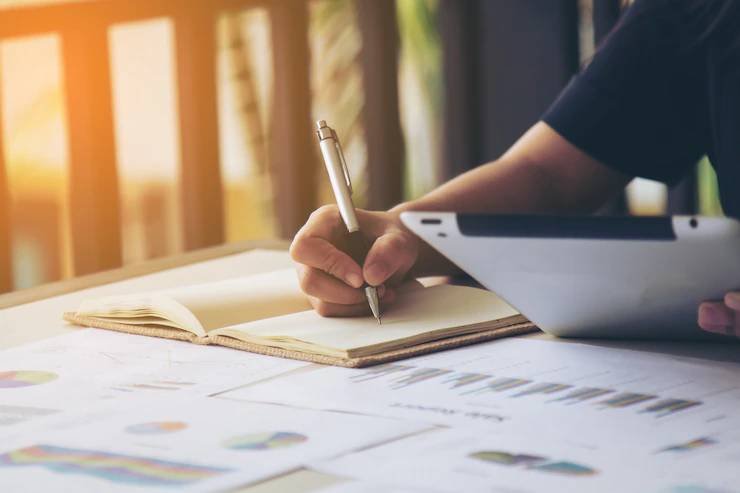 Career Path To Become A Content Writer
You want to explore the career path to becoming a Content Writer, so you search the Internet and come across this article. This article is just one of the innumerable examples of content writing. It can take the form of posts, blogs, podcasts, videos, e-books, press releases, and other formats of social media. One thing common in all these forms is that the content is presented in digital format. That is exactly Content Writing.
And, as Bill Gates put it succinctly way back in 1996, "Content is King". More than two decades later, this still holds as most brands invest more than 41% of their marketing budget on content. That is the power Content Writers wield in establishing a brand. But what do they do? Let's examine…
What does a Content Writer do?
A Content Writer of a company is nothing but the Brand Ambassador, reaching out to the target customers with its product or service. To do this, a Content Writer must have a clear understanding of the profile of the target audience and the Voice of the Customer. To cater to the customer requirements, the Content Writer must then conduct extensive research across multiple sources, consolidate the data, and then present the content to the customers.
In other words, depending on the requirement of the customer, a Content Writer's work can include curating content for:
Websites
Blogs
Articles
White papers
E-books
Social Media posts
Online ads
Product Description
Email marketing
Video scripts
Podcast scripts
If the above list appears intimidating, let me assure you that the art of Content Writing can be mastered, provided you follow the correct career path. Before we walk down this path, let me share with you the knowledge and skills you must possess to become a content writer.
Content Writing Knowledge and Skills
Considering the wide array of content types that a content writer is expected to master, a Content Writing Course designs its curriculum to train you first on designing the content writing strategy and then initiate you to the varied forms including technical writing, proposal writing, medical writing, whitepaper writing, script writing, dialogue writing, grant writing, creative writing, and others.
While you gain familiarity with the various forms of Content Writing and understand the dynamics of each one, it is equally important to build your soft skills. To develop impactful content that touches the lives of your target audience, you must be able to:
Adapt to the varying demands of the customer
Conduct intensive research on the content
Have command over your communication skills to present the content
Manage your time effectively to meet demanding timelines
Solve the issues plaguing the current content and improve it to boost business
Apply the appropriate SEO and Content strategy to attract more eyeballs
Career Path to become a Content Writer:
Thus far, you have a fair idea of the basics of Content Writing and what you do as a content writer. It is, therefore, now time to understand how you can become a successful content writer. Let us delve into the steps one by one:
Get trained
To acquire the necessary knowledge and skills of a content writer, it is essential to join a Content Writing course. While you select the training provider, be mindful to ensure that the course not only imparts theoretical knowledge but also gives you an opportunity to gain experiential learning in the form of live projects and internship assignments. This makes you ready for the industry soon after you complete the course
Keep learning
As a content writer, you continue to learn as long as you continue to write, In other words, completing the Content Writing course does not complete your learning journey. Instead, continue to be a voracious reader to understand the tines and styles used by different authors to connect with potential customers. So keep your mind open to absorb the content of different flavours all around you and be the perfect chef applying the ingredients in just the right proportion to prepare a delectable dish for your customers. To optimise your effort, it would be good to identify your niche and build your expertise.
Continue to practice
Simply because there are no shortcuts. The more you write, the more you hone your skills and master the art of catering to different profiles of customers. Writing also helps you use the right tone and voice just like a musician composing songs to suit the customer's moods and desires. Additionally, reading and writing on your niche areas grooms you into a Subject Matter Expert. This builds your command over the topics you write.
Build your writing portfolio
Your chances of getting hired as a content writer are higher when you can demonstrate your published works. To make this happen, contact some reputed blogs, websites, or online magazines and offer to write for them on some niche topics. If they publish your work, you can request them to provide a byline or citation with your name and a short biography. You can then consolidate the links to all such published works on your website that works as your portfolio. So, learn to market yourself before you start marketing your company's product or service.
Learn about SEO
This is the key to your success as a content writer. You might be composing very high-quality content, but it serves no purpose if you are not able to touch the right chords of your potential customers. To engage with them and stir their emotions, to eventually convert them into loyal customers, it is important to master the techniques of Search Engine Optimization. Just as you visit the top-ranking pages that show up in your search result when you are researching any topic, the same holds true for your customers. The Internet is flooded with material and videos on SEO, so just ahead and leverage these resources to hit the bull's eye.
Search for Freelance Work
The smartest way to kick-start your Content Writing career is to go freelancing. This helps you test the waters before you take up a full-fledged content writing career. Content Writing firms typically hire external writers to complete assignments in addition to their internal content team.
Join a Content Agency
This is the final step in your career path. Having built your muscles in understanding your customer and catering to their needs, you can now safely become a staff content writer with a steady source of work and income. This then gives you the room to focus on improving your writing quality, doing in-depth research, analysing customer behaviour patterns etc, to punch in more power to your content.
One good place to embark on a full-fledged career in Content Writing can be working with companies providing Content Writing Services. As part of the service catalogue, such companies offer to write content for websites, prepare promotional material and press releases, draft white papers and research articles, and script content for social media platforms. Additionally, they are also equipped to deliver editing and proofreading services to you.
So, joining any Content Writing service can help you achieve holistic growth as a Content Writer.
Manage your time
The final tip to bear in mind is that Content Writing is a five-step process:
Conduct research
Draw outline
Prepare draft
Proofread
Deliver final output
While preparing the content for any topic, divide your time judiciously among these five stages so that you deliver effective and powerful content within the committed timeline.
Wrapping Up
I believe, you now have all the relevant information to get started on this exciting career path. So, follow the guidelines outlined above and you are ready to skyrocket your Content Writing career with your magical content touching, moving, and inspiring live.