Known to many as the "Lotus City", Madurai is surrounded by a plethora of hills. It is famous for being the manufacturer of tobacco, sugar and other such items. Markets flooded with tourists and mouth-watering street food awaiting you at all times, this place is on the visiting list of many.
While booking your Madurai travel package, make sure to include these places:
1. Meenakshi Temple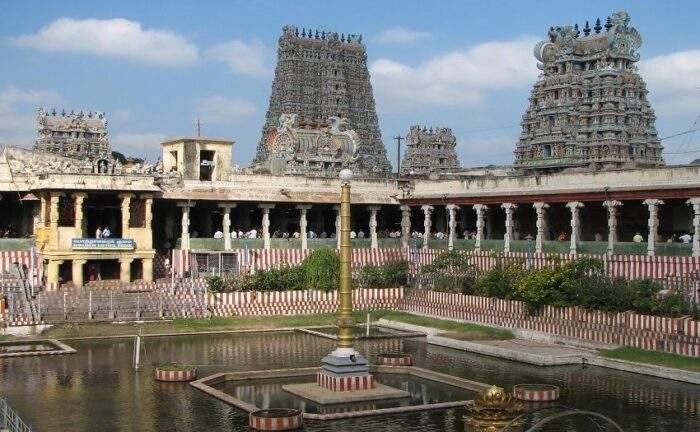 Dedicated to Goddess Meenakshi and Lord Shiva, this temple is of infinite importance and is the main cultural spot of Madurai. It gives that old-charm to the city and is visited by thousands of visitors per year.
The Chitrai festival, held in April/May, is the most important out of all the rest, as it celebrates the holy union of Goddess Meenakshi and Lord Shiva. The intricately carved pillars of the temple depict their marriage and enhance the beauty of the temple manifold.
Apart from the main festival, a plethora of other festivals are also celebrated at the temple, like the 'Vasantham festival,' 'Unjal festival,' 'Mulai-Kottu festival,' 'Arudhra Dharsan festival,' 'Thai utsavam,' 'Kolattam festival,' etc.
2. Thirumalai Nayakar Palace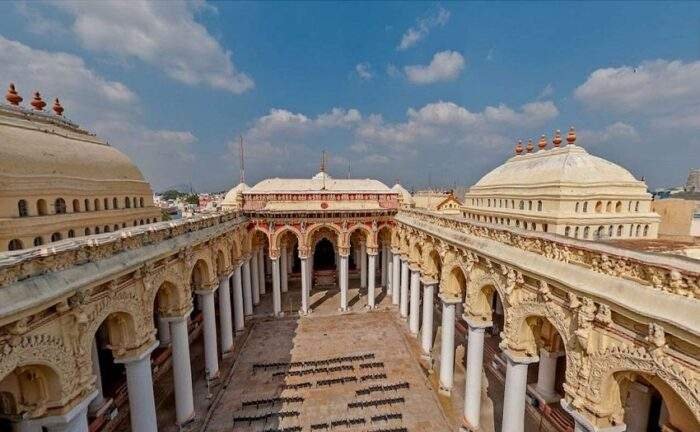 King Thirumalai Nayak built this in 1636 AD and has been proved as one of the most sought and jaw-dropping palaces in Southern India. Built-in the proximity of the Meenakshi Amman Temple, the palace acted as the residence of the King. A lot of films have also been shot here, because of what an architectural wonder it is. Tourists can witness the breathtaking light and sound show at Thirumalai Nayakar Mahal. This wonderful show is organized every evening and is about the story of Silappathikaram. The show is held in both English and Tamil languages.
Timings for the English show are 6.45 PM to 7.35 PM, while the Tamil show is held from 8 PM to 8.50 PM. The entry fees are a mere 10 rupees.
3. Vandiyur Mariamman Teppakulam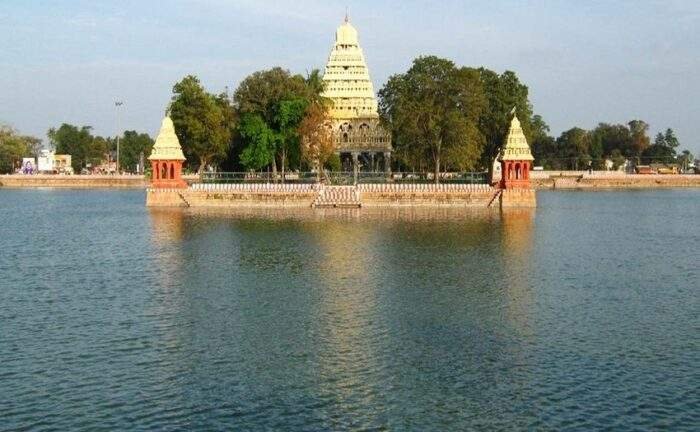 A tiny pond, located near the Vandiyur Mariamman Temple, looks stunning at night with a dazzling reflecting surface. Welcoming thousands of pilgrims every month, it is considered as one of the largest temple tanks, not only in Tamil Nadu but in South India. the temple receives water from the River Vaigai.

A celebration takes place in January-February, to mark the birth anniversary of King Thirumalai Nayak. The temple and the pond are lit with plenty of lights and lamps, and all of it looks enigmatic on a full moon night. Give this place a visit and get those Instagram worthy shots!

4. Gandhi Memorial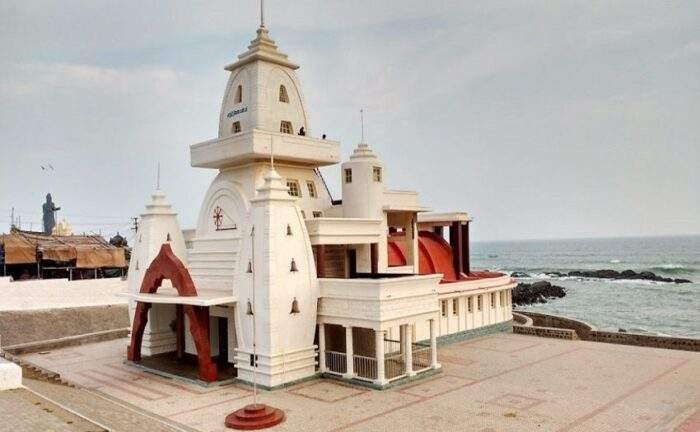 The sacred city of Madurai is believed to have played an amazing and important role in the life of Mahatma Gandhi and his struggle for the independence of India. Untouchability, the taboo of earlier times, saw great resistance from Gandhi and his followers. One of the biggest steps in his fight against untouchability was the entry of Harijans in the beautiful Meenakshi Temple.
The museum offers a glimpse into the adventurous life of Mahatma Gandhi and is of historical significance. A wide range of activities is conducted here every day such as self-employment classes, Hindi and Sanskrit courses, yoga classes, meditation classes and so much more. They organize a 5-day program each year on the auspicious occasion of Mahatma Gandhi's birth. Influencers are invited from all walks of life, to participate in this event.
You can visit the museum every day, except Fridays. The timings are 10 AM to1PM and 2 PM to 5.45 PM.
5. Kazimar Big Mosque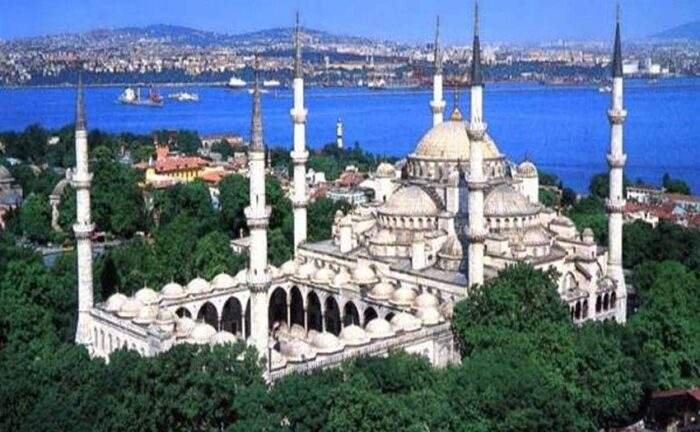 This beautiful religious structure is supposedly the first-ever mosque of Madurai. Founded by Hazarat Kazi Syed Tajuddin, this place is famous for having a Maqbara, the grave of the Muslims, on its ground. There are a few rules to follow when you enter the mosque. You need to remove your footwear outside. You should also cover your hands and knees, at all times, if possible.
The mosque is open from 4:30 am – 11 pm.
6. Goripalayam Dargah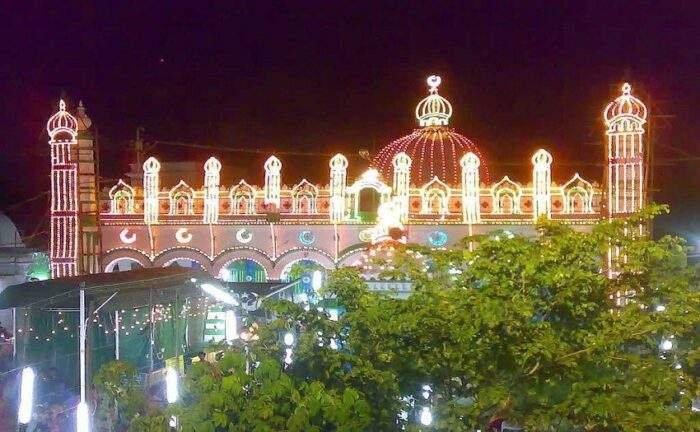 It is supposedly the largest mosque in Madurai. It is widely known as the Hajha Syed Sultan Alaoudeen Syed Sultan Samsudeen Aouliya Dargah. The shrine of Hazrat Sultan Alauddin Badusha and Hazrat Sultan Shamsuddin Badusha, the two Muslim saints and rulers of Madurai, is frequented by travelers from around the world.
Most people visit during the annual Urs festival. It takes place on the 15th night of the Islamic month of Rabi-al-awwal.
7. Athisayam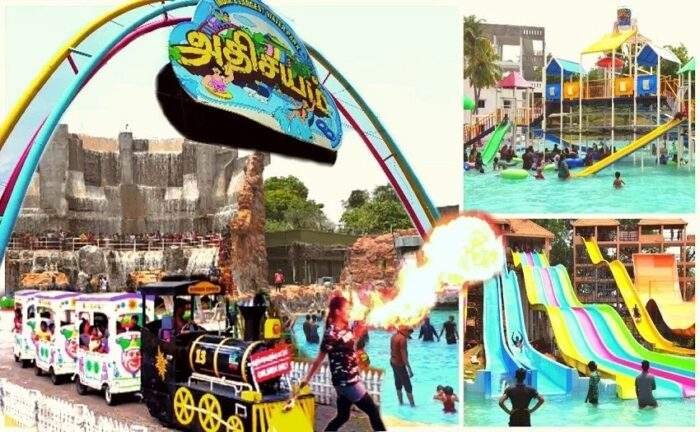 Bored visiting the countless temples? Looking for adventure and thrill? Go no further. Athisayam Water Park is your place! This amusement water-park is a favorite amongst kids and adults alike.

Whether you go with your family or friends, there are plenty of activities you can enjoy. With over 20 water rides and 40 games, you won't be able to keep up. If you are with little kids, then there is a recreational space/garden with swings and rides, accordingly. There are a lot of amazing food stalls as well. Bring your camera to capture the adventure!
The entry fees are Rs. 800 for adults above 130 cm and Rs. 500 for children below it.
The park is open from 10:00 AM to 06:30 PM every day.
8. Banana Market
It sounds strange, doesn't it? But this place really does exist.
If you are a banana lover then you mist visit the Banana market in Madurai where 16 varieties of Bananas are sold throughout this market. After being bought from factories, they are transferred to the market and are sold very quickly. The bananas are broken apart from their branches so that they can be easily sold to the local vendors. Take these back with you and enjoy making Banana Bread and smoothies for your loved ones.