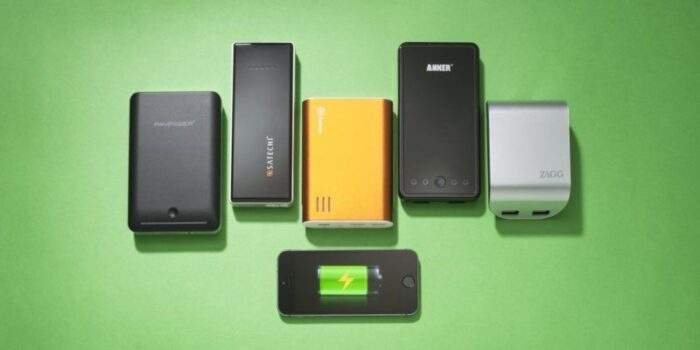 1. Intex IT-PB11K 11000 mAh Power Bank
Intex is a good setup brand in the mobile and laptop accessories department. Coming to the Intex IT-PB11K power bank. This power bank has an 11000 mah battery packed into a beautiful body. This piece has three USB ports. You can charge three mobiles at a time. Moreover, this power bank is cost-friendly. We have personally used this power bank, and it has about 75% efficiency. 75% efficiency is a good number of mobile power banks. Most power banks fail even to provide a 60% energy output. Inside the package, you will get a data cable and power bank. Two USB port delivers output at 2A (5V). One port gives output 1A (5V). So if you have a phone with a big battery connect it to 2A port otherwise prefer 1A. This power bank charges Zenfone 5 (2010 mah battery) approximately 3.5 times.
2. Ambrane P1111 Power Bank
Ambrane P1111 comes to the second position in 5 best power bank for mobiles under 1500 Rs in India. This one has the lowest price amongst all the other power banks. Ambrane P1111 power bank has a 10000 mah battery. It comes with two output USB ports placed side by side. One port is 1A and the second one gives 2A current. Both ports deliver power at 5V DC. You will not regret 700 Rs if you buy this power bank. If you are looking for a low-cost power bank, then go for this one. You will get a power bank, data cable and user manual in the box. Don't worry about the service center.
3. TP-LINK TL-PB10400 Power Bank
TP-LINK is a well-known brand for routers and other laptop accessories. TP-link TL-PB10400 power bank comes with a 10400 mah battery. Though the company claims about 90% efficiency, I got around 80% which is far better than others. It comes with four LED lights work as charge indicators to show battery level or charging status. I don't like one thing about this power bank which is its design. The TP-link power bank has a cuboidal shape, unlike other power banks. If you have no problem with that then this also a good option to buy.
4. Asus ZenPower Gold Power Bank
If you want a lightweight and stylish power bank, then the Asus Zen Power Gold power bank is for you. It has 215 Gram Weight lowest in its range. The gold color model of this power bank looks dashing. It is approximately credit card size and can be easily fit in Jean's pocket. Asus Zenpower has a 10050 mah battery which can charge a normal smartphone up to three times. It is available in many colors. This one is costlier than all the other five best power banks mentioned here. But still, due to its good looks and lightweight, it is a good choice. Besides looks, it also has excellent efficiency and built quality. It has only 1 USB port which gives 2.4A current output. Now you can watchonlinemovies and enjoy your spare time with the support of this power bank. This power bank will charge your mobile faster than any other power bank mentioned here. But due to 1 USB port, you can charge one mobile at a time. If you want a branded power bank for your mobile, then go with this one.
5. Lenovo PA10400 Power Bank
Lenovo PA 10400 mah power bank is one the 5th position in the list of best power banks below 1500 Rs. It also has 2 USB output ports (2.1A, 5V). You will get a small cable along with the power bank. If you are a Lenovo fan, then go with this one. Otherwise, I don't feel it is a better option than the other four power banks here. Taking performance into consideration this one is good. You will get around 72% efficiency (i.e. 7000 Mah power). But this is heavy approximately about 342grams. If the weight does not matter to you, this one also a good buy.
So above are the five best power banks under 1500 Rs for your smartphones. We have briefly explained about all of them. You can also read the whole review of these power banks. You choose which fits your needs and budget from 5 best power banks above. It's all up to you and your requirements.