25 Top Telemedicine Apps for Healthcare Professionals and Patients 2021
Living in the digital era, we all depend on apps for almost everything. Several industries rely on the apps, whether it is for providing value-based service or other productivity tools. The Healthcare industry is no exception. Doctors, medical staff, patients, and service providers prefer to use apps as these are convenient to use. Moreover, there are many telehealth apps available in the market.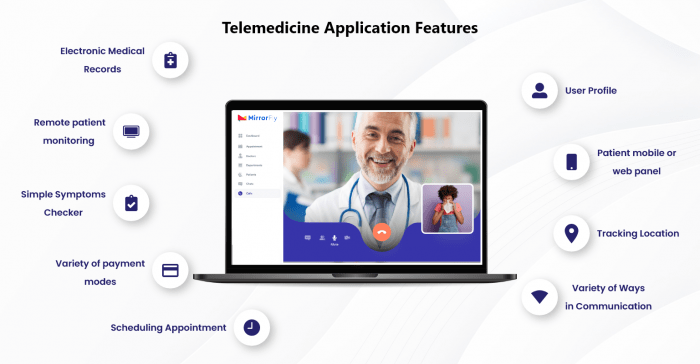 The digitalization, and wide use of smartphones, have led to demand for better healthcare services. Thus, resulting in increasing demand for the best telehealth platforms also it comes with hipaa complaint chat api is a additional advantage.
Further, a study reveals that the estimated global mobile health market in 2025 will reach $189Billion.
With the trend continuing, many technology companies are coming forward to build healthcare apps. Healthcare app features are getting better with advanced telehealth APIs.
Now, let's understand more about these apps and how they impact the virtual healthcare ecosystem.
Telehealth App: An Overview
Telehealth App enables healthcare service providers to offer virtual health services to patients. These apps are software applications that have rich features and facilitate convenient health consultation and service management. Again these healthcare apps act as a go-to use solution for wellness trackers, online doctor consultation, and appointment scheduling.
Modern Tele-Medicine App: Tech Stack, Security and Reliability
The most important factors for creating the best telemedicine app are tech stack, reliability, and security protection. For instance, the app must have basic and advanced features like video chats & calls, secure media sharing, and more. With the involvement of PHI, a telemedicine app must adhere to compliances like HIPAA, GDPR.
Telehealth Platforms: Before & After COVID-19
Telehealth platforms have been in use for a while. However, when COVID-19 struck our lives, the demand for telehealth platforms was on the surge.
A study by Mckinsey depicts that the spike in the use of telehealth platforms has reached a maximum of 38X higher than prior to the pandemic times.
Besides, virtual health consultation is cost-efficient, safe, and risk-free.
Impact of Covid-19 on Telemed app
The telemed app growth is significantly more after April-2020. During the pandemic, people started using these apps for medical consultation as visiting the hospitals involved high risks. Moreover, a telehealth app lets patients reach doctors from the comfort of their homes. Hence, it is more convenient to use, especially during the pandemic, to avoid the risk of exposure.
Having discussed telehealth platforms in detail, let us know more about the best telemedicine apps and solution providers.
List of Top-rated telemedicine platforms & telehealth Messaging API providers
The telehealth platform connects healthcare professionals and patients. So, first, here is the list of telemedicine platforms that offer affordable healthcare.
Best Telemedicine Messaging API Providers
As most telehealth apps use messaging features, it is mandatory to integrate the app with messaging API. So, here are six such API Providers.
1. CONTUS MirrorFly
CONTUS MirrorFly is a self-hosted, HIPAA Compliant API. The MirrorFly's API has built-in voice & video chat features to build the best telemedicine platforms. Also, it is a customizable and scalable messaging API.
Features:
Health Report Sharing & Tracking
Secure 1-to-1 Doctor-Patient Chat
Telemedicine & Post-Diagnostic
2. SendBird
Sendbird provides best messaging APIs to develop best telehealth platforms. Also, the toolkit of senbird consists of all essential messaging features. Hence, it is one of the world's most reliable & scalable messaging API.
Features:
Messaging Data and analytics
Chatbot integration
Post-care notifications
3. Twilio
Twilio Messaging API supports omnichannel telehealthcare solutions. By using the API, you can create a personalized telehealth solution. Moreover, Twilio comes with automated routines and Click Call features.
Features:
Encrypted messaging
File sharing
Screen sharing
4. Plivo
Plivo is a primary SMS API that allows businesses to communicate with their customers. When you use Plivo API to create the best telehealth platforms with an auto-reminder of appointments, alerts are some features that will benefit. Additionally, the API follows Two-factor authentication login.
Features:
SMS Auto responders
Notifications
Appointment reminders
5. PubNub
PubNub is a complete HIPAA Compliant API and SDK. The API lets you add chat features to your healthcare apps. Additionally, it has a geotracking feature which is critical for healthcare emergencies.
Features:
Geotracking
Notifications
File Sharing
6. Messagebird
Messagebird enables the doctor-patient interaction with the SMS, assisting in remote diagnosis. Besides, Messagebird API comes with 2 factor authentication and is HIPAA Compliant.
Features:
Central inbox
Chatbot integration
Image & File Sharing
7. Lemonaid
Lemonaid is a telemed app that makes healthcare accessible for everyone. Easy to use the app, as the patient fills the details at the signup and a doctor reviews within 24hours. Moreover, the app follows legal requirements to maintain the privacy of PHI.
Highlights:
Video calls, text chat for doctor-patient interaction
Mail-order service for home delivery of medicine
E Prescriptions and billing
Costs $95/month for a patient
8. Amwell
Amwell is one of the best telehealth providers based out of America. Recently, Amwell has a platform called converge, which is a scalable and flexible Telemed platform. Also, the platform provides full coverage on all medical ailments handling using virtual care.
Highlights:
Direct-to-consumer(direct-to-doctor & direct-to-Patients)
E Prescriptions and billing.
Video Conferencing and on-demand visits.
For urgent care, the pricing is $79 for patients.
9. InTouch Health
InTouch Health is one of the best telemedicine companies offering solutions to the healthcare sector. Teladoc recently acquired this platform. However, InTouch Health provides a platform called Solo for doctors to use the patient-centric software efficiently.
Highlights:
Online Appointment Scheduling
Single sign-on with controlled user access
Video Conferencing and End-to-end care coordination.
Variable Costs
10. Health-Tap
Health-Tap is one of the top telemedicine companies that works similar to K-health. Most importantly, the app focuses on virtual primary care for uninsured and underinsured groups. Further, the app offers coverage on wide medical diagnoses, including symptom evaluator.
Highlights:
Video Conferencing
Reports storage and sharing
E Prescriptions and Q&A forums
Costs $10/mo for patients
11. MD-Live
MDLive is an easy-to-use telehealth app and focuses on giving virtual primary care, dermatology. Additionally, the app has certified doctors who provide health care anytime and anywhere in the United States. Also,
MDLive allows users to create an account in the app within 15 minutes.
Highlights:
Appointment scheduling
Primary care and Behavioural Health care
E prescriptions & Video Conferencing
Variable Cost. Price based on service
Best Teletherapy Platforms
When the in-person therapy sessions are declining due to current circumstances, these teletherapy apps are bliss to people seeking to recover mental health.
12. Wysa
Wysa is an AI-powered wellness app that focuses on helping people get over stressful thoughts. Besides, the app uses cognitive-behavioral techniques to understand and help the user. Additionally, users can connect with real coaches 24×7 upon upgrading the plans.
Highlights:
AI Chatbots
Sleep Story
Guided Meditation
Free AI chat and $29.99 for real-life coach guidance
13. Monument
Monument is an exclusive app for providing virtual therapy for drinking-related problems. With the app, patients can personalize treatment plans, therapy and participate in forums. Also, patients can privately chat with therapists.
Highlights:
Appointment Scheduling
Community Forum
Virtual Meetings
$9-58/week
14. OOTify
OOTify is a mental wellness app that gives clinical and subclinical support to users. Besides, users of this app pay only when they find perfect practitioners. Moreover, the app facilitates text, audio messaging, and in-person coaching.
Highlights:
AI-powered Chats
Centralized Mental Health Portal
$50 for Service Providers
15. Talkspace
Talkspace is one of the best teletherapy platforms. And the app has thousands of licensed therapists serving 1 million users. Moreover, from individual therapy to couple therapy, the app covers all.
Highlights:
Video messaging
Unlimited chats
$65+/week for Individuals.
16. Better Help
BetterHelp is a telehealth services app for couple therapy. Moreover, the app has the largest network of certified therapists to help patients dealing with different mental health problems. Also, the app includes teen therapy.
Highlights:
Assessments
Text/phone Counseling
Video conferencing
$35+/week
Best Telemedicine App for Doctors
Some apps are for doctors as these apps allow the practitioners to expand their services. Below are some telemedicine apps that are for doctors.
17. eVisit
eVisit is a one-stop best telemedicine platform for all medical practitioners. Moreover, the app comes with tools that allow doctors to examine and provide primary care. As a result, doctors can choose the tools and provide service.
Highlights:
Appointment Scheduling
Waiting room Management
Billing and ePrescriptions
Video Conferencing
$600/mo for Practitioners
18. Medici
Medici is one of the best telemedicine apps for doctors. Besides, the platform allows doctors to treat general care, obstetrics, veterinary services. Also, it is HIPAA compliant and comes with many built-in chat features.
Highlights:
Chat Translators
Appointment scheduling
Pediatric and Veterinary services
Video Conferencing
$149+/mo for service providers
19. Adracare
Adracare is an online telehealth application for clinics and hospitals. Firstly, the app allows doctors to take notes of patients while still examining via video calls. Next, it enables easy integration of EMR solutions.
Highlights:
Virtual waiting room
HD video counselling
In-session Charting
Online Appointment scheduling
Costs $14+/user/mo
20. NexHealth
NexHealth is an application that is for doctors and developers. Yes, clinics can use the platform for getting patients. And developers can build a complete platform using the NexHealth REST API by integrating with EHR and dental systems.
Highlights:
Appointment scheduling
Reporting
Chat
It Costs $350+/mo for service providers.
21. RXNT
RXNT is one of the best telehealth services platforms. Most importantly, the app lets doctors provide care to patients using Hospice. Also, RXNT allows doctors to manage their practice time with a centralized database.
Highlights:
Appointment scheduling
Patient intake and check-ins
Hospice
It Costs $65-150/mo for service providers.
Top-rated Telehealth Software's
While many practitioners are already using some telemedicine platform, a few prefer to use standalone software. So, here's the list of top-rated telehealth software.
22. Werq
Werq is the best telemedicine software designed to handle the problems faced in the healthcare workplace. The application allows med professionals to send messages irrespective of EHR. 3rd party tools integration is feasible.
Highlights:
Doctors Network
Patient Record Portal
File Sharing
23. VSee Messenger
VSee Messenger is a modern telemedicine app. Indeed this app is best as it comes with live annotations during screen sharing. Thus, it allows doctors to interact better with patients.
Highlights:
Video Messaging
HD secure Video Conferencing
Live annotation
Costs $0-49/mo for providers
24. Zocdoc
Zocdoc is one of the best telehealth app. In simpler words, it acts as a local doctor-patient directory. However, it is easy to use and reach doctors in the locality.
Highlights:
Doctor's Directory
Insurance Checker
Appointment Scheduling
Costs $300/mo for providers
25. OhMD
OhMD is a messaging platform for practitioners. A HIPAA Compliant texting platform with two-way texting. Also, it supports over 50 EHR integrations.
Highlights:
Form, Survey, FileSharing
Broadcast Texts
Two-way SMS texting.
Summary
The above-listed are top-rated tele healthcare applications and healthcare APIs. Most of the best telehealth companies utilize the technology to provide better healthcare services in the coming years. With the on-Demand services increasing in every industry, healthcare should capitalize and take a big leap with telemedicine.