6 Amazing Worktop Materials like Marble But Don't Stain
Marble was, is, and will probably remain one of the most beautiful surface and worktop materials in history. A perfect symbol of royalty and elegance, marble is resistant to high temperatures, scratches and is available in a wide range of colors, patterns, finishes and thicknesses.
Marble is also softer than other natural stones such as granite or quartzite and it is also a material that depending on the type and color may be less or more prone to staining items and liquids such as ketchup, coffee, juice, tea, etc. Marble also requires re-sealing every 12-24 months depending on how much use do its surfaces receive, which ensures it remains highly resistant to staining.
For those who love the look and feel of marble but that are a little bit worries by these elements and/or prefer not to worry about spillages and would rather not have to maintain their worktops, some of the latest advancements in the stone surface manufacturing technology have now created a host of worktop materials that look similar to the popular natural stone and also come with advanced physical characteristics that make it non-porous and therefore do not need sealing nor resealing. These materials are resistant to stains and scratches and are ideal for a wide range of applications.
If you are looking for one such material, we have 6 top recommendations for you.
1. Compacc Carrara Quartz

Compac Carrara Quartz is a perfect combination of beauty and durability. The white surface with light grey veining throughout makes it an excellent choice for modern as well as traditional kitchen and other interior areas. Quartz surfaces are well-known for their non-porous build and resistance to stains, scratches and high temperatures. Apart from worktops, the material is also an excellent choice for a host of other installations in bathroom and kitchen.
2. Silestone Bianco Calacatta
The thick grey veins on top of a serene white background displayed on the new Silestone Bianco Calacatta would add the right amount of elegance to any kitchen. The quartz surface resembles the popular Italian Calacatta marble but comes with far better physical properties to deliver flawless beauty and performance for years to come.
The surface comes in multiple thicknesses and finishes suiting your requirements perfectly. With dimensions of 3250x1590mm per slab, the possibility of creating huge pieces without joints is now a reality.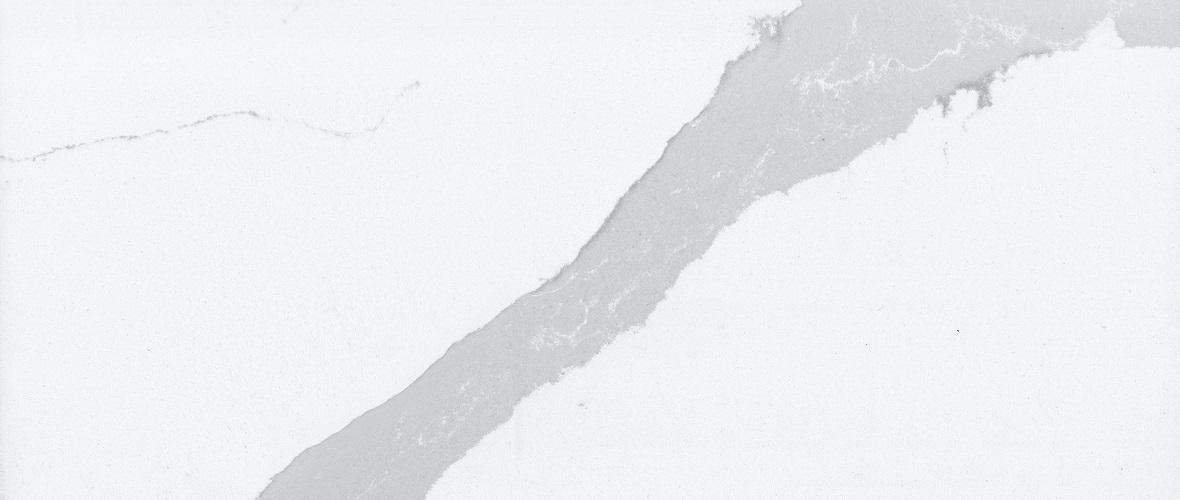 3. Caesarstone Misty Carrera
With Misty Carrera, Caesarstone has launched its own version of the timeless Bianco Carrara marble. As a matter of fact, Caesarstone was the very first quartz manufacturer that came up with a surface resembling the popular White Carrara marble from Italy producing a surface that is both aesthetically pleasing and affordable.
The white to the off-white background of the material with grey veining throughout, combined with the incredible performance offered by Caesarstone, makes this a great choice for every modern home. Caesarstone Misty Carrera quartz contains approximately 93% pure quartz crystals, crushed and blended with bonding agents to offer a uniform surface that is highly resistant to scratches, heat, and impact.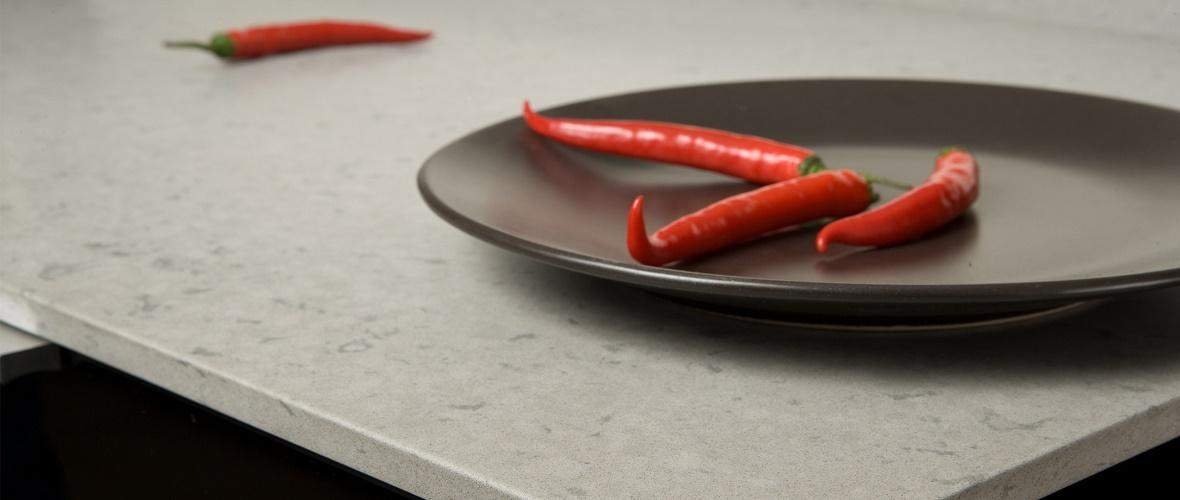 4. Unistone Carrara Misterio
If you are looking for a budget-friendly worktop material, the beauty and performance of Unistone Carrara Misterio is sure to impress you. The elegant white background with accentuated veins in grey perfectly resembles the originality of Bianco Carrara marble to enhance the beauty of your kitchen further. The surface contains resins along with quartz to ensure uniform colour all over the surface and long lasting performance. Carrara Misterio comes in standard slabs with dimensions 3050x1400mm and a Jumbo slab of 3300x1600mm, ensuring there will be the right size sheet for your project, minimizing waste of material.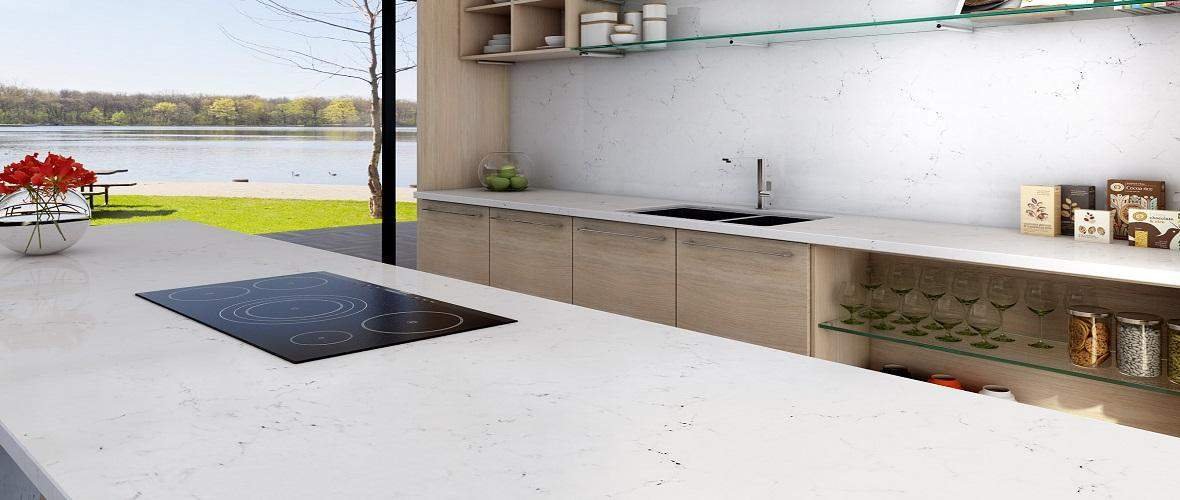 5. CRL Quartz Statuario Bianco
CRL Quartz Statuario Bianco is a new-age version of the luxuriously renowned Italian Statuario marble which is very popular for its white and grey build. The material easily adapts to most types of challenging applications while still maintaining its original looks and elegance. CRL Statuario quartz is highly versatile, hard wearing, and very easy to maintain. This makes it a great option for the kitchen, bathroom, and other high-traffic areas when they require the beauty that only marble can provide but with better characteristics when it comes to its non-porous and anti-bacterial surface.
6. Technistone Noble Supreme White quartz
Technistone Noble Supreme White quartz is another beautiful and strong worktop material which beautifully resembles marble. Made with innovative technology, the surface adds a unique 3D effect to any space where it is installed.
Be it kitchen worktops, bathroom coverings, bar countertop, splashbacks, or shower tray, the material from Technistone's Noble Collection is highly versatile and suitable for a host of residential installations. Noble Supreme quartz is made in the Czech Republic and comes with an available 10 years manufacturer's warranty by registering on Technistone's website.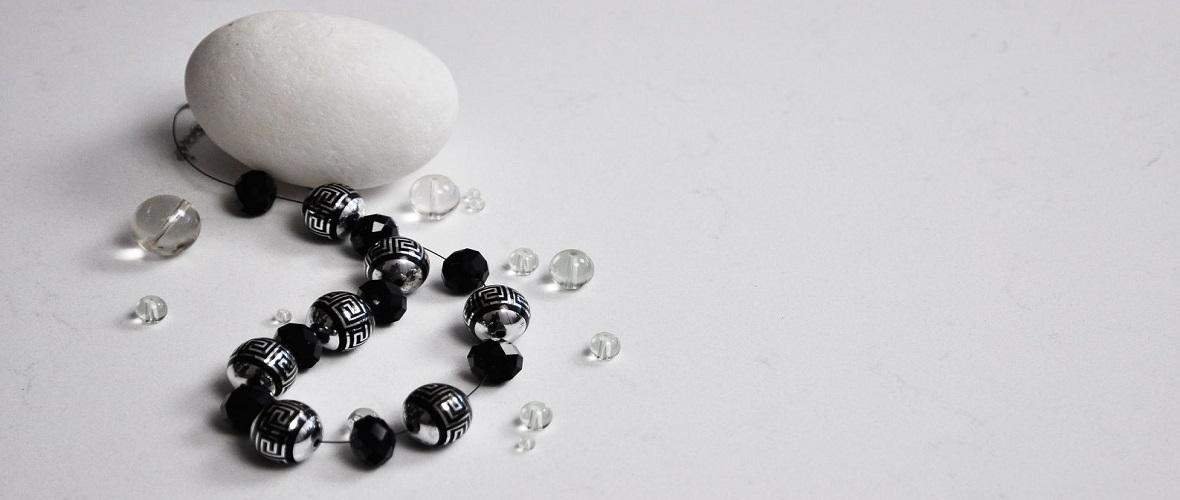 If the beauty of marble without the common drawbacks of natural stone is what you are looking for in your kitchen worktops, these are 6 of the best materials to choose from in 2018. Look for a reputed stone surface supplier in London and the UK to know more about these options and add the right amount of beauty and functionality to your property.