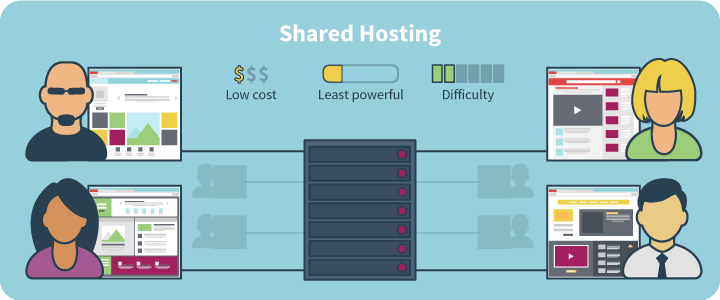 If you are planning to get a web hosting for your website and for that you are looking around for web hosting solutions then you must have come across shared hosting quite often. Generally, most of them prefer this type of hosting when their budget is low or they are not willing to pay more at the beginning. On the other hand, shared hosting is not suitable for all types of business websites. Therefore, it is important to make a proper decision before selecting the plans or solution for hosting.
What is shared hosting?
To get your website on the internet, you are required to store your files, pages, software applications on the server. That server gets connected to the internet and users can browse your website.
In shared hosting, you are required to share server resources with other users. Each user has its own internet domain and resources. In short, other website users are sharing the same server along with your website.
The responsibility of your's and your web host:
In shared hosting, your provider is solely responsible for all server management. Usually, your host provider merely handles the responsibility of maintenance and upgrades of the servers: hardware and software. For e.g., replaces drivers or upgrade their OS system.
You are solely responsible for your own site, right from designing to making live. A separate control panel access is given to you, where you can upload the files, set up your emails and install applications. Most of the providers will not assist you to maintain the site.
As I said above, you are required to share a server with other clients. Each of you will be given the particular amount of bandwidth, disk space and other features that are specified in the plans.
Why choose shared hosting?
It is not necessary that your requirements will get fulfilled with the shared hosting solution. The main reason behind why website owners opt for shared hosting is the lower price. Most of the small business owners, designers, webmasters, medium-sized businesses, moderately trafficked websites opt for shared hosting.
Due to highly competitive market, you can easily find out the provider who offers Windows shared hosting at affordable price.
Here are some benefits of shared hosting:-
1) Price:- Most of the hosting providers offer affordable shared hosting plan where you can start your hosting journey. If are planning to buy shared hosting then it is suggested to buy the plan for the entire year as you will get the biggest discount.
2) Scalability:- The web hosting providers offer multiple hosting plans as per your requirement. Generally, in smallest plans lower disk space, bandwidth, and basic features are included. You can upgrade your plan whenever you feel to expand your webs site by switching to a higher plan.
3) Features:- With the growing competition, every provider tries to offer unique to the users. They offer features like SpamExpert, SSL certificate, control panel, unlimited bandwidth and SSD disk space.
When to switch to another hosting solution:
Shared hosting performs well when you are starting a new website or you have designed a static website or blog. But if you are experiencing the better performance of the site in terms of increase in traffic then you need to switch to other hosting solutions like VPS / Dedicated hosting.
The list of key points that one needs to consider while switching to another hosting solution:
• Performance:- When you notice an increase in the traffic, then there is a need to get hosting solution like VPS/Dedicated who will offer you a high performance.
• Restrictions:- As the server is shared with all the users and all of them are assuring a high uptime percentage along with security. It is obvious that some applications and functions may get restricted by the provider. You are not allowed to run any applications as per your requirement.
• Limitation on resource usage:- You must have heard about the term "unlimited resources" but if you are aware of hosting terms then you will come to know that this is not a real case. If your sites start getting more traffic then it will ask for more bandwidth. This might create an issue for your provider and you will be asked to leave the server. In short, you have overused the resources.