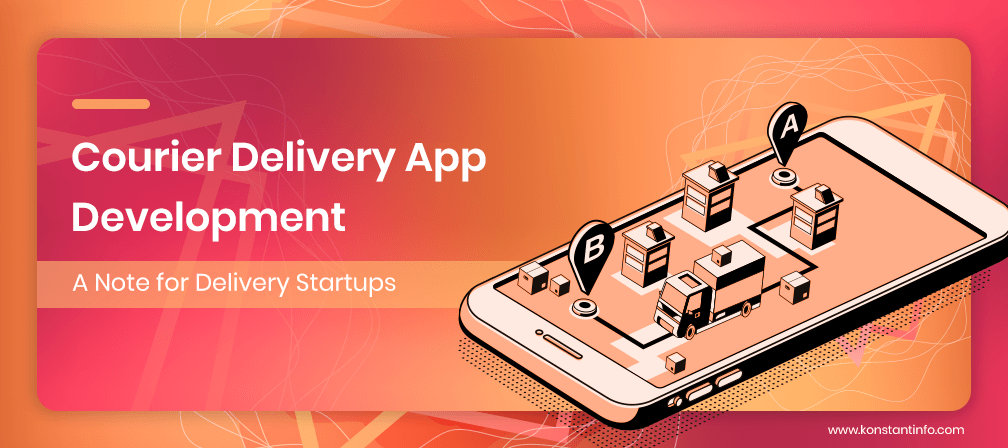 Courier delivery services are one of the top beneficiaries of the on-demand revolution. On-demand delivery apps have highly transformed the courier delivery services by automating the shipment operations. A robust on-demand courier delivery solution can help you to address the challenges with consignment tracking and delivery management.
As per Statista, user penetration in the on-demand delivery segment 12.5% (approx.) by 2024. So this is the right time for you to build an on-demand courier delivery application for your business. For that, you can hire a software development team or you can get a dedicated software development team. Here we will discuss with you what you need to know before you start talking with a software development company about your app development.
Business models of courier delivery app development
The inception of Uber for X has highly revolutionized the way of making deliveries. Now people are using multiple Uber apps for getting their desirable services. That is why global businesses have started focusing on making a seamless on-demand delivery solution for growing their business profits. Here are the famous courier delivery app models for you to look at before starting your courier delivery app development:
Uber is not only ruling over the taxi industry but also it has started offering parcel delivery services by making a robust on-demand parcel delivery app. This parcel delivery business model has become so successful that many companies have opted for it for their business. This model allowed Uber drivers to earn extra income by making en-route deliveries.
Under this model, businesses use mobile apps that are equipped with real-time tracking feature. Also, some online businesses are providing seamless courier delivery services. Thus, this type of app can be of great help to courier delivery businesses as it enables the users to know various statuses of the deliveries like it is dispatched, on the way, canceled, or delivered.
Due to its advanced features, many businesses prefer to use premium courier delivery apps to provide great convenience and transparency to their customers. By doing so they can get an extra edge over their competitors.
Postal and courier delivery like FedEx and Bluedart uses the on-demand courier and parcel delivery solution with an advanced user panel and strong analytics panel. The shipment booking process is done within the on-demand courier delivery app. Also, they offer a robust tracking system that allows users to track their parcel efficiently.
In this business model, a database of multiple locations is created at a single place. Courier companies just need to have a single ID for every type of parcel. Multiple packages can be easily used by using this ID. This kind of app is equipped with push notifications that update the user about its delivery.
What are the must-have features offered by a courier delivery app?
After choosing the appropriate business model for your on-demand courier delivery app, you need to specify the features to your app developers that you want to add to your app. Also, you have to ensure that the courier delivery app needs to fulfill your business needs. Here are some must-have features that you need to integrate into your on-demand courier delivery application:
The real-time tracking feature is one of the most important features of an on-demand courier delivery application. It plays an important role in enhancing customer satisfaction. You can integrate this feature in customer, driver, and admin apps.
In the customer's version, users can track the location and status of their courier delivery in real-time. While in the admin's version, the users can find the nearest drivers for making speedy courier deliveries.
The real-time tracking feature assures the end-users about the safety of their courier delivery.
Multiple payment methods integration
Courier delivery business owners need to integrate multiple payment methods into their on-demand courier delivery software. By doing so, you can allow your customers to pay by their desired payment method.
You can also integrate popular digital wallets and fund transfer facilities into your app so that your customers can pay you directly from their bank account. Also, you can provide digital receipts of payments to your customers on their smartphones.
Authenticity is the most important factor in the on-demand courier delivery business. You need to create trust among your customers by providing them with accurate verification of their deliveries.
For increasing the authenticity of your courier deliveries, you need to integrate a secure end-to-end delivery verification into your on-demand courier delivery solution. In this verification process, the delivery person takes the photo of the courier at the start of delivery and again he takes the photo of the courier at the end. By doing this, the user can get proof of proper delivery. Also, he can get assured that the parcel is not damaged on the way.
Push notifications provide real-time updates and live delivery status to the app users. Users can get various notifications for the current stage of delivery, dispatch of delivery, change in the delivery route, and the estimated time for the delivery.
Push notifications can help you to increase your customer engagement. It also allows you to improve the transparency of your business. Also, you can offer various schemes and offers through personalized notifications. It will help you to attract more customers and retain the old ones.
Cost for developing a profitable courier delivery app
The cost of making an on-demand courier delivery app depends on many factors such as the software company you will choose for your project, platform type, features, app type (MVP or full-fledge), etc. After considering the above factors, we have estimated that the app development can cost you somewhere between $21K to $29K.
Final words
On-demand courier delivery apps can take your business to great heights by allowing you to access a large set of robust features. But you can't achieve your goals by just making a courier delivery app, you also need to add new features to it from time to time. For this purpose, you can consult a good software development company.
I hope we have covered all the necessary information that you need to know while doing your courier delivery app development. Thanks for reading.