Stylist Lori Lyu's work is anything but 'Nasty' in creative fashion shoot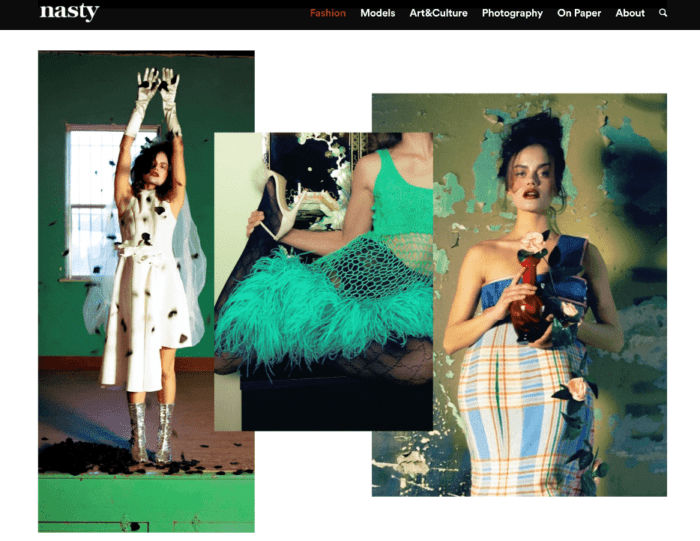 As a stylist and wardrobe designer, Lori Lyu sees clothing as a form of expression. Whether working with a leading fashion brand, a top magazine, or an acclaimed film, she uses clothing to express an underlying mood or theme. In her own way, she is a storyteller, getting inspiration from a concept of a project to create a visual representation, a process she finds nourishing and enlightening.
Born and raised in Quzhou City, China, Lyu has become a leader in the fashion industry in her country. She has collaborated with major companies like 361° Sports, the popular Knives Out gaming app, and Nylon China magazine, to name a few, showcasing her dynamic sense of style and branding through fashion.
"The creative industry is a process of self-expression and the constant pursuit of the real self. I have been looking for a balance between fashion and female expression. In a sense, I think they are contrary. The core purpose of fashion photography is to create an attitude or a way of life, so that the audience can have an understanding of esthetics, and thus yearn for fashion and styling. The female expression is to create a way of interpretation of desire, which is more like a magnifier. I believe that the two can coexist, and I try to portray that breakthrough through my work," she said.
This style that Lyu describes is evident with her work in Nasty Magazine's "Wasted Bride" Editorial in their April 2020 issue. Nasty Magazine is a prestigious online publication showcasing fashion, art and culture, famous for its high-quality content and unique fashion taste. For many photographers, stylists and models, it's their dream platform, and Lyu was no exception.
"This is a very artistic new media platform. Every day, photographers and models from all over the world want their works published on this platform. After the publication of the work, I received more recognition from the designers I worked with, and also had a designer reach out to me on social media and said they wanted to lend me their designs and work with me. It was really amazing," said Lyu.
Lyu had worked with photographer Chutong Huang many times in the past, and had formed a strong professional relationship. When Huang is assigned a fashion project, she knows she can rely on Lyu not only for her unique view of fashion, but also her understanding of what Huang is looking for without even needing to say so. Lyu is constantly keeping in touch with designers from all over the world, so she knows how to make a big difference by changing a small element, a skill that is vital for fashion shoots.
When Lyu came on board and talked to Huang about what was needed for the project, she began to source designers, styles, shapes, colors, fabrics, and patterns that would accentuate the "Wasted Bride" theme. She then put a mood board together once the dresses arrived, and listed accessories that would go with every look. She also had a meeting with the hairstylist and makeup artist to decide the hair and makeup style. Afterwards, they had a fitting with the model, where Lyu adjusted the size and made some changes in every look to ensure perfection.
On the shooting day, Lyu improvised some looks inspired by the location. For example,
they created a very artistic nude look by tying the nude model up with pink ribbons. During the shoot, she always kept an eye on the frame and adjusted the shape of the dress or the position of the accessories to make the image catchier.
"I like working with creative people. Everyone involved on the project has a very creative soul, the photographer, make-up artist, hairstylist, and also the model. They show extraordinary creativity at work, and I am shocked by their wild imagination when talking with them. And we are all interested in the same things, which makes us have a lot of common topics, and everyone is very chill and easy to work with. During the shooting, new ideas kept popping up. We randomly changed the shooting plan and added new ideas and that is what makes shooting very fun. It's opened a new world of work for me with designers, enriched my experience and broadened my vision," she said.
"Wasted Bride" was published on the Nasty Magazine website in April. It was a tremendous success, viewed by hundreds of thousands of people. As the core editorial, it laid the tone for the content of the magazine, and also presented a very good overall visual effect. The high-quality photos have brought great visual impact to the audience, as well as good feedback on Instagram.
"This achievement belongs to everyone involved in this project. At the same time, I want to thank everyone who has helped me, the designers, and my assistants. It's their dedication that makes this work publishable. We've got a great media endorsement," said Lyu.
Check out Lyu's stunning stylist work in the "Wasted Bride" editorial.
Photo: From 'Nasty Magazine'.
Dress from Dr.Story/16R Firenze
Photograph by Chutong Huang.
Make up: Francie Tomalonis
Hair: Lana Hunter
Model: Rachael Lange
Assistant stylist: Emma Zhou/Zivi Zhong