5 Reasons Why Small Business Need To Migrate To 3D For Steel Detailing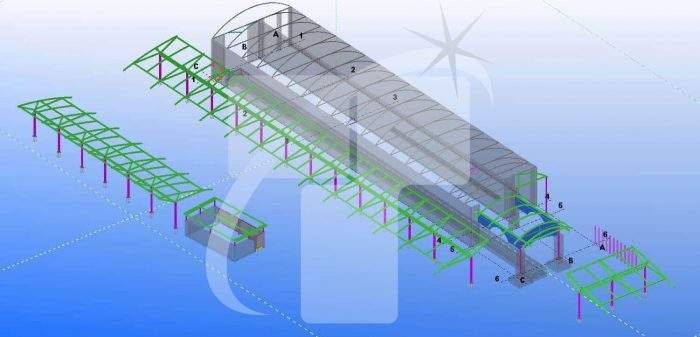 The 3D modelling software is a powerful and a valuable tool for structural steel detailers and fabricators. It provides them with all the tools necessary to design, detail, fabricate and erect small structures. This helps them stay on budget. Also this enables them to complete a project on time. It reduces errors, avoids costly surprises and rework.
Making a switch to 3D modelling is extremely advantageous. This irrespective of the size of the project or the company. A lot of small firms believe that making the shift is not ideal for them. It is because they operate on small size projects, lack of skills and resources. They have the unwillingness to explore out of their comfort zone. It might seem a little difficult initially. But, Migrating to 3D will prove to be beneficial in the long run.
1. Reduces Errors:
In the 3D modelling process stakeholders from different departments like construction, detailing, fabrication etc. All have access to the same data which ensures that there is no miscommunication. Each member can see the design. So, it becomes possible for them to immediately spot an error and rectify the same. The federated model also allows to run clash detection inorder to spot any inter or intra disciplinary clashes.
For instance, a inter disciplinary clash between MEP BIM and Structural BIM Services of a steel beam and plumbing pipe will be difficult to catch. Moreover,in 2D construction drawings clash detection is more difficult as to a great extent it is dependent on the professional's experience, expertise and imagination. Ultimately, .nc files that are extracted and used for fabricated are accurate leading to a streamlined onsite construction process.
A lot of small fabricators believe that since they deal with small projects they don't need to use 3D modelling process. It is assumed that in small projects the budget is also small so the errors will not lead to significant monetary loss. However, when the project margins are small even a tiny mistake could lead to a loss. It is easier and simply more effective to invest the required time and effort into learning the 3D modelling software.
2. It makes them more competitive:
In a lot of countries BIM is becoming mandatory for certain kinds of projects and using only 2D will ensure that those projects are unattainable. The current scenario is such that 2D CAD is either used for a small part of the project or for extremely small projects. Moving from 3D allows the small firms to increase their scope and breach the wider market. Moreover, in the future it is inevitable that 3D modelling is going to takeover and if they don't have the expertise or the willingness to change then they might find themselves becoming redundant.
3. Automates Detailing:
The modern 3D modelling software like Advanced Steel, Xsteel or Tekla etc. allows to automatically extract various 2D documentation like assembly drawings, fabrication drawings etc. Since these drawings are extracted after through quality checks and from an error free model it is possible to ensure utmost accuracy during onsite construction. It is also very tedious and time consuming to make changes in 2D as even a small change would mean making alterations in all the associated 2D drawings. However, any change made in the 3D model is automatically reflected in all the construction documentation that are to be extracted.
4. Ensures Accuracy:
It is crucial to remember that Structural Steel Detailing is a process that demands nearly 99% percent of accuracy. As stated above even a tiny error could cause significant loss of time, resources and money. It could also have adverse consequences on safety of the inhabitants and onsite workers.
That is also why a lot of countries across the globe have various codes and standards that need to be followed for instance when it comes to Steel Detailing has AISC(Australian Institute of Steel Construction) and AISD standards that are applicable across all its states and territories. With 3D modelling it possible to ensure that all such codes are adhered to throughout the building. Moreover the very process of 3D modelling from automation of detailing to clash detection all brings about enhanced precision.
5. Enhanced Customer Satisfaction:
The aim is always to ensure that the customer gets the best services. Shifting to 3D will allow small business to increase their customer satisfaction. Firstly, 3D modelling process allows to conduct a through and streamlines QA/QC process. This goes to ensure that the client's requirements are all taken care of and if there are any errors it can be promptly changed. It also allows small business to provide faster turnaround time. Finally, less time, better productivity and enhanced quality all leads for a better return on investments and higher customer satisfaction.
Hence, there are some definite benefits of using 3D modelling forStructural Steel Detailingfor small business. They should not let small concerns of initial investments or misconceptions like 3D modelling is better for big projects or even their own comfort zone not stop them from migrating to 3D modelling process for their steel detailing requirements.