Camera and Steadicam Operator James Poole combats desert conditions to beautifully capture upcoming Saudi series 'Rise of the Witches'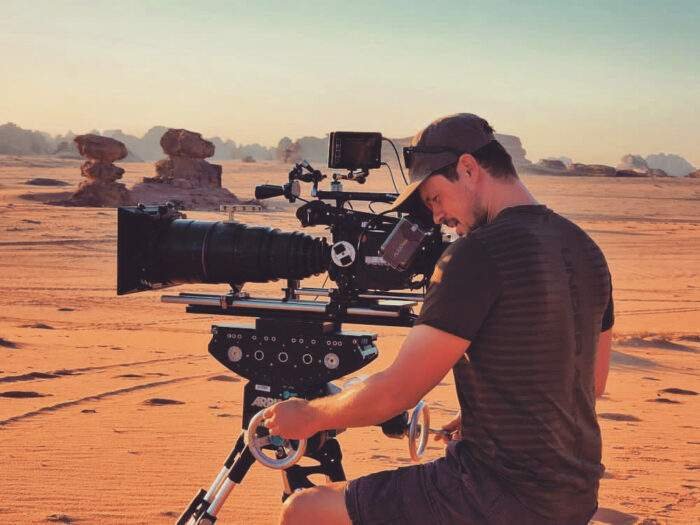 From the time he was a child, growing up in Bristol, England, James Poole would spend his days watching behind-the-scenes footage at the end of his favorite VHS tapes, mesmerized by the entire movie-making process. He knew that one day he too wanted to be a part of creating that magic, not knowing where he fit in but knowing it would be a worthwhile way to spend his life.
"When I was a teenager, I started working at the cinema, and I got to see the effect films had on people that watched them for the first time. People would laugh with joy, cry, or gasp with terror and for the duration of that film they were truly experiencing something otherworldly. I wanted to be part of creating that feeling for people," says Poole.
Now, an industry leading camera and Steadicam operator, Poole is spending each and every day living that childhood dream. Known for his work on award-winning television shows such as The Great and Dr. Who and acclaimed films such as Twist and The Loneliest Boy in the World, Poole's talent has been appreciated all over the world for almost a decade, and with no plans on slowing down, there is little wonder as to why he is at the top of his game.
With the great success he has achieved, it can often be difficult to identify the pinpoint of Poole's career, but he credits his recent work on the upcoming series Rise of the Witches, based on the best-selling books by the Saudi author, Osamah Almuslim, as being that pivotal moment, presenting new challenges that allowed him to further refine his skills as a camera operator.
"There was an extremely diverse crew that quickly became family and remained friends beyond wrap. Crew were selected from all over the world which initially made communication harder as all these people including myself and my team were used to a different way of working. I'd also never experienced 119-degree Fahrenheit environments before taking this job but now I was working in it. For me this is a career highlight as it tested me as an operator as well as a person," he says.
Rise of the Witches tells the story of an epic struggle between two rival witch covens in ancient Arabia. At the heart of the story are two young witches, Da'ja'a and Afsaar, each the daughter of a powerful wizard. They've grown up in a world dominated by male sorcerers who want to prevent women from having any access to magical powers. Both girls struggle to learn the magic arts and must form their own covens in order to protect themselves and gain power and some degree of control over their lives.
"James is a pleasure to work with. As an actor I always felt comfortable and trusted his opinion and unique perspective. He is lighthearted and I always felt relaxed in his company. He is patient, positive and very understanding. It was a tough shoot in the desert heat and I never felt like he didn't have time for people," says Actor Ida Alkusay, who plays Afsaar.
Having never been to Saudi Arabia, Poole was immediately taken away with the set. It was not an easy shoot with challenging conditions that the camera team had never had to work in. Extreme temperatures would overheat the cameras daily, and ice packs had to be placed on the camera body to combat this. Working on sand slowed down the movement of everything, and Poole had to quickly adjust his expectations on how long some things would take to move or set up.
"James is an exceptional camera man with an abundance of talent and an unmatched work ethic. His abilities, knowledge and productivity made him a keystone member of our crew that we truly would not have finished the project without, and definitely not with the same quality," says LJ, Stunt Coordinator on the upcoming series.
Being in a country that is at the beginning stages of developing a film industry to compete with Western productions, Poole's skills were necessary to not only get the project made but to help train locals in the hopes that over time their film industry can be crewed on Saudi Arabian talent alone. Each department had students from local universities that would work in a trainee role. Poole is proud to say that his trainee Asrar excelled and has since been contacted to work on another production as a camera assistant.
"I loved having the chance to work with such amazing people and explore a culture I previously knew not very much about. It was incredible," Poole concludes. "Although set in ancient Arabia, the story touches on subjects that are still relevant now. The two lead characters have grown up in a world dominated by male sorcerers who want to prevent women from having any access to magical powers. This show has been filmed in Arabic, but I hope it will be shown to a wider audience to demonstrate the strides that are being taken towards women's rights in the region."