5 Reasons Why International Schools With GMP Do Better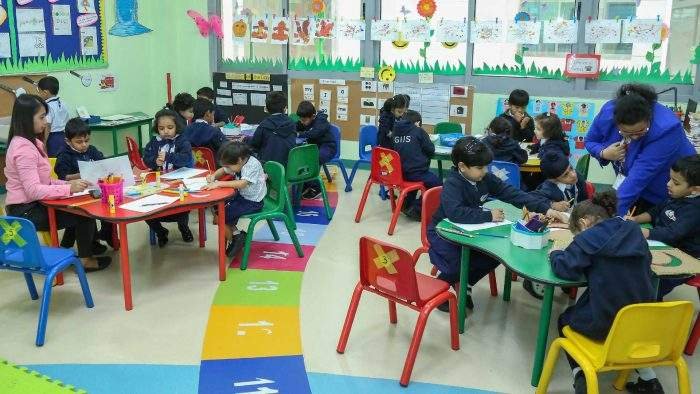 Early childhood education is probably the most crucial part of a child's education. Here, students learn to adjust to new surroundings, learn how to communicate, and adapt to new routines. Playschool education prepares the child for the transition into an actual school governed by structure and academia. Therefore, picking the best school is essential. A good playschool nurtures the kid and instils moral values that will remain relevant for years. So, apart from reliable teachers and a comfortable environment, what makes the right school? The primary factor that determines a good playschool is the school's curriculum.
Before you enrol your child into any play school in Dubai, do a little research on the school's curriculum. Most schools use the standard UAE government curriculum or the Montessori curriculum. Although both curriculums are useful, most parents prefer the Montessori curriculum. However, not all parents know about the hidden advantages that is the Global Montessori Plus curriculum.
Defining the Global Montessori Plus curriculum
The Global Montessori Plus (GMP) curriculum the Global Schools Foundation's (GFS) creation. It is available at GIIS Dubai, a leading international school in Dubai under the GIIS umbrella organisation GFS. This curriculum is an advanced version of the original Montessori curriculum by an Italian physician, Dr Maria Montessori.
It aims to transform nursery school education in Dubai by creating a comfortable, fun, and educative learning environment.
Parents who know about the GMP curriculum prefer it over other curricula. The preference is mainly because of the curriculum's pillars that place the teacher's focus on the children and what they want to do.
5 GMP pillars
The GMP curriculum stands on five pillars that separate it from other curricula. Each of these pillars focuses on the development of the children without putting pressure on academia. In a GMP classroom, the teacher follows the students' lead and not vice-versa. The curriculum states that the role of the teacher is to offer guidance and not impose instructions. Below are the pillars that make GMP a unique curriculum.
1. Excelerate programme Montessori school in Dubai
As the name suggests, this pillar at international schools in Dubai aims to accelerate the child's ability to grasp necessary literacy skills. KG1 and KG2 students learn fluency in language through listening, speaking, writing, and reading simple articles prepared by the teachers. Teachers encourage students to communicate through word games, songs, and one-on-one interactions. Over time, they begin to engage each other fluently with confidence.
Another factor students learn under this pillar is numeracy skills. They know how to count, add, subtract, and multiply through fun games and songs. The "Excelerate Programme" does an excellent job of nurturing students' eagerness to learn new concepts at a young age.
2. Multi-faceted learning for nursery school kids
This pillar highlights the importance of individuality. Teachers create opportunities for students to develop their personalities. Students engage in interactive activities in and out of the classroom. These activities keep your child alert and excited about finding out the fun things they enjoy doing. This pillar aims to ensure the students develop individually in their personalities and intellectual capacities.
3. iPlay programmes for nursery kids
The GMP curriculum emphasises the importance of playtime under this pillar. Play enhances students' cognitive, physical, social, and emotional development. While on the playground, students have the authority to pick a game of their choice. They can also decide who they would prefer to play with as the teacher oversees their interactions. Without the students' knowledge, they learn how to make decisions, solve conflicts, negotiate, and communicate respectfully. Students assimilate new things and learn how to be independent. Parents can finally breathe a sigh of relief.
4. iCare programme for Montessori kids
Well-behaved children grow into responsible and distinguished adults. Therefore, the GMP curriculum creates opportunities for young students to learn about caring for the environment and community. Teachers supervise them in environmental activities, such as gardening, charity drives, and various volunteer activities. Through these activities, the students learn about honesty, compassion, and the importance of gratitude. Interacting with the community from a young age also lays a strong foundation for their future character development.
5. Montessori curriculum with future programmes
This unique pillar prepares the students for the future. How? You may ask. Through the GIIS NextGen learning, students receive insight on how to adapt to the changes of the 21st-century. Students learn necessary information on Science, Technology, Engineering, Arts, and Mathematics at an early age. A concept that you can also refer to as STEAM.
The teachers prepare relevant workstations for each student beforehand to encourage creativity and innovation. These activities and scientific experiments also instil curiosity and develop a love for learning in the students. Your child's critical thinking abilities and creativity gradually improve for primary schooling.
From holistic development to academic excellence, the GMP curriculum caters to the needs of preschoolers. Eventually, the world can be thankful for well-behaved, innovative, and hard-working adults.