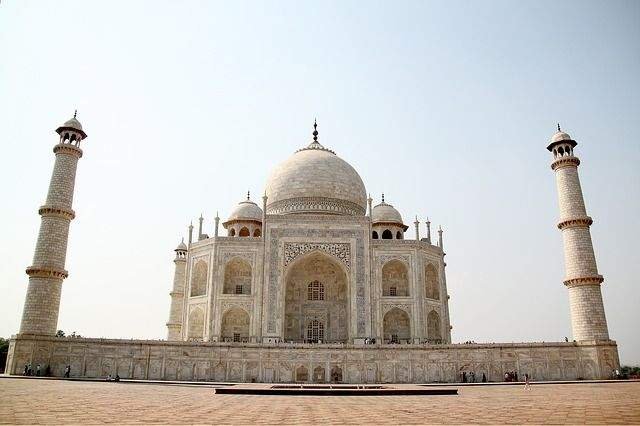 Taj Mahal is one of the top gems of Indian Middle age heritage. It is considered to be the best representation of art and craft in India at around 1630. Although the monument is said to be the creation of Mughals and it took 22 years to create this marble monument, yet no engineering drawings of the same has been found by the Historical Survey of India till date.
It is noteworthy that the structure and the style of the monument are completely different from all other monuments created by Mughals, but till date, it is called to be the graveyard of Mumtaj, the beloved wife of Mughal Emperor, Shah Jahan.
Once ornamented with multiple gems, you will find the grooves to hold the gems only at present. The gems have been looted by the East India Company, but still, the beauty of the monument is such that it has booked a firm position in the books of 7 top wonders of the world.
There are different historical claims on this monument, related to its origin, but the resplendent beauty of the mighty TajMahal has no other claim than the art sense of humanity.
As you are planning to get there, some of the details and information would help you in your approach. Hence, here are they for you –
You can reach Agra Cantt railway-station from Delhi or or you can get luxury train like Maharajas Express, Palace on Wheels or can travel by road too. The city is well connected with road and train with Delhi, Fatehpur, and cities of Rajasthan. It takes abruptly 3 hours to reach Agra from Delhi. From Agra Cantt station, you can avail Auto-rickshaws or taxi to reach the mighty TajMahal. Check the procces for booking maharajas express train and palace on wheels rajasthan online.
The best time to get there to Agra is between the months of November and February. The other months will but you in immense warmth and monsoon.
The timing to visit the monument is between 6 in the morning till 7 of the evening. The monument gates remain open during night 8.30 PM till 12.30 AM on 5 days, on the full moon day and two days before and after it. At the normal time, the monument can be visited on each day, except Fridays.
You can avail tickets online or at the gates from Historical survey of India. Tickets are to be availed a day prior to your visit. Pricing of the ticket for foreigners is 1100 INR if bought in cash and 1050 INR if bought cashless.
For Night view, ticket pricing is 750 INR for foreigners. For Indians, ticket pricing is 50 INR for cash tickets and 45 INR for cashless entry. For full moon days, the ticket price is 510 INR, and for kids of age three to fifteen, it is 500 INR. In general, kids of age below 15 can have free entry at the day time. If you explore agra taj mahal via maharajas express you don't have to pay any fare sto entry tajmahal. Here is the maharajas express fare for Indian and international traveller.
For each person, one water bottle, one camera, and one mobile phone are allowed inside and there you cannot carry any food items, raw or processed.
You cannot get there to the TajMahal with your vehicles, as vehicles are prohibited within 500 meters range of this white marble river-side monument.
So, it is time to book your tickets and get there to the beautiful monument that changes her color with different angles of sun-rays falling on her throughout the day.