People can make Windows PE bootable media with Windows built-in PE tool, which is free to do this. Maybe I should change the title to how to easily make free? Yes, Windows inbuilt program is not easy to use for everyone. And it has some disadvantages. For example, you have to download and install AIK from Microsoft website first. That's why many people prefer to use third party WinPE build software.
AOMEI PE Builder is among the most popular tool on the market and many users choose it. Its latest version is 2.0, changed a lot from former 1.5 version after two years. If you haven't used it before, now you can download and try its newest version after reading this article.
AOMEI PE Builder is developed by AOMEI Technology, a company released partition software AOMEI Partition Assistant and backup software AOMEI Backupper. If you want to enjoy these two  famous AOMEI products, you could download the bigger 140 size of AOMEI PE Builder 2.0. AOMEI PE Builder allows you to create a Windows PE boot disc without installing AIK/WAIK. Thus will save your much time and energy!
Next, let me show you how to use it. Download, install and run, the first interface is a description and instruction, there is nothing to do, just click Next button to go. In the second step, you can download the creating environment. If your current operating system is Windows 7, Windows 8 and other non – Windows 10. You could select to download or not decide whether you want to create Windows PE based on Win10. If your system is Windows 10, you have to select to download 32 bit or 64 bit.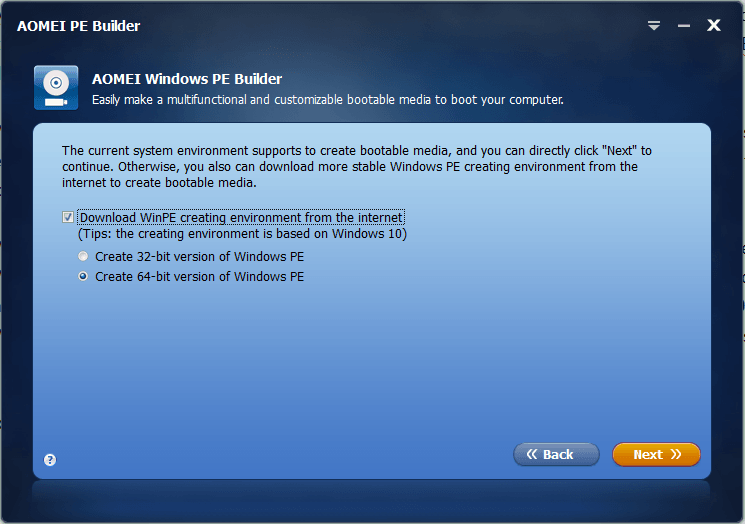 In the third step, select some AOMEI PE Builder integrated utilities as you think they will help you later in bootable environment. What's more, you are able to add more portable tools and drivers here to build your own customized bootable media.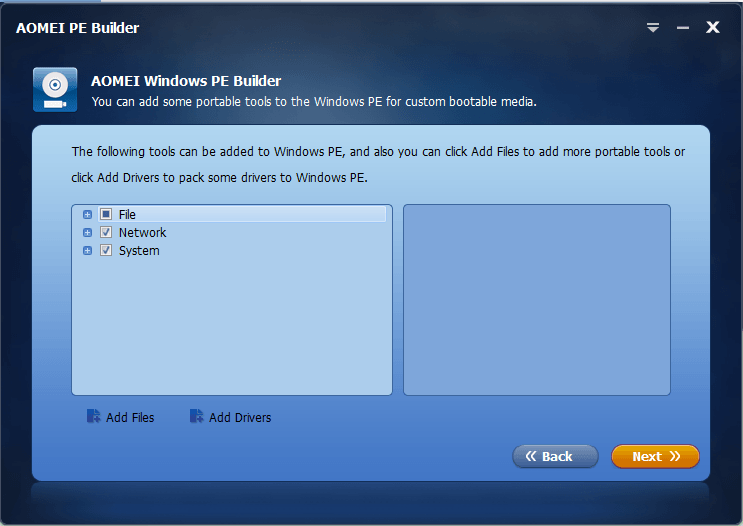 The forth step, AOMEI PE Builder supports three kinds of bootable media: CD/DVD, flash drive, or an ISO file.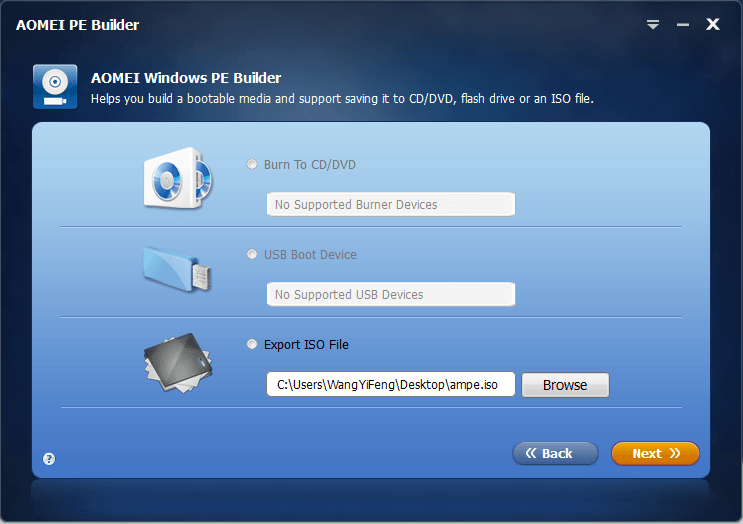 At last, you can commit the creating task. AOMEI PE Builder support to cancel the operation during the process of creating. When you enter the environment created by AOMEI PE Builder, you can see it has a familiar Windows interface, desktop, Windows explorer, start menu and task bar all are in it. It is easy to to do your task like resize partition, fix error, anti virus, etc. You can connect to network too.
AOMEI PE Builder supported systems are Windows XP – Windows 10 and Windows Server 2003-2016, the Windows PE bootable media supports both EFI and Legacy BIOS boot modes. We think AOMEI PE Builder is a practical and necessary tool for computer users to protect their data simply.