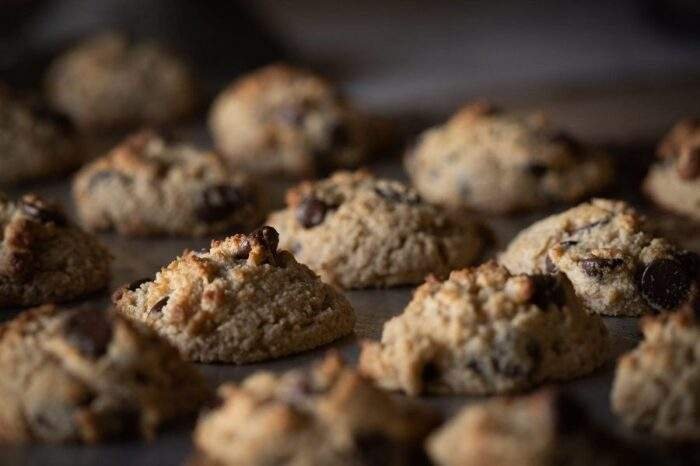 If you have kids at home, then the following post is a must-read. Of all the cookies, the chocolate chip cookies are every kid's favorite. Kids love the chocolate chip cookies to no end. And every kid has his or her favorite brand. However, like every other thing, too much is terrible. Therefore, keep the expenses in control; make them at home. Further, you can keep the ingredients as per your choice. It means that you have direct control over your kids' food.
Well, we have compiled an easy eggless chocolate chip cookies recipe. You can follow it and make as many batches as you want. To keep your grocery shopping easy and affordable use Grofers Offers.
Generally, finding eggless cookies is a daunting task. Therefore, we have given an eggless cookie making recipe. These cookies will have a soft texture. They will be as crunchy as the readymade ones. You can also control the baking time for the taste and texture. So, make them and surprise your kids.
Time for Preparation: 10 minutes
Time for Cooking: 15 minutes
The following recipe makes: 16 cookies
Ingredients for Eggless Chocolate Chip Cookies:
• Maida or All Purpose Flour: 1¼ cup
• Butter: ½ Cup Melted
• Baking Soda: ½ teaspoon
• Salt: 1 pinch
• Brown Sugar: ¼ cup
• Refined White Sugar: ¼ Cup
• Milk: 2 tbsp
• Vanilla Essence: 4 drops
• Chocolate Chips: ½ cup
Save on grocery shopping by using Grofers Coupons.
Recipe for making Eggless Chocolate Chip Cookies:
• Preheat the oven at 180 degree Celsius. Maintain the same temperature for at least 10 minutes.
• Take a deep bowl and mix the flour, salt, and baking soda.
• If you are using salted butter, then don't add salt.
• Save two tablespoons of flour for using later.
• If you are using unsalted butter, add salt.
• Melt the butter in another bowl by microwaving it. Ensure that the butter has cooled before you use it.
• Add white refined sugar and brown sugar.
• If the granules are large, mix them in the grinder.
• Whisk the mixture till it becomes creamy.
• Now add milk and vanilla essence.
• Whisk the dough again for 2 minutes.
• Now add the dry mixture of flour to this.
• Mix all the ingredients properly.
• If the battle looks sticky, you can add more flour.
• However, don't add more than two tablespoons of flour. Otherwise, your cookies will not come out fluffy.
• Finally at the chocolate chips to the mixture.
• Mix them well and keep aside.
• Take out a baking sheet and line it. You can use parchment paper or Aluminium foil.
• Make 16 small balls of equal proportions of the dough. Press them gently by keeping in your palms.
• Avoid pressing too much. Arrange them on the baking sheet.
• I'm sure to keep enough space between them. The cookies will become double in their size.
• Now, please the baking sheet in the middle rack of the oven.
• Baked cookies for 10 to 12 minutes. They will become light golden color once they are done.
• If you want to make, crunchier cookies bake them for 15 minutes.
• If you want soft cookies, wait for 12 minutes.
• Take the baking sheet out of the oven.
• Let the cookies cool for 10 minutes.
• Place them on a cooling rack for the purpose. The cookies might appear soft and crumbly when they are hot. But don't worry and let them cool. The inner texture might also appear raw. But this doesn't call for prolonged baking.
• Keep them in an airtight container for storage. You can enjoy them with milk or individually.
• One batch should be consumed within one week as no preservatives were added.
• Make the weekends a fun affair and bake with your kids. Let them enjoy the wonder of working together.
To keep your grocery needs well-catered to by using Grofers Offers. They will also allow you to keep your savings intact.