The importance of clear signage is often estimated to be smaller, but in reality, your House number is the first chance your house has to make an impression. When you buy a new house you would want your guests to identify the house without any struggle and it is important to pay attention to the exterior. Every house wants unique numbers and letters written on frames which gives information about your home and it has got a name. Whatever the size and design of number plates is one such stuff that is unique with different categories, color, and elegance to your residence.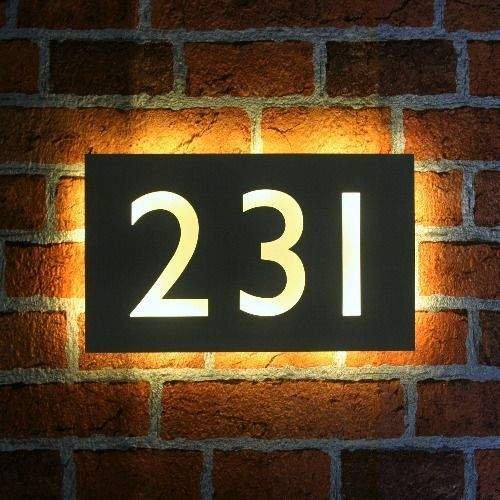 What do you need to consider?
When you are planning to have a fashionably elegant and sophisticated signboard for your residence you must know that the size, designs and the material can be chosen by you and that is how you can personalize the signboard. Now let us check out the materials that are most popular when it comes to making a nice signboard for your house:
Cast iron – This is surely one of the most popular and traditional types of signboards for houses that you can find. This surely makes a durable piece that will last as long as the property. With minimum maintenance, you can maintain the look of it for a very long time.
Cast Aluminium – This is a little modernized version of the cast iron. It is light in weight and resistant to corrosion and thus gives longevity. It also looks more beautiful and sophisticated than cast iron.
Cast Bronze – Cast bronze signs look quite elegant and stylish. It adds an old-world charm that remains forever in style. This ideal for people wants to give a traditional look to their home.
Ceramic – One of the most common and popular house signs you can find is the ceramic plate. You can paint designs on glazed or matted surface and create wonderful signboards. This will surely add extra glamour and elegance to your home.
Natural Slate – You can find a lot of properties in the rustic areas using slate as signboards. Slates are engraved with artwork and house numbers.
Natural Marble – Marble is quite common in large residences, mansions, manor houses, and palaces. It is seen by the side of the front gate of the residence. This will give a royal look to your home.
Granite – This is a weather-resistant solution of a signboard for a house. Deep engraving is done to write on these hard stones. The material will last even after your life and retain its quality for generations.
Wooden – This is a very common material for signboards especially in villages and farmhouses. It is a very cost-effective way to have a signboard for your residence.
It is not enough to have a house that looks fantastic on the inside, you also need to make sure that your house gives the impression of being well-maintained and welcoming. If you are running a business you know how important signage can be. This is equally important with your home as well. There are several practical considerations that you need to think about when planning how to make the exterior of your house more attractive and welcoming.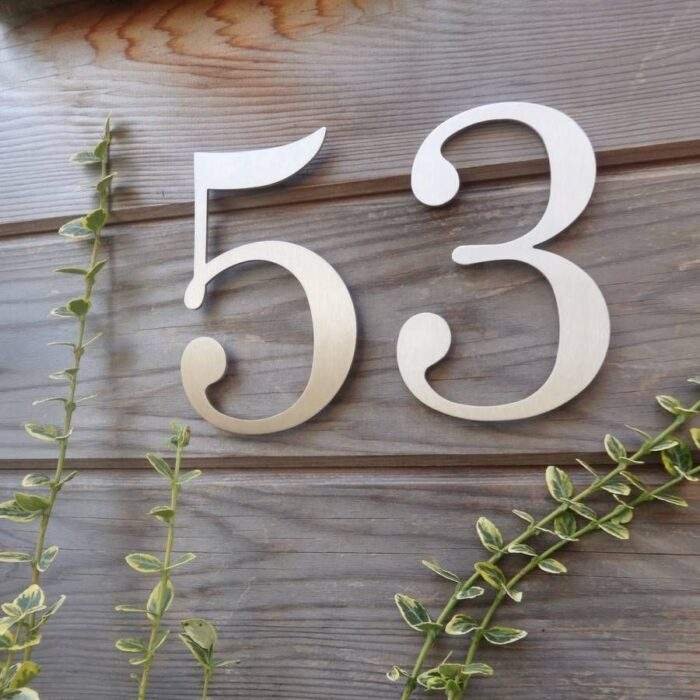 You need to make sure that the style of residence number you choose is easy to read and large enough to be noticed from a short distance or in conditions that may not make it easy to read a poorly or small designed sign. For example, if there is a medical emergency may take place at night when it is difficult for an ambulance attendant or may suddenly develop into a life or death situation, it makes it much easier for you to get the assistance you need if the people who are trying to assist you can tell where you live.
It is also important to make sure that your home plaque or other signage will not fade or dim over time. A sign that is made out of something other than enamel may become difficult to read as the lettering wears away. A porcelain enamel sign, on the other hand, will not lose or fade its beautiful color since that color occurs throughout the porcelain enamel rather than only on the surface the way painted lettering and numbers will. So, always be fascinated to choose the right design, style and give your home a unique identity.
Many of the same principles that apply to good curb appeal also apply to choose the right porcelain enamel sign for your name. The far away your homesites from the road the larger your house plaques or house numbers need to be. A set of small house numbers that do not stand out properly from the surrounding area may be difficult to read and because of this, your house may get passed by several times before they realize where you live. If signs such as your address numbers and your name are easy and clear to read it can help family, friends and other visitors tell where you are living and make them feel welcome in your residence. The right sign can add to the curb appeal of your home and beautiful house number plaque can draw a buyer in and cause them to be much more interested in your home. But beautiful house plaque, house numbers, and address numbers are used by a group of people who are not limited to guests and potential home buyers.