GAINING PROMINENCE OF SOCIAL MEDIA PLATFORMS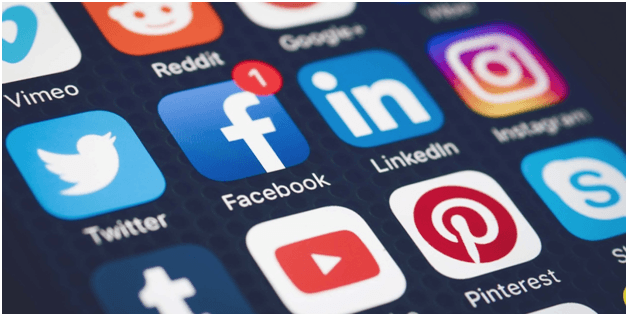 Image Source: Safetrac
Heraclitus, the Greek philosopher said, "There is nothing permanent except change". This is so true in the ever-changing marketing world where tactics adopted by business houses have evolved significantly from door-to-door to television to print to emails. Now there is a wide array of digital marketing tactics available including content marketing, video marketing, Email marketing. Advertisements, SEO ad lead generations to improve visibility and brand image for the businesses.
Increased Adoption of the Internet is the major driver for social media marketing
As of 30 June 2019, there are 7.72 billion people in the world with 4.54 billion people being internet users. Roughly 60% of the overall population has internet access. North America has the highest penetration rate with 90% (~327 million) of the overall population being internet users. Internet usage has shown a dramatic growth of 1157% over two decades and has been the primary driver for the change in marketing tools over the last two decades.
Increased Usage of Social Media Platforms
The consumer use of social media platforms like Facebook, YouTube, WhatsApp, Instagram, etc is growing by leaps and bounds. The journey began with Myspace, a social networking website, and now arguably 3.5 billion people stay online. That's Huge! Roughly 75% of internet users have access to at least one of the social media platforms.
The one to evolve is the one to survive. Platforms like Orkut, Google+ failed to keep up the technological pace and have been wiped out from the market. Facebook is the leader of the pack with 2.26 billion global users in 2018. The other platforms that have crossed the billion-user mark are YouTube (~1.9billion), Instagram (~1billion) and WeChat (~1billion). The most recently launched TikTok already has half a billion users. Platforms like WhatsApp, Facebook, Instagram, YouTube are constantly upgrading their platforms and adding features to keep upto the market demands.
What's new in these platforms?
There has been a flurry of changes in the social platforms to improve the quality of our digitized life. And, it's necessary.
WhatsApp is planning to launch Multi-platform support wherein users can use the app at different platforms simultaneously, make WhatsApp call using google assistant by just saying "Hey Google, WhatsApp Call <contact name>.", WhatsApp web albums for desktop users and boomerang videos for WhatsApp.
From September 2019, Facebook rolled out Campaign Budget Optimization which helps businesses to wisely set their ad budgets and efficiently allocate amongst ad sets. Seeing the growing trend in the Dating app market, Facebook recently ventured into dating space and started Facebook Dating in 19 countries. Alas! India is not on the list. Facebook introduced portal family for immersive smart calling to friends and family in 8 countries.
Instagram is the influential social media marketing platform for both businesses and advertisers and the announcement of Instagram and IGTV getting desktop publishing access puts them in an advantageous position. Now marketers can use desktops for creating and publishing content instead of depending on smartphones or third-party apps. Apart from that, Instagram has added a music feature in its story which is taking the world by storm.
The crux is technological advancements must go on to keep the world at its feet.
Social Media Marketing is the Life and Blood for Business Houses
In this scenario, using social media for business is a great idea. Why are businesses, small or large, opting for social media marketing? Traffic. Yes. Effective social media marketing, correct use of hashtags and, other search engine tools drive traffic to the website and there is a high probability of converting viewers into actual customers. The other reasons to opt social media platforms for advertisement can be –
Receive Effective Response from Users- Social media has eased the way feedbacks can be posted and received and complaints can be dealt with by the companies. Positive reviews from the users enhance the brand image of the company and build consumer trust towards the brand in the marketplace. Social media reduced the time lag between complaints registered and complaints resolved thus benefitting both the parties. Using social media to promote business is an important marketing need for businesses today to increase awareness about your products and services.
Cost-Effective- Social media marketing campaigns are the most affordable way to promote a business. Various companies can offer services of Social media advertising like Social Media Advertising in Gurgaon, Social media Advertising in India, etc. All needed is a pool of ideas backed by solid content. Setting a dedicated team and maintaining social media accounts regularly will improve company visibility across borders.
Access to a pool of Databases- Database is the biggest asset for any business. Imagine Google. The Company has a vast amount of user data including an individual's taste & preference, location, health history, etc. The use of this data sets effectively has positioned Google as a powerhouse in the internet world. Small Companies has a database that can be an asset to the organization if used effectively.
Social Media platforms are not a platform for small businesses only. In recent years, bloggers, influencers and artists are earning their bread and butter from these platforms by promoting brands, capitalizing their skills to collaborate with companies and displaying their talents on platforms like TikTok. Social Media has taken the world by storm and there is no stopping here.
Let us witness this Industry Change together!