Famed Influencer Jarvis Speaks on Entering the Boxing Ring and Plans for the Future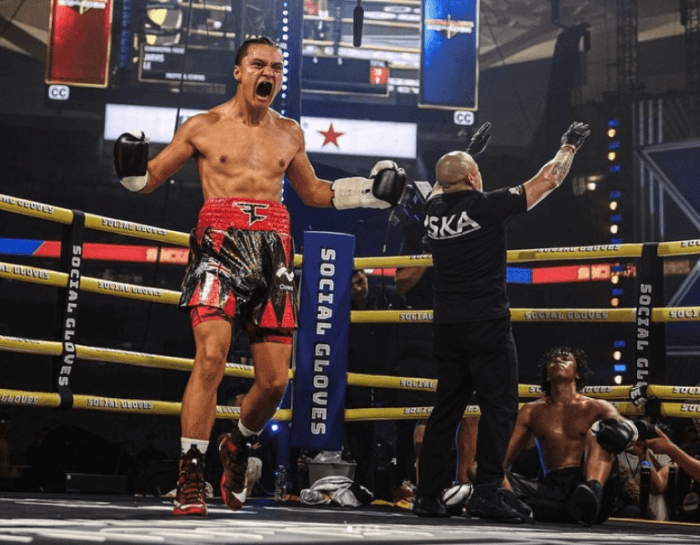 Millions around the world know the name Jarvis. Emerging as one of the most highly competitive Fortnite players back in 2018 at the height of the game's popularity, Jarvis Khattri gained many fans. As he built his influencing career under just his first name, he gained millions of subscribers on his YouTube channel, creating IRL style videos that made his fans laugh alongside him and his brother, known as Kay, for years.
He has numerous milestones that one could consider a career highlight, from getting signed to the prestigious gaming organization FaZe Clan to winning $10,000 in a Fortnite tournament, but when asked what the greatest moment has been for him so far, he references his more recent accolade, knocking out TikTok star Michael Le in his boxing match on the "Youtube Vs TikTok" card.
"That was a feeling I will never forget and having all my family and friends there made it my most memorable," said Khattri.
Khattri's boxing journey began last year, when he was offered the opportunity to switch gears entirely and enter a professional boxing match despite having no experience, deciding to take the risk and try something new.
"I never wanted to be a boxer. It was not something I had thought about doing myself. I was presented with an offer to fight on a card against someone with similar experience to me, which was none," he laughed. "It was something I had never done before, and I was going to be completely out of my comfort zone, so I said yes."
Like gaming, boxing was something that Khattri felt he could constantly improve upon, which made him motivated to get better and learn new skills. Once he accepted the offer, he began preparing, fueled by his fear of embarrassing himself in the ring and getting "memed". He found an established coach in Otis Pimpleton and headed to Vegas to train diligently for months.
"Jarvis is a great kid, very coachable. He is a good listener, very respectful, always willing to learn. I trained him on the basics of boxing from step one," said Pimpleton. "Working with Jarvis, one must be able to show, tell, and define, as well as demonstrate. He is always looking forward to what's next. Jarvis is a kid paving the way for others to live out their dreams and make them a reality. He has an old soul and is very respectful and I am pleased that he is a member of the Win2B1 DreamTeam."
Khattri stepped into the influencer boxing space in great fashion with his incredible knock out of TikTok star Michael Le at the Social Gloves, Battle of the Platforms boxing event in June of 2021. This event was headlined by Austin McBroom Vs Bryce Hall along with many other notable talents, but Khattri's performance was the one to remember as it was the only knock out of the night.
"Training to become a boxer is one of the hardest things I've had to do. It involves training 6 to 7 days a week multiple times a day, pushing your body to the limits constantly. You have to make sure your nutrition is right by eating the right number of proteins, fats and carbs to keep your body fueled. It's tough, one week you can see a lot of progress and the next you feel like you're back where you started, but it's all about staying consistent and disciplined and the results will follow," said Khattri.
Aside from the incredible financial opportunity that influencer boxing presented, it also was an incredible content opportunity for Khattri as well. Leading up to his fight, Khattri created a ton of videos around boxing for his YouTube channels and other socials, which amassed hundreds of millions of views and is a pillar of his content today.
"It feels amazing that my first fight went so well. I trained as hard as I could and it feels great that all the hard work paid off. But at the same time, after having such a crazy highlight fight, it puts more pressure on me and higher expectations from fans and spectators. For me though, that doesn't matter. I know if I put in the work and train hard that's all that matters," he said.
Initially, boxing was just an opportunity to try something new and have a fun fight out of it. However, Khattri now plans on continuing his influencer boxing career. He is currently in the works of getting multiple fight contract deals signed for the next few years, so audiences have a lot to look forward to.