Everest Base Camp Trek Detail
The Everest base camp trek is a glorious mountain trek in the Nepalese Himalaya. Preparing for stunning sceneries and Sherpa cultural experience, the Everest base camp hike should be a lifetime experience for you.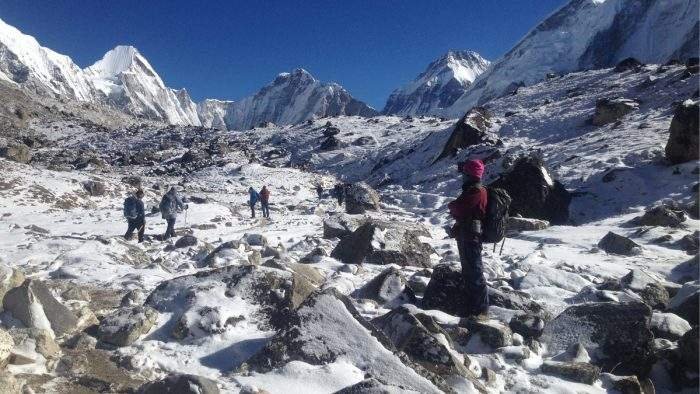 You can explore the great Everest massif, religious monuments, and the natural UNESCO world heritage site on this trekking tour. You can find the information that you need to follow to complete the Everest base camp trek on this post.
Everest Base Camp Trek Overview
Total Trekking Distance: 130 Km
Trip Duration: 12 Days (including 2 rest days)
Highest Elevation: 5,550m (Kala Patthar)
Difficulty: Moderate to Difficult
Everest base camp trek starts with a short adventurous flight on a small plane to Lukla from Kathmandu. It is a famous trek in Himalaya. After landing at the Lukla airport, the trail leads to Phakding on the same day of the flight. It is a short day of the trek because in case of the flight delay.
After spending the first night in Phakding, you will trek to Namche Bazaar on the second day. Today, you will enter the Sagarmatha national park issuing an entry permit in Monjo. You will have two altitude practice rest days on the way up to the base camp, that you will have the first rest day in Namche Bazar.
After spending two nights in Namche Bazaar, you will trek to Tengboche. It is on a hill station, and there is a historic Buddhist monastery. You can see the magnificent mountain view and visit the monastery in this place.
After enjoying the natural and cultural beauties in Tengboche, you will trek to Dingboche and stay two nights for another acclimatize rest. Then you will hike to Lobuche and Gorakshep before visiting the world's highest mountain base camp. The next adventure is climbing Kala Patthar after the base camp, and you will trek back to Lukla in three long days walk.
How To Start Everest Base Camp Trek From Kathmandu
Everest base camp trek can start via overland or airways. If you are going to start the trek overland, you need to have a long holiday. You can drive to Jiri on a bus or to Salleri on a jeep from Kathmandu. These are long routes of the Everest base camp trek. If you have enough time, you better to trek from these places because it helps a lot for acclimatization.
The most popular route of the EBC trek is from Lukla. You will fly on a small plane to Lukla from Kathmandu and walk to the base camp. It is a shorter EBC trek, which is a 12 days trip. You can make it in 9 days by flying in on a plane to Lukla and fly out on a helicopter direct to Kathmandu from Gorakshep after visiting the bottom of Mt. Everest. Here we are going to talk about the Lukla to Everest base camp route in this post.
Lukla Flight Information
Lukla airport has a short runway and is considered one of the dangerous airports in the world. There are only the flights in clear weather. The flights are operating in the morning from Kathmandu. So, if you get as much earlier flight, you will have more chance to fly. You need to book the ticket in advance.
There is a weight limit that you can take with you. You only can have 15kg, including your hand luggage. If the weight would be more than 15kg, you need to pay extra. If the plane becomes overloaded, the bag can be stuck in Kathmandu sometimes due to the bad weather. So, try to minimize the weight taking needy equipment.
If the flight cancels, you need to manage an alternative option to Lukla. You can fly on a helicopter paying an extra cost. Don't try to wait for the next day because there should be already scheduled people for the next day.
Everest Base Camp Trek Highlights
The attractions attract visitors, so there are lots to see in the Everest base camp trek. You can enjoy your time with the natural and cultural beauties while you will be on your EBC trip. What should be the highlights of the Everest base camp trek then? Let's check them here.
Adventurous scenic flight to Lukla
Traditional Sherpa towns with locally carved buildings
The Natural UNESCO world heritage site (Sagarmatha National Park)
Vantage viewpoints and stunning mountain views
Endangered wildlife and vegetation
Religious monuments
Beautiful valleys, glaciers, waterfalls, rivers, green hills, and more
Trek Itinerary
As I have mentioned above, the EBC trek is a 12 days mountain trip. There are two rest days for altitude practice on the way up to the base camp. You can do it in 9 days following the same itinerary of twelve days trip. Then you can fly to Kathmandu. Some people are trying to make it with a shorter itinerary cutting the rest days, but it may be harmful. So 12 days is a basic itinerary of the EBC trek. You can see the outline itinerary of the tour here.
Day 01: Fly to Lukla (2,840m) and trek to Phakding (2,610m) 3 hours
Day 02: Trek from Phakding to Namche Bazaar (3,440m) 6-7 hours
Day 03: Acclimatization rest day in Namche and hike to Everest view hotel (3,880m) 4 hours total
Day 04: Trek from Namche Bazaar to Tengboche (3,860m) 5-6 hours
Day 05: Trek from Tengboche to Dingboche (4,410m) 5-6 hours
Day 06: Rest day in Dingboche
Day 07: Trek from Dingboche to Lobuche (4,910m) 5-6 hours
Day 08: Trek from Lobuche to Gorakshep (5,180m) 3 hours and hike to EBC (5,364m) 5-6 hours both way
Day 09: Hike to Kala Patthar (5,550m) 2 hours and trek to Pheriche (4,210m) 5 hours
Day 10: Trek from Pheriche to Namche Bazaar (3,440m) 7 hours
Day 11: Trek from Namche Bazaar to Lukla (2,840m) 7 hours
Day 12: Fly to Kathmandu (1,350m) early morning – 30 minutes
Trek Difficulty
Everest base camp trekking tour is a moderate to difficult level trek. It is not hard because the walking hours are not lengthy. You will walk around 4-5 hours in the high elevated areas and 6-7 hours in the low lands. But, the trek makes it hard by the altitude.
You don't need to have serious climbing training for the Everest base camp trek. If you have visited several times 3000m plus altitude, you can make this mountain tour. Though, altitude gain can make it a bit difficult to breathe and feel tired in the higher areas.
Accommodation, Food, and Drinks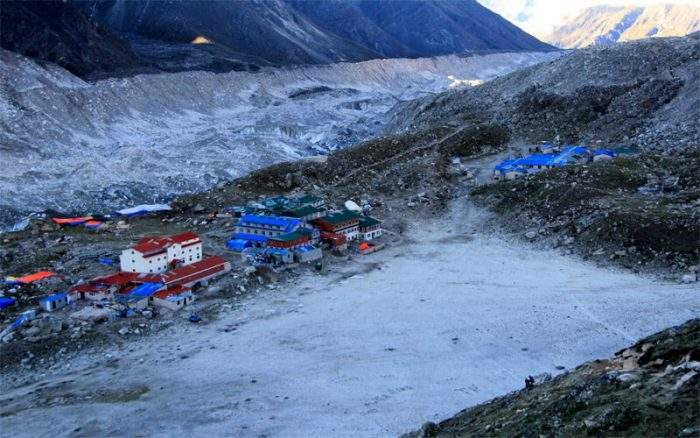 The Everest base camp trek is a well-managed trekking route. There are plenty of lodges to stay in every stop. But places like Lobuche, Gorakshep, and Tengboche have limited lodges, and you better book in advance.
You will get private accommodation with a separate bathroom in most of the places. Also, you can get accommodation with a bathroom inside somewhere. If you would like to spend your night in the mountain staying in a luxury lodge, you can get it, but they are pretty expensive as the cost of the five-star hotel in the city.
The guesthouse has a food menu so, you can have different food items from the menu. If you would like to try the local foods, you can get them during the trip. They sell bottled water but, they are expensive as you ascend altitude. Alternatively, you can drink tap water filing into your bottle but, don't forget to use the purification methods.
Altitude Sickness
Altitude sickness is a big problem while trekking to the Everest base camp. There are two types of altitude effects like affecting the lunge and brain. Some people might have one of them, both of them, or neither of them. You will have earlier symptoms like headache, vomiting, loss of appetite, difficulty to sleep, tired while resting, and more.
You will have two altitude practice rest days on the way up to prevent the problem. If you have earlier notice of the altitude sickness, you need to stay at the same place another night or descend as soon as possible. Walking slow, keep warm, drink plenty of fluid can help to be safe from altitude sickness. Bring travel insurance that covers any emergency evacuation service above 6000m. Hopefully, you have got the information wat you are looking for about the Everest base camp trek in this post. If you can't trek or don't have enough time for a long mountain trip, you can fly on a helicopter to the base camp from Kathmandu directly.