It is difficult to overestimate the role of the logo for business. Thanks to one word or graphic sign, you can convey to consumers information about the company and the goods or services provided, their quality and benefits. But in order for the logo to become a guideline, distinguishing your products and services from the general mass, you need to know how to design it properly. And the easiest and fastest way is to make a logo yourself with the help of special online service: logo maker. You just need to choose a template that suits your website or business theme, add a company name and a slogan to it, and customize it with different elements. If you are interested in the details, I hope you to read this article.
Here is my selection of the best easy-to-use online logo makers:
A web service offering 9000+ predefined templates of logos online is targeted at the broad masses of users and will be of interest to webmasters, freelancers, events planners, owners of any business, regardless of their level of design talents and skills. You do not need to install special programs and plug-ins, and DesignEvo is always available online 24 hours a day.
How to design a logo with DesignEvo
To create a logo, go to the DesignEvo.com and click on the button "Make a free logo".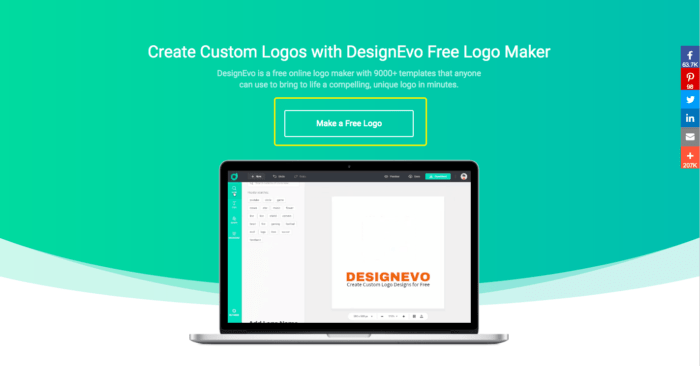 On the page that opens, we can choose from 20 categories for templates (art, animal, technology, business, food, and so on). Each category contains quite a few logos, so it's better to indicate a specific topic for easy searching. Then DesignEvo will ask you to enter the name of your company once you have selected a template. If necessary, you can also add a slogan that will be on the logo.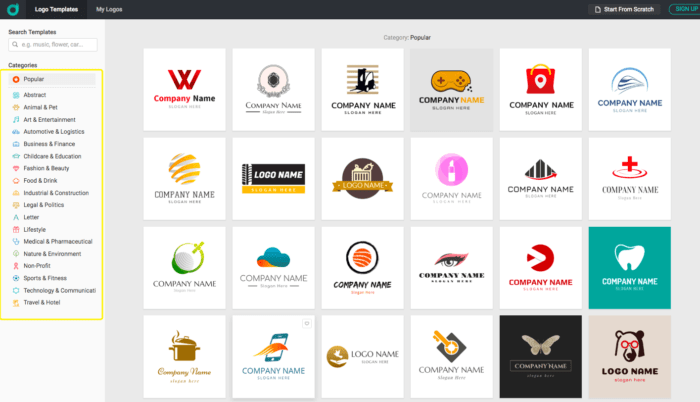 A page with the concept of the logo will open, which can edit the selected logo, preview the logo or save the logo. In order to design a unique logo, it is better to customize it by using the various elements in the top-left corner of the window. DesignEvo allows you to add or remove icons, change the text in the caption, insert a shape to highlight the icon, edit the background and position of the logo elements.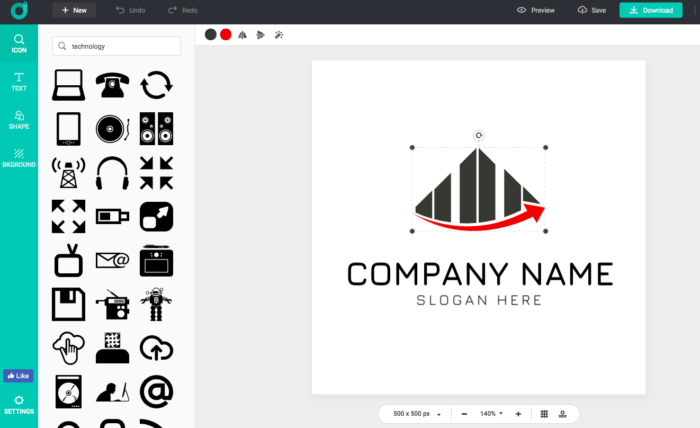 Once you are satisfied with the results, you can click the download button. You will find that all created logos can be downloaded for free only in a small resolution in PNG format. Who needs a small image, for example, you need a logo for the site or you need a layout for your reference, can use this logo maker for free. But if you plan to print logo on business cards, letterheads and flyers, then you need a high-resolution and the SVG format. The plus plan which costs $49.99 is a good choice for you.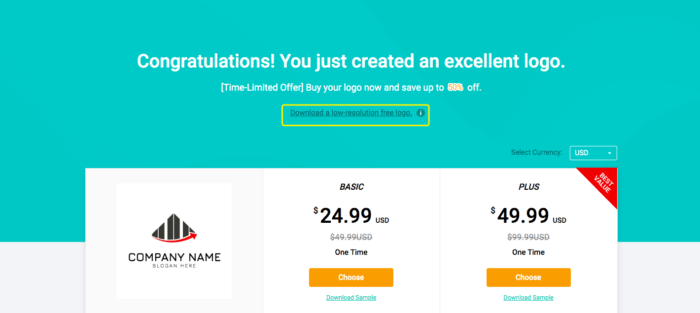 The features of DesignEvo:
9000+ quality logo templates to choose from.
DesignEvo provides a clean and intuitive interface.
All logos can be fully customized with powerful editing tools.
It supports multiple languages, including English, Spanish, Portuguese, French, Japanese, Chinese, etc.
Free download the finished logo design in a small extension;
Re-edit and redownload the logo you purchase as many times as needed.
As you can see from the information above, DesignEvo is a simple and professional tool to design a logo in minutes. It is available to make excellent design logos for free in it, and if necessary, you can buy a plan in high-resolution format for personal use. For more information, please visit: https://www.designevo.com/logo-maker/ .