Create Memorable Recognition Events With Custom Certificate Holders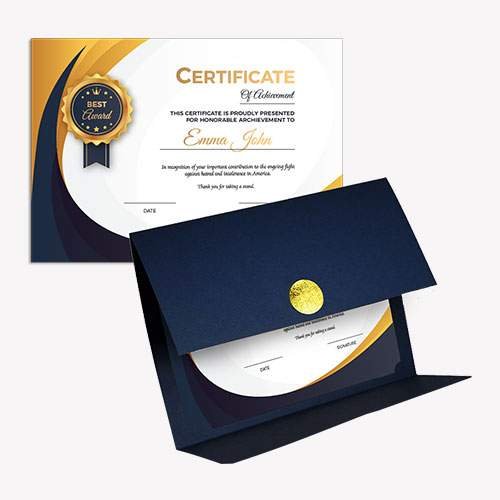 Impress your audience by presenting the certificates and awards in engaging holders and enable them to also use these as pleasant-looking stationery items.
How to create a memorable impact?
We all know how significant award ceremonies are for any organization. It comprises of awarding the deserving recipients with certificates of acknowledgments and projecting an exceptional image of the organization at the same time. It is a time to divert focus on the organization and to showcase an executive brand image. Businesses make sure that such ceremonies are attended by their target audience so as to elevate the brand's identity and imprint the brand logo and unique style on people's memories in a powerful way.
Why are these ceremonies important?
Such occasions can have multiple benefits for the business such as:
It gives room for devising marketing tactics. These certificate functions are an important promotional tool that must not be overlooked. Presenting awards to custom certificate holders are a great way to maximize PR exposure and include other marketing material like business cards and brochures with them.
Enhance recognition of your brand. It is always beneficial to be recognized by your target customers. These holders open doors for attracting a large number of customers, educating the audience about your products, entering new markets, and more.
Stand out from the competition. Styling the holders in line with your brand's personality helps to distinguish it from the rivals and make a meaningful statement. It helps the customers to see your brand in a new light and take interest in your products.
Increases credibility. Holding professional ceremonies help to establish the brand as professional and reliable, giving a reason to customers for trusting the brand for the services it provides.
Escalates employee motivation. Certificates acknowledge the hard work done by employees and this compels them to work even harder, boosting productivity levels.
Provides consistency at all points of contact. Customers desire branding that is consistent to allow recognition at every retail point. This helps in attracting a wide consumer base and encouraging them to trust the brand for every future purchase.
Apart from providing an impactful marketing gadget, these holders are crucial in preserving the certificates in their original form for longer. The recipients wish to keep their acknowledgments in the best state to be able to showcase them as proofs of their hard work. These holders are made with the strongest material to last longer and keep the documents safe inside. They prevent the paper from getting torn, folded, or creased. All organizations are increasingly using the custom certificate holders to give-out awards especially the educational institutes. Students wish to keep their degrees and certificates secure to be able to use them for a lifetime. Thus, these holders provide the perfect venue to store and retrieve documents as desired.
A useful way to generate brand awareness
Such holders are dually useful in portraying a positive image of the business and at the same time organizing the office space for apt handling of a large volume of information. These holders can be effectively used to hold important office awards and certificates. The awards earned by organizations present a very constructive image of them and help customers associate trust with the brand. Creative holders can help to paste the certificates on walls or on the desks and allure attention to them. There are numerous innovative ideas to personalize such holders to cater them to your business. These are:
Choose from engaging color schemes to instantly attract focus. Vibrantly colored covers stand out and help to divert focus on the holders.
Make sure the certificates fit perfectly in the holders by selecting the most suitable size for them.
Making a strong impression through adding offbeat features like vertical pockets, spine, reinforced panels, business card slits, and custom slits for the inclusion of other promotional material.
Creating a niche through incorporating lavish options such as gloss & matte laminations, rich coatings of satin, varnish, gloss AQ, spot UV, and flood UV.
Increasing brand prominence among others by using embossed lettering, foil stamping, die-cutting, debossing, metallic inks, custom pockets, and any other custom designs.
Choose the most appropriate card thickness among standard thicknesses or custom selections according to your specifications and available budgets.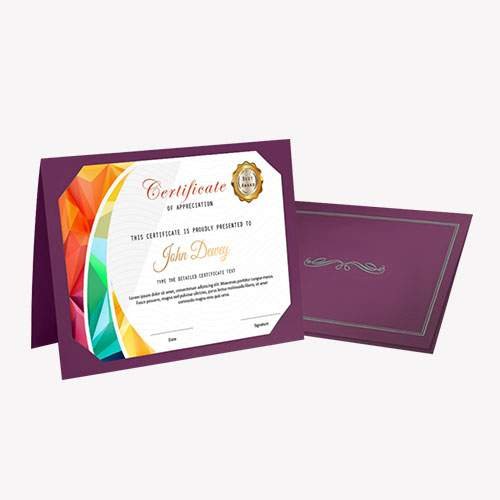 Specialist stylists and engineers are available to resolve all your designing worries and guide you in crafting the ideal holders for your documents. Skilled in-house account managers generate the most cost-efficient deals for you to gel these holders aptly with your budgets. Moreover, we offer these holders at market competitive prices to give excellent value for your investment.
These holders conveniently store and display diplomas, awards, certificates, and more in a hassle-free manner. They eliminate the need for separate laminations and generic plastic covering on the certificates. Such holders can bring more importance to your achievements by showcasing them in creatively designed covers.
The best approach to customization
Our clients trust our services and retain for a lifetime due to the high-grade printing techniques offered at affordable rates. We employ the most modern printing press and our experts strictly supervise every piece to eliminate the chances of error and deliver holders precisely as per your requirements. A survey reveals that about 40% of customers prefer brands that incorporate personalized features. This makes it important to design holders in line with the overall brand identity.
Obtain holders that not only keep the documents straight and secure but also provide protection against wetness and dust. They make for effective brand logo exposure and making potential customers aware of the brand's existence in the market. Such advantages make these holders a worthwhile investment that you must grab immediately. All you have to do is dial us for instant guidance from our well-trained customer service agents and obtain the holders in the shortest delivery time at no extra charge. Our experts provide free templates and free reviews of artwork to enable you to craft exceptional holders that provide marketing and convenient storage at your doorstep!