Blockchain and Cryptocurrencies for eCommerce: Key Trends and Findings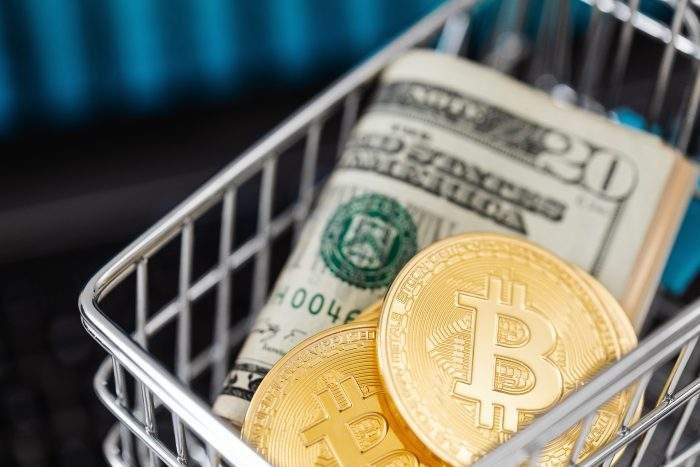 The increasing use of blockchain technology and cryptocurrency is showing new promises to mitigate the age-old hurdles e-commerce stores face.
Several different transactions in traditional forms such as credit cards, debit cards, netbanking, mobile wallets and other payment gateways mostly use fiat currency and they need to depend on intermediary companies for payment transactions.
While cryptocurrencies may not replace traditional transactions altogether, they can at least make intermediaries irrelevant for carrying out transactions and thus can allow maximum ease.
On the other hand, Blockchain technology in regard to data transfer and all third-party roles in e-commerce stores can completely reduce the dependence of intermediaries.
Here through the current post we are going to explain the key ways cryptocurrencies and Blockchain technology together are making e-commerce clutter free, efficient and more customer friendly. For online retailers and for any ambitious eCommerce development company, the emergence of these hi-tech alternatives offer new learning. Through these hi-tech alternatives the companies can grow their resources knowledge which makes a task easier to hire ecommerce website developers or if it goes through technology specific then users can go to hire certified magento developers.
The Power of Blockchain In Cutting Down Intermediaries
Blockchain offers a huge power in facilitating data transfer across parties without needing any intermediary service. Thanks to Blockchain, the traditional data processing system becomes irrelevant. The processing of the payment occurs without the role of a middleman.
Thus not only helps doing away with the intermediary transaction fees through cryptocurrency payments on blockchain but this helps carrying out international transactions across the borders without any exchange rate. Thanks to this entire bulk of concerns of meeting international regulations for transactions can also be avoided.
Doing away with all the major regulatory obstacles for international e-commerce transactions by using the cryptocurrency payments created more opportunities for the online retail brands to do business world over.
Already several blockchain based service providers emerged helping to carry out international transactions and secure money transfer across borders using the potential of Blockchain technology.
The Huge Increase In Smartphone Shopping
The emergence of Blockchain and cryptocurrency should be seen in the context of the huge growth of the mobile transactions in recent years.
The recent COVID-19 pandemic further fueled the e-commerce growth as most studies indicate including that of IBM U.S. Retail Index report published in August this year.
According to the report, in 2020 alone, there will be a 60% decline in the number of physical department stores. On the other hand, the global e-commerce growth within the span of 2014 to 2019 achieved a growth of whopping 160%, as revealed by Statista. According to the same report, the global e-commerce sales by 2023, is going to reach a valuation of at least $6.5 trillion.
There can be hardly any doubt that the principal factor that lies behind this overwhelming growth story is the increasing growth of smartphone transactions.
A survey carried out by PayPal last year revealed that a stunning 80% of customers around the world did shopping through their smartphone.
According to Statista prediction, 72% of global e-commerce sales will occur on smartphone devices by the next year. As smartphones are spearheading the e-commerce sales, it is the safety and convenience of payment that will be critical factors for e-commerce stores.
While buyers generally transact through credit cards and solutions like PayPal these payment channels involve higher exchange rates making transactions costlier for the consumers.
On the other hand, transaction security for smartphone purchases tends to be a rising concern. According to a survey by PayPal, 51% of the survey respondents express safety concerns about making payments while buying through their smartphones.
Cryptocurrencies for Winning Confidence of Customers
As the above mentioned concerns over security and transaction charges are creating roadblocks to e-commerce growth stories, cryptocurrencies have emerged as the most suitable solution to win the confidence of the customers.
Cryptocurrencies backed by a totally decentralised database technology like Blockchain that cannot be tampered ensure optimum transaction security for e-commerce customers. On the other side, cryptocurrencies simply by doing away with the intermediaries also give complete relief from the additional transaction charges.
The growth of blockchain wallet customers is a sure proof of the popularity of this new alternative among e-commerce customers. As per Statista, the growth of Blockchain wallet ownership has seen an increase of 425% between from third quarter 2016 to the first quarter 2020.
Key eCommerce Uses of Blockchain Technology
The promise of Blockchain technology seems to be era defining for the entire e-commerce and online retail sector. Let's have a quick look at some of the major areas where the uses of Blockchain has already paved the way for huge innovation.
Online Payments
Cryptocurrencies like bitcoin are powered by completely decentralised database technology of blockchain. As the transaction records involving the cryptocurrency is stored in the Blockchain, complete transparency can be maintained with role based access while safeguarding the data with a protocol that allows only addition and no deletion of data.
Thanks to Blockchain the role of intermediaries can be completely avoided leaving significant scope of cost saving for all transactions. Since accepting cryptocurrency based payment has now become incredibly easier too many leading online retailers and merchants are now accepting payments in cryptocurrencies.
Supply Chain Management
Another major impact of Blockchain for the e-commerce and online retail sector is reducing the supply chain cost and complexity. Several leading global retailers and e-commerce stores have found the impetus of blockchain for streamlining the supply chain really awesome.
Many leading retailers and brands simply embraced blockchain to do away with the entire paper and manual workload for international product shipping. Thanks to Blockchain technology, real time data access across multiple points can easily be facilitated while leaving no scope of data tampering and unauthorised access. This helped tracking the shipments easier than ever before resulting in great efficiency and cost saving for the retailers.
Particularly for merchants and big brand retailers selling unique and high value items where maintaining authenticity remains always a key concern, the use of Blockchain in validating the authenticity across multiple access points has made things really easier.
Already several supply chain Blockchain solutions emerged serving global brands and retailers across the niches. Provenance and Codex Protocol can be cited as great examples of Blockchain based supply-chain solutions.
Expanding The Business Channels
Together Blockchain and cryptocurrency facilitated decentralization in the ecommerce sector in a never-before way. Thanks to Blockchain based e-commerce stores, more decentralised marketplaces are being created for anyone to come with product offerings for sale.
These marketplaces helped expand the business channels and the overall e-commerce market. Certain marketplaces emerged focusing on particular categories. For example, Rare Bits is a dedicated marketplace for one-of-a-kind digital goods that are referred to as crypto-collectibles.
These new marketplaces of digital goods and items are increasingly expanding and making cryptocurrency based transactions mainstream.
Conclusion
E-commerce stores are always trying to make lives easier for their customers, whether in terms of shopping experience or transaction cost or security of their payment processing. This is exactly where Blockchain and cryptocurrency based transactions brought a revolution for the customers.