Most offices are small and have just the right space so these 5 tricks of decoration of small offices will help you get the most out of them.
We have all encountered the problem of space once and for all if we are talking about setting up an office, where we should always make the most of the limited space available to us. If you do not want your office to seem crowded and smaller than it is and you want to give a feeling of spaciousness even in a small space, today we tell you some tricks for decorating small offices. Always keep in mind that in these cases, less is more, follow these guidelines and you will get a small office but with everything you need. I hope these tips give you good ideas to decorate an office. What are you waiting for?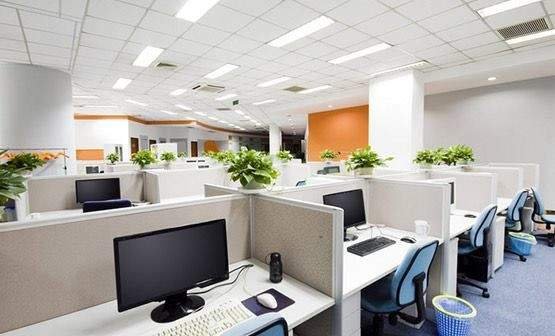 1. Start by placing order
The order is always basic in an office to react quickly and solve any problem instantly, without having to rummage through piles of papers. But it is also very important if we have a limited space and we do not want it to be crowded and even smaller than it is. For this, review our article on how to organize your desktop and always keep in mind that less is more. The fewer objects and papers you have on the table and in sight in your office, much better. Order is vital in small spaces!
If we have everything well-ordered we will make the space seem much more open and broad. Remember that one of the advantages of working at home is that you can configure 100% your workspace to get the most out of it. Do not forget to periodically clean and throw or keep out of sight everything that is not necessary. For this purpose, it uses wardrobes, drawers and shelves that will allow you to have everything much more organized and to divide spaces in the office. At the table you should only have the essentials you need to work, the rest well ordered to help you concentrate better and also not overload your office visually. Become a fan of order!
2. Good lighting is essential
We never tire of repeating the importance of light and good lighting in all spaces. But if what we are looking for is to gain meters and give space to an office or office, light can be our best ally. Therefore, in the decoration of small offices takes full advantage of the natural light available. If possible, we should place the work table under the window so that we always have natural light to work during the day. It will also make the window become a point of reference for the stay. So do not block natural light, any curtains or heavy blinds, only the essential.
If we do not have natural light we should try to find a suitable lighting and for it the best thing is the use of different types of light, of course roof but also standing and some auxiliary light on the desk for more meticulous work. In the decoration of small offices the light will help us to enhance the space we have, take advantage of it! It is always good to have some ceiling light directly on the table that we will complement with some other more precise light to read or work. If you receive visits it is also a good idea to think of a not so intense ambient light for more relaxed moments.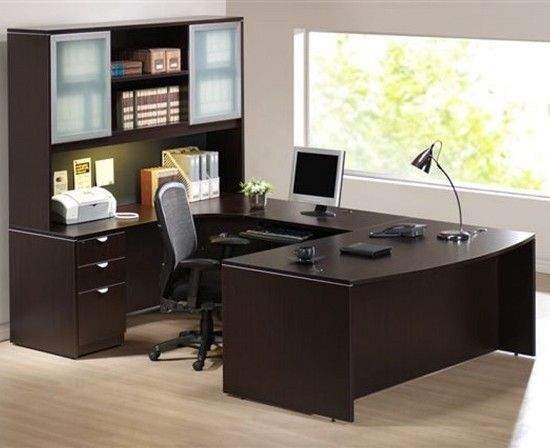 3. Make the most of the space
Many customers and readers of this blog often tell us that they are interested in setting up a small office in their home. There is much written about the advantages and disadvantages of working from home, you can visit our entrance where you will learn a little more. The reality in the end is that to create a home office space is usually limited.
Yes, we have little space but we can make the most of it with the decoration of small offices. On the one hand, taking advantage of corners and areas that in principle may seem lost but with custom furniture or a bit of imagination that we can surely get performance. No space is lost; you just have to study it well until you find the solution for it! Perhaps it is the perfect space for a hidden closet or for a small shelf that will avoid having so many items on the table. Today we find many furniture designed to get the performance to those little corners that may end up being, so do not give up the first and see that it deserves the effort.
Another way to get more performance to space is using some tricks that can be very useful. For example, to lighten the office furniture of our office to the maximum. No heavy wooden legs completely closed, better opt for thin metal legs or glass. The idea is to visually lighten the space. Also better little heavy furniture, straight and not too large to help give a sense of spaciousness. Transparent plastic chairs or skate or thin legs will also be a good option that helps us not overload the space.
4. Take advantage of the color
We know the importance of color in our lives and also when defining spaces. We have talked about it in several occasions and, without a doubt, it is a subject that cannot be ignored when we speak of a reduced space. The colors we use can help us create an optical effect of greater width or depth and thus make a room grow before our eyes. For this light colors are the best because they will help us to enhance the light and make everything more spacious. The white and its wide range would be the ideal color for walls and ceilings and we could qualify it with color notes in accessories such as chairs, desk items, etc. But creams, stones and yellows are also ideal colors to make any space grow before our eyes. Everything will depend on your preferences!
The roof is another element that can play in our favor and that we should take into account in the decoration of small offices. If we paint it white or the same color as the rest of the walls, we will gain meters. We can also help with the use of moldings or borders that are placed near the ceiling and create the feeling of greater height of the walls. But if the white bores you can also opt for blue a color that reminds us of open spaces and helps us to enlarge them visually. If you want to give a note of color you can do it with a wall but better avoid too strident colors or wallpapers with large drawings that will occupy too much space visually.
Another very effective trick is the so-called chromatic unit, that is, to unify furniture and walls to make the furniture lose in them and give us a feeling that the space is wider. White is undoubtedly the best option to achieve this goal in which we avoid the feeling of crowded space using the same color range throughout. To not be too boring or monotonous play with the accessories or even with a wall that provides movement and strength.